Fishing for finds in Walker
When walleye and shoppers are biting, everyone's happy in this resort town.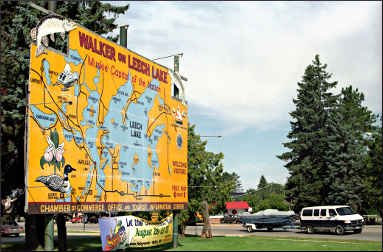 In 1896, a St. Paul man named J.A. Berkey came to Minnesota's Leech Lake, threw out his line and reeled in a whole new industry.
"He set up white tents for some men from Kansas City, who fished their guts out and said, 'We're going back and telling everyone,' " said Renee Geving, director of the Cass County Museum.
The hook was set. Over the years, Leech Lake's reputation as a fishing hole grew as big as its muskies, which can be huge.
The town that grew on the shores, however, wasn't called Berkey, or even McGarry, after the town founder, a resort owner who is credited with coining the slogan "Land of 10,000 Lakes."
No, it was called Walker, after lumber baron T.B. Walker, in the hopes that he'd build his sawmill there. Then Mrs. Walker, shocked by Walker's many saloons, intervened.
Faced with a choice-jobs or whiskey-the town fathers kept their saloons but also Walker's name, since they'd already sent in the incorporation papers.
The mill was built in nearby Akeley, a dry village that didn't stay dry for long. Akeley boomed-Mrs. Walker having given up trying to separate lumberjacks from liquor-and the sawmill became one of the world's largest, spawning the first written Paul Bunyan tale and a fortune that was plowed into a famous Minneapolis art collection.
Meanwhile, the town on Leech Lake, Minnesota's third-largest lake, was left to find its own way in the world.
And it did pretty well. Other sawmills were built, and tourists arrived by rail, taking excursion steamers to Federal Dam, the Indian agency at Onigum and Ottertail Point for picnics. Hotels were built, along with hundreds of small resorts.
Today, fishermen from all over still are fishing their guts out, for walleye in the spring and fall and for muskie in the summer.
In winter there's eelpout, a notoriously ugly but rather tasty roughfish that, for 40 years, was hauled out of the lake during International Eelpout Festival in late February.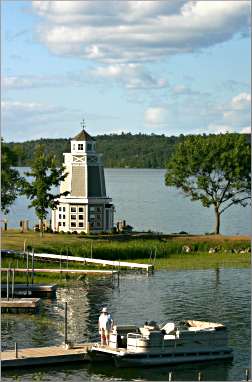 Walker's main street is the haunt of fishermen's wives, as well as hordes of strolling guests from nearby lake resorts. When the weather turns bad, Walker shopkeepers gird for an influx that jams the town with bumper-to-bumper traffic.
"If it's windy or rainy, they're in town," says Jan Henrikson, whose candle-scented Northern Exposure gift shop was the first of many shops that sell upscale accouterments for vacation homes. "You want a couple of those days every week."
The shoppers do, too, so they can ponder the Icelandic sweaters at Lundrigan's, the cookware and lotions at Jenny & Co., the gourmet foods at Christmas Point.
Once, there was a water slide for children right in town. Then the slide moved to the horse ranch and wildlife park outside town, where kids could go on trail rides and pet deer and goats.
Now that's gone, too, turned into the Moondance venue for big music festivals and softball tournaments.
Walker is more of an adult place now, and often there are many choppers as children tooling down Minnesota Avenue. And increasingly, there are bicyclists.
They began trickling into town in 1977, after the opening of the Heartland State Trail, Minnesota's first paved rail-trail. At heart, Walker is an ATV and snowmobile town, and its first bike shop closed.
But the bicyclists keep coming. Walker now sits in the middle of 130 miles of paved trails, the longest system in the state. The Heartland State Trail starts in Park Rapids.
It connects to the Bunyan east of Akeley. The Bunyan heads north to Walker, then Bemidji.
The Heartland continues north to Cass Lake, where it connects to the Migizi Trail, a 17-mile loop of paved trail around Pike Bay and the east side of Cass Lake through Chippewa National Forest.
Walker also is a center for hiking. A long stretch of the North Country National Scenic Trail runs through Chippewa National Forest south of town, and it connects with six miles of hiking and cross-country skiing trails in Shingobee Recreation Area.
Snowmobiling, of course, still is the top winter sport, and in summer, golfers flock to Tianna County Club, a hilly classic built in 1922, and to the Longbow Golf Club.
In Walker, there's nearly anything anybody wants to do for fun. Yes, Akeley got the sawmill and the state's biggest Paul Bunyan. But Walker got the tourists.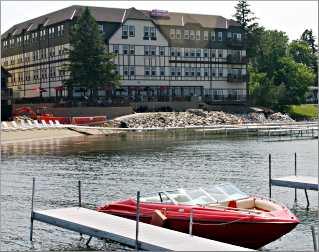 Trip Tips: Walker, Minnesota
2023 events : June 16-17, Moondance Jammin' Country Fest. July 20-22, Moondance Jam rock festival. Aug. 11-14, Leech Lake Regatta. Sept. 9, Ethnic Fest. Sept. 16, Moondance Harvest Moon Festival.
Accommodations: Chase on the Lake is the 2008 version of the Tudor-style Chase Hotel that stood on the same site from 1922 to 1997. The newer hotel is handsomely outfitted with Arts and Crafts furniture, art, lighting and textiles and has 70 rooms in the main building plus condo suites in a second building and a third building.
It's a block from downtown shops and steps from the Heartland/Paul Bunyan bicycle trail.
Rates include a hot breakfast in the 502 Restaurant on weekends. Watch for specials. There's an indoor pool and small sandy beach on Leech Lake.  There's also an Aveda spa and bowling alley.
Eight miles north of Walker on Steamboat Bay, the five-room Leech Lake Resort B&B is on the lake as well as the Heartland State Trail, and guests get a hot breakfast as well as the use of bikes and boats. It's flanked by Hiawatha Beach Resort and Anderson's Cove Resort.
The Moondance event venue rents a guesthouse that sleeps 16.
Resorts: On Leech Lake, they include Anderson's Northland Lodge, Huddle's Resort and Trapper's Landing Lodge, all on the south shore 15 minutes east of Walker.
Dining: A block from downtown, 502 at Chase on the Lake is a very pleasant place to have lunch or dinner. There's a bar with a nice selection of beers and a deck overlooking Walker Bay.
Downtown, Piggy BBQ has a pet-friendly patio.
North of town off 371, The Boulders serves such entrees as paella, crab-crusted grouper and Mediterranean lamb chops, and it has a patio.
Craft beer: Portage Brewing Co. has a taproom and patio on South Fifth Street, behind the Village Square on main street.
Nightlife: The Walker Bay Theater downtown stages plays and musicals.
Paul Bunyan State Trail: Walker is a hub on this 106-mile paved bicycle trail from Brainerd/Baxter to Bemidji.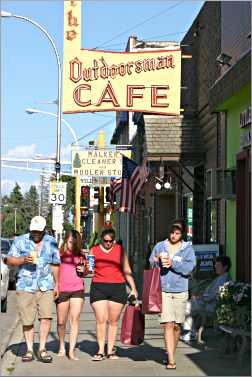 Heading south, it joins the Heartland State Trail for nearly eight miles before heading south toward Hackensack, through Chippewa National Forest. It's 69 miles to Brainerd-Baxter.
Heading north, it passes two lakes and crosses two rivers and two creeks on the 16 miles to Guthrie, the newest stretch. From Guthrie, it's another 21 miles to Lake Bemidji State Park.
For more, see Bicycling the Bunyan.
Heartland State Trail: There are lots of towns to explore on this 47-mile ride between Park Rapids to Cass Lake, through Walker. Dorset, an odd little oasis that has as many restaurants as houses, is a tourist destination. Nevis has shops, cafes and a city beach on Lake Belle Taine.
Akeley is the home of the state's biggest Paul Bunyan, on whose outstretched hand people pose for pictures. The nine-mile stretch from Akeley to Walker passes bogs and lakes.
From Walker, the trail follows the western shore of Leech Lake and continues to Cass Lake, much of it near the highway but usually shielded by vegetation. South of Cass Lake, bicyclists can turn onto the Migizi Trail and ride around Pike Bay through U.S. Forest Service recreation land.
For more, see Towns of the Heartland Trail.
Fishing: The guides of the Leech Lake Guide Coalition offer guided trips. tDowntown, Reed's Sporting Goods is fishing central and lists other guides.
Golf: Tianna Country Club is on Minnesota 34 just south of town and open to the public, 218-547-1712. LongBow Golf Club is six miles north on 371, 218-547-1027.
Hiking/skiing trails: The North Country National Scenic Trail goes through Shingobee Recreation Area, five miles southwest of Walker on the south side of Minnesota 34. Hikers should wait for fall, when the bugs are gone.
Cass County Museum: This center at the east edge of downtown is a good place to hear about the local Ojibwe-much of the land east of Walker is the Leech Lake Reservation-and the 1898 Battle of Sugar Point, the nation's last armed conflict with Indians. 218-547-7251.
Information: Leech Lake tourism, 800-833-1118.
Last updated on January 18, 2022