Paul Bunyan in Minnesota
In the Land of 10,000 Lakes, the big guy never dies.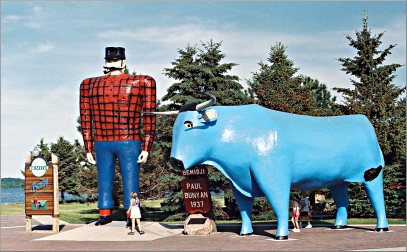 The origins of Paul Bunyan are lost in the wood smoke of long-ago logging camps.
The mighty lumberjack most likely was born in the camps of Maine or Nova Scotia. Nevertheless, northern Minnesota towns have taken the legend and run with it.
Akeley calls itself Paul Bunyan's birthplace, and it's got a good claim — it was the headquarters of the Red River Lumber Co., where, in 1914, a publicist named William Laughead is said to have written the first Paul Bunyan story in a company brochure.
Today, a fiberglass 25-foot Bunyan kneels with outstretched hand outside the town's Paul Bunyan History Museum, where a 28-pound fish is labeled "Paul's Minnow."
But Bemidji was first to catch the world's attention. In 1937, the local Rotary Club built an 18-foot, plaid-shirted Bunyan and his trusty Babe the Blue Ox for the town's first Winter Carnival.
Paul had a shell of concrete, but the first Babe was made of canvas stretched over a wood skeleton and mounted on a truck, whose exhaust was funneled through her nostrils. She was a favorite at parades but was replaced by a concrete-and-plaster model in 1939.
Coverage in newspapers and national magazines brought crowds to Bemidji, and a family photo with Paul and Babe on Bemidji's lakefront still is mandatory for tourists.
Bemidji's visitor center on the lake contains an exhibit of Bunyan-sized "memorabilia," including the giant's baby moccasins, toothbrush, coffee mug, pencil, scissors and even toenail clippings.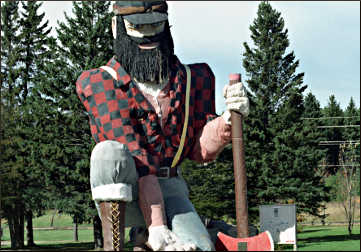 Paul was a fun-loving guy, so the center also displays his curling stone, yo-yo, dice and playing cards.
A rivalry began in 1950, when a 27-foot seated Bunyan, built in 1948 by the Chicago and Northwestern Railroad, arrived in Brainerd.
The rail hub began promoting itself as "Paul Bunyan's Playground," and for many years, its mascot lived at the Paul Bunyan Amusement Center, where he winked, called children by name and invited them to sit on his boot.
But a Kohl's department store replaced the park, and in 2003, Paul and his 23-foot Babe moved to Paul Bunyan Land at This Old Farm Pioneer Village, seven miles east of Brainerd.
If you like Paul's tall tales, though, head north of Brainerd to Pequot Lakes, where the two loops of the Paul Bunyan Scenic Byway start. Kiosks along the way mark sites of interest and include tall tales told from Paul's perspective.
One of them is in Crosslake at the U.S. Army Corps of Engineer campground, where a Paul Bunyan collection includes a Paul that's the world's largest rag doll.
The oddest Bunyan lives in Hackensack, on the Paul Bunyan State Trail. She's Lucette Diana Kensack, a buxom 17-footer, and for a while, she was accompanied by a midget Paul Jr., his hand raised in wave.
Lucette was billed as Paul's sweetheart until 2001, when a local wag "discovered" a marriage license and proclaimed her Paul Bunyan's wife.
Paul's anchor is in Ortonville, and his chair, baby shoe, ax and other mementos are scattered around lakes country.
One town even lays claim to Paul's bones. In Paul Bunyan Park in Kelliher, a large mound is marked by a headstone that reads, "Here lies Paul, and that's all."
Last updated on February 7, 2022