Beloved Bayfield
On Wisconsin's north coast, the love affair between a village and its visitors goes way back.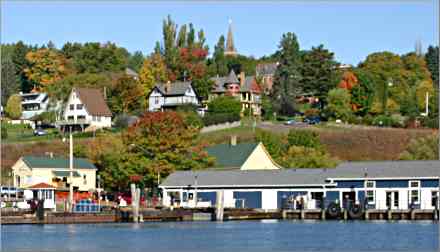 On a summer day on Chequamegon Bay, there are few sights more enchanting than the sailboats bobbing around Bayfield.
With the Blessing of the Fleet in June , the tourist season kicks into high gear.
Ferries chug nonstop between Bayfield and Madeline Island. Excursion boats head for the other Apostles. Sailboat captains take out novices and teach them how to hoist a jib.
Once, these waters were full of cargo boats, ferrying brownstone and lumber and herring to cities in the East. Bayfield hummed with industry, and town fathers hoped it would become another Chicago.
But it was too beautiful, and too remote. Orchards took the place of pine forests, and the quarries on the Apostle Islands became parkland. Tourists came instead.
The first boom came in the 1880s and 1890s, when opulent hotels were built and excursion boats came from Detroit and Chicago.
Wealthy visitors from other Midwest states built summer homes. The grandest house was built in 1890 by a Civil War general from Illinois who came to relieve his asthma in the cool lake breezes.
The area's fortunes waned after the turn of the century, and tourism waned, too. But eventually, tourists rediscovered the area.
"When we first came here, it was really just a fishing village," said Maggie Osgood of Rockville, Md. "The transition has been fascinating."
In 1975, Gen. Fuller's Victorian "summer cottage" became an inn and introduced tourists to the bed and breakfast concept; other inns followed. Condos went up along the waterfront and vacation homes in former orchards.
In 1997, the Chicago Tribune, after a six-week search, declared Bayfield, pop. 600, the "Best Little Town in the Midwest," leading to mixed feelings among long-time residents.
"People don't want Bayfield to become like Door County," Osgood said. "Part of the charm is it still has its simplicity."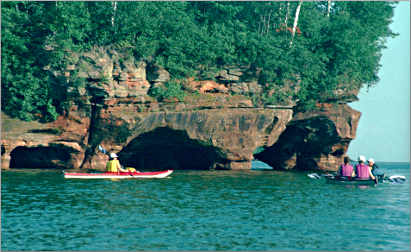 But if Bayfield isn't the best little town in the Midwest, it's a contender. Just look at it, a hillside of clapboard cottages mixed with Queen Annes, spilling down to the harbor, where a bobbing sea of white hulls and masts gleam in the setting sun.
Just to the north, the 21 islands of the Apostle Island National Lakeshore rise from the lake, misty green in the distance. Over a strait crisscrossed by ferries, there's 14-mile-long Madeline Island, its cottages mostly swallowed by woods.
On Madeline, there's a state park and a town park, both with beautiful beaches. There's the elegant Lotta's Lakeside Cafe as well as Tom's Burned-down Cafe, a funky nightspot.
The Madeline Island Historical Museum tells the fascinating story of the fur trade, whose Lake Superior center was La Pointe (for more, see Madeline's magnetism).
On the Apostles, there are sea caves and sand dunes and shipwrecks. Excursion boats from Bayfield keep busy taking tourists to see them, and outfitters take groups of kayakers to the islands on overnight camping trips.
Bayfield has a few blocks of shops, most displaying the work of northwoods artists, and coffeehouses, which sell pastries made with the marvelous organic strawberries, raspberries and apples grown on the ridge above town.
It's also got unabashedly old-fashioned Greunke's, which serves whitefish livers sauteed with onions and green pepper (the town's motto is "Real Tourists Eat Whitefish Livers!").
It has a walking trail along the bay, a nature trail around a restored 1912 iron bridge and the Big Top Chautauqua, where foot-stomping musicals about Lake Superior alternate with concerts by nationally known performers.
But what really makes this area different is what you don't see. You don't see fast food or franchise motels. You don't see billboards or neon or even stoplights.
You don't see giant condo complexes, and you don't even see crowds, except outside the ice-cream stand on warm summer nights.
That's due to the work of people who have loved this Lake Superior community. In 1970, Wisconsin senator Gaylord Nelson got Congress to create the Apostle Islands National Lakeshore.
Impresario Warren Nelson founded the Carnegie Hall of Tent Shows in 1986, and on Madeline Island, Tom Nelson's Carnegie Hall of Junkyards helps keep the island on island time.
There's philanthropist Mary Rice, who brought great food to town, and captain Dave Strzok, who keeps track of island history.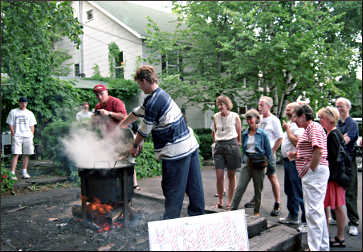 Squadrons of volunteers, many retired, work at historic sites and as rangers on the islands.
Residents serve on a lot of committees, all trying to keep Bayfield as unspoiled as it is.
The long winter helps; in fact, it helps so much that year-round residents have to work around the clock in summer so they can afford to stay in winter.
Still, it's quite a magic trick, keeping the village shipshape but not slick, inviting but not ingratiating.
As one in a long line of tourists-and, yes, I've eaten whitefish livers-I'm glad the magic is still holding.
Trip Tips: Bayfield, Wisconsin, in summer and fall
When to go: Peak season is July and the first half of August. In late August and early September, it's a little quieter, and that's also the best time to swim.
2023 events: June 10, Garden Tour. June 20-Aug. 31 on Tuesdays and Thursdays at 7 p.m., Concerts by the Lake in Memorial Park. June 30-July 2, Red Cliff Band of Lake Superior Chippewa traditional powwow.
Sept. 1-3, Red Cliff Days, including a powwow. Sept. 9-10, Festival of Arts. Oct. 6-8, Apple Festival, with the big parade at 2 p.m. Sunday.
Apple Festival is extremely popular; for more, see Big apples.
For snow-season events, see Bayfield in winter.
Accommodations: There are many condos, cottages and apartment suites and B&Bs. Reserve early for festival weekends.
Lodgings include the Seagull Bay Motel on the edge of downtown, overlooking Chequamegon Bay and adjoining the Brownstone Trail. It also rents a guesthouse and cottage and a large two-story house that's good for large groups.
The Pinehurst Inn Bed & Breakfast on the south edge of town is closest to Mount Ashwabay. It has five rooms in the 1885 main house, including a three-room suite with fireplace, double whirlpool and extra sofa bed, and three rooms in the 2003 Garden House, each with fireplace and whirlpool.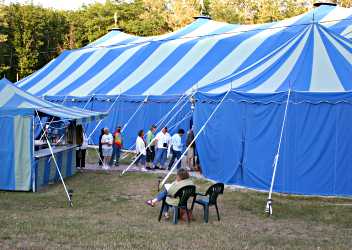 The Bayfield Inn, overlooking the marina next to the cruise-service dock, is a solid choice. Harbor's Edge Motel is just down the street, across from the ferry landing, with less-expensive rooms.
A mile north of town off Wisconsin 13, the Island View Inn and Cottages is a  nice place for families. Two comfortable suites have private entrance, bedroom, kitchenette, living room with sofa sleeper and VCR, sand beach on Lake Superior, playground and swings. There are also three cottages.
The Rittenhouse Inn was Wisconsin's first B&B and is its best-known. It rents 12 rooms in the 1890 main inn; seven in the 1908 Chateau Boutin, five blocks away; and the 1910 Arts & Crafts-style Rittenhouse Cottage, one block away.
Many rooms have whirlpools and/or fireplaces. Continental breakfast is included; a full breakfast is extra, plus tax and 20 percent gratuity.
The Artesian House B&B has a wooded setting just south of town and has three rooms, one with double whirlpool and two with extra sofa beds.
South of town, Wild Rice Retreat offers 31 Scandinavian-inspired lodging units with access to arts and wellness workshops and classes.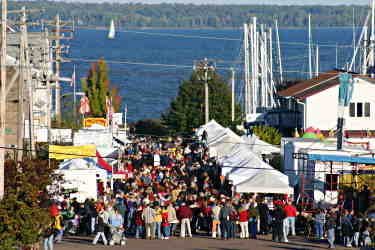 Camping: The municipal Dalrymple Park and Campground is on the lake a mile north of town, off Wisconsin 13. The 28 wooded sites are $30 and first-come, first-served.
In Red Cliff, Legendary Waters Casino & Resort has two campgrounds, one next to the casino and one wilderness area several miles north that's first-come, first served. Campers can use the pool and hot tub with a $10 wristband.
Dining: On Rittenhouse Avenue, the Copper Trout serves pizza, pasta, burgers and freshly caught lake trout. It also offers beer flights.
The Rittenhouse restaurant is open to the public for breakfast and dinner year-round and for lunch from late June through Labor Day.
In summer, Greunke's First Street Inn has fish boils.
Breweries: On the south edge of town, at the intersection of Wisconsin 13 and County Road J, Adventure Club Brewing has a taproom with large patio, next to Howl Adventure Center.
In Washburn, South Shore Brewery has a taphouse that hosts food trucks, music and game tournaments.
Nightlife: In summer, Big Top Chautauqua, under a big tent on the Mount Ashwabay ski hill south of town, brings in some of the nation's best entertainers and also stages its own musical revues. A shuttle takes guests there from many Bayfield motels.
In Washburn, StageNorth hosts community theater, concerts, dance performances and films.
Apostle Islands National Lakeshore: The headquarters is in Bayfield at Washington Avenue and Fourth Street, 715-779-3397.
Cruises: From early May to mid-October, the Apostle Islands Cruise Service runs a three-hour Grand Tour at 10 a.m. and 5:30 p.m., 4:30 from mid-August. Afternoon cruises focus on shipwrecks, sea caves and lighthouses.
It also offers cruises to Raspberry and Michigan islands, with stops to tour the lighthouses, and camper shuttles to Stockton and Oak islands.
Kayaking: Trek and Trail offers trips. For more, see Kayaking the Apostles.
Sailing: Several companies offer sailboat rides. Superior Charters also offers certification courses.
Madeline Island ferry: It leaves every half hour during the day in summer.
Winter: The Apostle Islands Sled Dog Race brings many people to Bayfield, as do the Mawikwe Bay ice caves when Lake Superior freezes enough to allow access, which is becoming increasingly rare.
For more, see Bayfield in winter and Ice caves of the Apostles.
The Book Across the Bay candlelight tour/race across Chequamegon Bay between Ashland and Washburn on Presidents Day weekend is very popular.
There's also excellent skiing at Mount Ashwabay, just south of Bayfield, and at Mount Valhalla, on the interior of the Bayfield Peninsula.
For more, see Winter in Washburn.
Information: Bayfield Chamber of Commerce and Visitor Bureau, 800-447-4094.
Last updated on January 26, 2022