Ensconced in Ely
A guesthouse overlooking Bear Head Lake is just one of the hideaways in Minnesota state parks.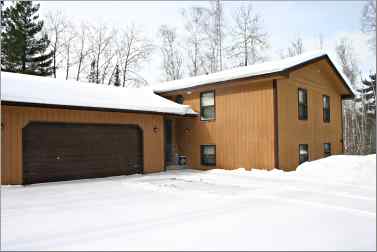 In Bear Head Lake State Park near Ely, there are three places to spend the night: a tent, one of five rustic camper cabins and a modern split-level.
On a subzero day in winter, one is better than the others.
Minnesota's state parks are sprinkled with guesthouses and cabins that can be rented. Some are marvelously atmospheric, such as the log cabins built in Itasca for the tourist trade.
Others came with annexed land and the state remodeled them; in Tettegouche, the Illgen Falls "cabin" is handicapped-accessible, with a big deck, gas grill, gas fireplace and kitchen with microwave, full refrigerator-freezer, computerized oven and glass-ceramic range.
The state isn't really in the hospitality business, so you take what you get. There won't be chocolates on the pillow, but there might be a wood-burning fireplace (Wild River) or kitchens stocked with gourmet utensils (St. Croix).
We rented the guesthouse in Bear Head State Park one Presidents Day weekend. We were glad to have a warm, cozy haven, though it didn't have a shred of atmosphere.
It was a classic suburban split-level with brownish nylon carpeting, laminate furniture and linoleum, but it also had a roomy two-car garage. There was a view of Bear Head Lake's North Bay from the deck and walk-out patio, which must be nice in summer.
In the kitchen, I rooted through the kitchen drawers to see if I could prove my theorem: Anything you really need but don't bring is exactly what a rented house won't have.
Bear Head Lake, I was pleased to see, had a small crockpot, three sets of salt and pepper shakers and stacks of coffee filters. It also had 13 spatulas, four pitchers, three whisks, two toasters, a Bundt pan and a turkey roaster.
But we hadn't come to the park to hang around the kitchen. There was plenty of snow on the ground, but it had become crusty, and the ski trails hadn't been groomed for three weeks. Ranger Jen Westlund advised us to snowshoe or walk on the trails from the beach.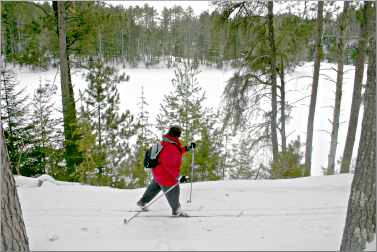 "There are three deer who hang out there, and lately I've only seen two, so maybe you'll find a dead deer and some wolf tracks," she said with a smile. "We see a lot of wolf tracks around here."
We were going to walk across the lake to the Becky Lake trail, but instead we followed the East Bay on the Norberg Lake Trail, which was lined with towering red and white pines and the occasional erratic boulder, carried by glaciers.
We saw plenty of wolf tracks and some wolf scat, really just a compacted twist of deer hair.
We were admiring a beautiful northwoods panorama of island, bay and lake when seven women came skiing along, undeterred by the shallow tracks.
They were part of a group of 11 women on an annual cross-country ski trip they've taken in various places since 1984, so we invited them to look over our guesthouse, which sleeps 10 in three bedrooms.
"I love the view of the lake," said Janet Levine of Blaine, Minn. "And the kitchen is big enough."
LouAnn Nordwall of St. Paul tested the mattresses and pronounced them comfortable; usually, she said, they bring air mattresses.
But then she noticed the small kitchen table, the only spot with enough light for games and other activities.
"What makes a cabin for 10 is the size of the kitchen table," she said. "To me, this is a cabin for six."
Lodges and large cabins are in huge demand for family reunions and women's getaways; that weekend, Nordwall's group had found a cabin at nearby Timber Wolf Lodge that had a long table and a kitchen with a center island where the women could cook.
When the cost is split 11 ways, it's not much.
"You don't need to spend a lot of money; you just have to get up here," Nordwall said.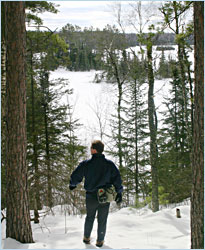 What all state-park guesthouses have is location, location, location. People who want Minnesota state-park cabins and guesthouses for weekends from May through October should reserve them on the first day they're available, probably in the first hour.
Needless to say, competition is fierce.
Details: The guesthouse is near the park office, seven miles south of Minnesota 169 between Ely and Tower. It has three bedrooms, one in the chilly lower level.
It has two full bathrooms and sleeps 10 on one full bed, four twins, two sleeper sofas and a futon.
The living room is dim, so groups who want to play games should bring extra lighting and, perhaps, a card table.
Beds have crinkly plastic covers, and there are only a few pillows; as at other park cabins, you must bring your own pillows, bedding, towels and soap, and clean the cabin before you leave.
The camper cabins are nearby, closer to the North Bay of Bear Head Lake.
For more about camper cabins, see A roof in the woods.
Reservations: Reserve 120 days in advance online or at 866-857-2757. Reservation fee is $7-$10, and reservations can be made starting at 8 a.m. (after the first day of availability, on-line reservations can be made 24 hours a day).
For more, see Camping in state parks.
More about Ely: For winter, see Winter in Ely.
For summer, see Dreaming of Ely.
Last updated on January 22, 2022