Tranquility in the Turtle-Flambeau
Near the northeast Wisconsin town of Mercer, paddling is as wild as you want it to be.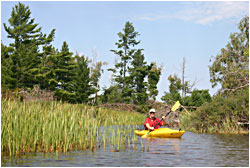 In the northeast corner of Wisconsin, a vast, amoeba-shaped body of water spreads over 37,000 acres of state-owned land.
Rivers run through it, the Turtle and the Flambeau. They were dammed to create a flowage in 1926, and today it's a state scenic waters area, designated for boating, fishing and camping.
Hundreds of islands and secluded bays provide habitat for bald eagles, osprey and loons, who outnumber the paddlers who pull up to rustic campsites.
The Turtle-Flambeau Flowage is a little like Minnesota's Boundary Waters Canoe Area Wilderness, except it's easier to reach, permits aren't required and there are only two portages.
Call it Boundary Waters Lite.
Motorboats are allowed, so canoeists and kayakers looking for absolute quiet may not find it. Even so, they may be tempted by the trade-off — the resort town of Mercer is just 15 minutes away, with its ice cream, fish fries and one of the region's best arrays of mix-and-match craft beer.
The eastern fifth of the flowage is a voluntary, no-wake "quiet area" served by a shallow-water boat access that's off the beaten path. That's the most "wilderness" part of the flowage.
But the area is so vast that it absorbs boat traffic, mostly seen around landings.
One Labor Day weekend, we put our kayaks into the water at busy Fisherman's Landing, and soon we were sitting in a virtually hidden inland lake, watching two sandhill cranes in the rushes, one feeding and one standing sentinel.
We'd found it by circling Swimmers Island and ducking into a little channel. It looked like good eagle habitat, too — and sure enough, there was one sitting on the branch of a white pine.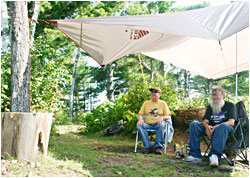 We found out the name of the island from a group of pontoon boaters having a picnic on a pretty ridge. We weren't exactly sure where we were, and after checking a map and telling us, they invited us up for a beer and a brat.
But we had our own lunch, which we ate on a cobblestone beach where two driftwood logs formed a bench.
On the other side of the island, we saw a couple of guys sitting contentedly next to a cooler and shaded by a tarp.
They'd been coming for 30 years in summer and  fall and have seen the landscape shift and change.
"It's a great place, one of our favorites," said Joe Wag, who had driven up from McFarland, Wis.
His friend Glenn Weihert, of neighboring Middleton, says they've shared space with bear, deer and even larger wildlife.
"One year, we had a moose on the island with us," he said.
Their favorite spot, F13, was taken, so they'd settled on R17. Sites with an "F" means there's a picnic table, like F7 on a  beautiful point occupied by two tents.
We were staying in town, but we were developing a case of campsite envy.
Just 10 miles away, Mercer is a longtime lake resort town. During Prohibition, its remoteness was prized by Chicago gangsters, who vacationed there.
One of its citizens was Ralph Capone, who kept the books for his brother Al and served two years for tax evasion.
When he got out of jail, he came to Mercer, along with his mother, wife, mistress, and various cousins and associates. After Prohibition, he ran a bar and, by all accounts, was loved by everyone.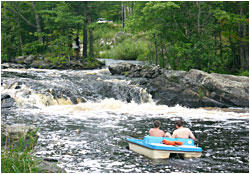 Capone is part of Mercer lore, along with his bagman Einer, who had a pet muskie called Stupid that he fed every night. Locals knew that if you caught Stupid, you put him back fast.
Today, tourists know Mercer mainly as the home of Clair d'Loon, a 16-foot-tall fiberglass bird with beady red eyes on the south edge of town.
Downtown, there's everything a lake town needs: ice-cream and bait shops, a coffeehouse, souvenir and antiques stores and a bunch of bars.
It also boasts Snow's Family Market, where we found a selection of perhaps 200 kinds of craft beer, plus really good baked goods and specialty bratwurst made on-site.
The next day, we went to Lake of the Falls County Park, a popular campground on the north edge of the flowage. The water at the foot of a 10-foot falls was buzzing with boats — paddleboats, kayaks, canoes, rafts, pontoons — and families played on a small sand beach.
From there, we paddled into the flowage along the Turtle River. A few cabins lined the high, wooded banks, but soon the horizon widened and the breeze picked up.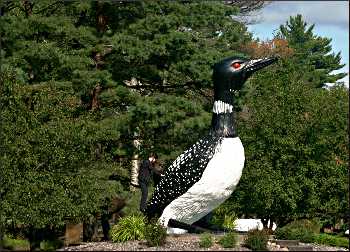 Even on a holiday weekend, there were only a few other kayaks and fishing boats. We hugged the shore and dipped into reedy bays, flushing a wood duck and passing a swan-shaped stump.
When the area was flooded in 1926, the water topped 16 lakes and created 377 islands. Today, it's a maze of water and woods.
You can get a taste on day trips. It takes a little longer to find wilderness spots, but in this rambling flowage, there's a nook or cranny for everyone.
Trip Tips: Mercer, Wisconsin
Getting there: It's on U.S. 51, about 4½ hours from the Twin Cities and five hours from Milwaukee.
2023 events: June 10, Lupine Junefest. June, Mercer Open Fishing Tournament. July 4 Celebration, with parade and fireworks. Aug. 2, Loon Day Art and Craft Fair.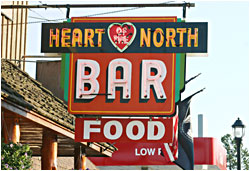 Paddling and boating: There are six access points in the Turtle-Flambeau Scenic Waters Area and one in Lake of the Falls County Park.
The eastern fifth of the flowage, reached from Murray's Landing, is a designated quiet area for paddlers who want a wilderness experience.
Personal watercraft are allowed, though we didn't see any. Local ordinances limit them to no-wake travel except between 11 a.m. and 4 p.m.
Camping: There are 66 campsites accessible only by water and first-come, first-served. Each has a fire ring and open-air latrine, and 17 (site numbers with an "F" prefix) have picnic tables. No fee or permit is required.
They include eight group sites, each with a picnic table and benches. Six must be reserved in advance and do require a fee.
All campers must pack out everything they bring in.
Miles Paddled offers a handy guide to canoe/kayak camping in the flowage.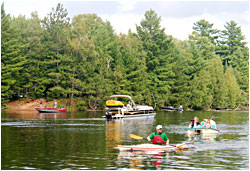 There is also camping in many town and county parks, including Lake of the Falls County Park on the north side of the flowage, five miles west of Mercer.
Dining: Downtown, The Pines has a large and pleasant outdoor beer garden/recreation area, a good place for a family to eat with small children. Inside, it serves large portions of German food (half portions are available).
On the north edge of town, the Cranberry Inn serves such dishes as roast duck and butternut-squash ravioli as well as northwoods classics, including a Friday fish fry and Saturday-night prime rib.
Groceries: On the south edge of Mercer, Snow's Family Market has its own bakery, deli and one of the region's best selections of mix-and-match craft beer.
Lodgings: The Cranberry Inn has eight northwoods-style motel rooms.
There are also many lodges and lake resorts in the area.
Gangster history: Little Bohemia Lodge, where the FBI tried to catch John Dillinger in a famously botched 1934 raid, is 10 miles south of Mercer on U.S. 51.
For more, see Chasing gangsters in Wisconsin.
Information: Mercer tourism, 715-476-2389.
Last updated on January 24, 2022