Chasing gangsters in Wisconsin
In lakes country, tourists still love to see where infamous crooks relaxed.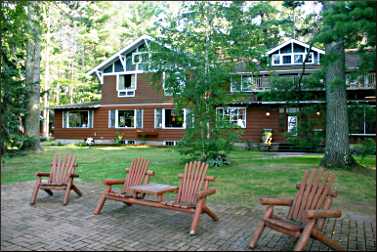 In 1920, northern Wisconsin already was a playground for people from Chicago.
And when Prohibition flung open the door to organized crime, its remote lakes and forests became even more attractive to a certain kind of Chicagoan.
Al Capone had a fortified summer home on a lake near Hayward, to which hydroplanes flew whiskey from Canada.
His lieutenants frequented the saloons and brothels in Hurley. Rival Roger Touhy vacationed in Minocqua, fishing with a machine gun.
By 1934, Prohibition was over but the Depression was in full swing, and many people blamed the banks.
John Dillinger was the most-wanted bank robber, and he made a resort in Manitowish Waters famous when the FBI interrupted his stay there, killing a local but allowing Dillinger, Baby Face Nelson and the other men to escape.
The spectacularly botched raid of Little Bohemia Lodge is at the center of the film "Public Enemies," starring Johnny Depp as Dillinger and Christian Bale as FBI agent Melvin Purvis. It was filmed at Little Bohemia and around Wisconsin.
Now it's tourists who are hot on the gangsters' trail, not FBI agents.
Over the years, Little Bohemia has hosted throngs of what it calls "bullet-hole customers," named for the holes that still can be seen. In April 1934, Dillinger had just been wounded in a shootout with the FBI in St. Paul.
His girlfriend, Billie Frechette, raised on northeast Wisconsin's Menominee Indian Reservation, was in custody.
He and his gang decided to get away and regroup. The owner of their favorite tavern in Chicago recommended a lodge in Wisconsin's north woods, run by a friend.
Manitowish was the kind of place where "every little lake had at least one illegal still working overtime," writes Bryan Burrough, author of the book on which the film is based, "Public Enemies, America's Greatest Crime Wave and the Birth of the FBI, 1933-34."
Nan LaPorte used to run her brother's moonshine downstate, and that's where she met Emil Wanatka.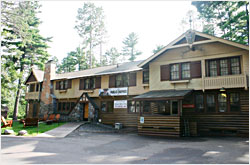 They married and ran the Little Bohemia bar in Chicago, "a favorite of underworld figures," Burrough writes, before returning to her home in Manitowish. In 1931, they built a roadhouse on Star Lake.
When the party of 10 from Chicago showed up on a cold day in April, the Wanatkas were happy for the business.
But Emil recognized Dillinger, and Nan eventually grew worried and told her sister, who ran a resort down the road with her husband, Henry Voss.
Voss called the FBI and drew a map of Little Bohemia for agents. Its failure to mention Nan Wanatka's two watchdogs was only one of many miscalculations.
The gang had decided to leave early and was packing when the dogs started barking. Nervous FBI agents opened fire on three customers who were leaving after dinner, killing one and wounding the others.
Dillinger jumped out a window and ran away unnoticed. Baby Face Nelson ran another way, killed an FBI agent and wounded another agent and a constable. Then he stole their car.
Meanwhile, FBI agent Melvin Purvis sat in the driveway until dawn, thinking he had Dillinger trapped.
(In the film, however, Dillinger trades machine-gun fire with agents from inside the lodge and then is pursued through the woods; it's one of many discrepancies.)
The escape was a national scandal, embarrassing FBI director J. Edgar Hoover. The ensuing manhunt ended that summer when agents gunned down Dillinger outside the Biograph Theater in Chicago.
The gang had left many belongings at Little Bohemia, and after Dillinger's death, the lodge installed a museum. For a while, John Dillinger's father and sister ran it.
The lodge no longer rents rooms, but it operates a gift shop and restaurant, and its slogan is "Dillinger only left because he had to."
After the escape, gang member John Hamilton was shot by police from Hastings, Minn., as he, Homer Van Meter and Dillinger headed for St. Paul. Tommy Carroll, who already had reached St. Paul, was killed in June by police in Waterloo, Iowa.
Van Meter was killed that August by police in St. Paul. Baby Face Nelson died that November in a shootout on an Illinois highway.
Wisconsin's northwoods remained popular with gangsters. Ralph Capone, a mob cashier who served more than two years for income-tax evasion, bought a bar in Mercer, ran slot machines and was a popular resident until his death in 1974.
Sam Giancana brought his family to vacation in Rhinelander. Joe Saltis bought a lodge near Winter. Jimmy Hoffa was a patron of Jack O'Lantern Lodge in Eagle River, and the woods surrounding it were searched when he disappeared.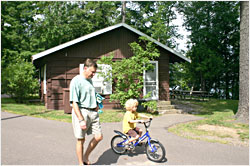 Here are some of the places to visit on Wisconsin's gangster trail. For a map and details, see Travel Wisconsin's Gangster Tour, which includes video tours.
For more about historic resorts, see Classic Wisconsin lodges.
The resorts
Manitowish Waters. Little Bohemia Lodge, 26 miles north of Minocqua, serves a traditional northwoods menu of steak and seafood and is open daily for dinner. In summer, it also serves lunch and breakfast every day except Tuesday. There's a gift shop. 715-543-8800.
A mile south, Voss' Birchwood Lodge was the staging area for the FBI's assault on Little Bohemia. It has a main lodge and cottages on Spider Lake. 715-543-8441.
Lac du Flambeau. After he killed FBI agent Carter Baum and stole his car at Little Bohemia, Baby Face Nelson headed west. When the car threw a rod, he walked 20 miles through forest and ended up at Dillman's Bay Resort.
He spent three nights in a maple-sugar shack, now Cabin 5, with an elderly Ojibwe couple before stealing a car and heading for Chicago.
Today, the fourth generation is running the resort, on a peninsula on White Sand Lake, 20 miles northwest of Minocqua. It's known for its creative art workshops, held from mid-May to mid-October.
Minocqua. The busy Island City was as popular with Chicagoans then as it is now.
Two miles west of town, at the end of a long driveway, Norwood Pines Supper Club was a popular gangster hangout, with gambling and a brothel upstairs, according to the late Tom Hollatz in his book "Gangster Holidays, the Lore and Legends of the Bad Guys." It's off Wisconsin 70 on Patricia Lake.
BJ's Sportshop on U.S. 51 was the home of Trixie's, "the most famous whorehouse in the northwoods," Hollatz writes. The Belle Isle Sports Bar & Grille, at 301 E. Front St., had a direct phone line to Arlington Park racetrack in Chicago.
Hayward area. South of Hayward, near Couderay, a 1925 stone-and-log house was Al Capone's summer home on Cranberry Lake, to which hydroplanes flew whiskey from Canada. It has a machine-gun turret and and eight-car garage, and it was built for a wary comfort.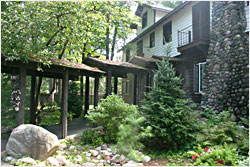 Two mahogany spiral staircases lead to corner bedrooms along walkways that have a full view of the living room; in Capone's bedroom, a switch worked all the yard lights.
For many years, it was privately operated as Al Capone's Hideout, with tours and a restaurant in the garage, but it closed without notice in 2009 and sold at auction.
East of Couderay, near Winter, Chicago gang leader and speakeasy operator "Polack Joe" Saltis built a cedar log lodge on Barker Lake in the 1920s, with cabins "where visiting 'firemen,' or 'blazers' (gunmen) could relax away from the heat," Hollatz wrote.
It's now the Legacy Lodge, with accommodations in the lodge and six 1920s log cabins. It also has a nine-hole golf course built by Saltis, who retired there in 1930.
Cable: Just east of town, a 1927 resort on Lake Namekagon is rooted in Prohibition-era notoriety, though not gangsters.
It was built by wealthy Chicago businessman Jacob Loeb as a retreat after the sensational 1924 trial of his teen-aged nephew, Richard Loeb, who was convicted with friend Nathan Leopold of murdering a young boy for the thrill of it.
It was Jacob Loeb who paid celebrated lawyer Clarence Darrow to save his nephew from the electric chair, which he did.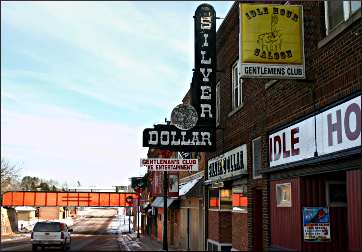 Today, it's called Garmisch USA, for the famous Bavarian ski resort, and its lodge and cabins have a medieval hunting-lodge motif. Lodge rooms and the restaurant have great views of Lake Namekagon.
For more about Garmisch and similar lodges, see Classic Wisconsin lodges.
Hurley: This town, adjoining Ironwood, Mich., is in a mining district and was known as the roughest town in the Upper Midwest.
Silver Street was packed with saloons and brothels, and according to Hollatz, the Capone mob brought teen girls there with the promise of dancing jobs, then trained them as pickpockets or forced them into prostitution.
Even today, Silver Street has a faintly menacing air, especially where it dips past a small gantlet of "gentlemen's clubs" before transforming into the cheerily bourgeois main street of Ironwood.
Filming sites
Oshkosh. Crews filmed two famous Dillinger robberies here, with a downtown bank/office building standing in for the Security National Bank and Trust in Sioux Falls, S.D., and Oshkosh's Masonic Temple standing in for the American Bank and Trust Co. in Racine, Wis.
Columbus. This entire downtown of Columbus, 25 miles northeast of Madison, is on the National Register of Historic Places, and it stood in for Greencastle, Ind., where Dillinger and his gang robbed a bank in October 1933, netting $75,000.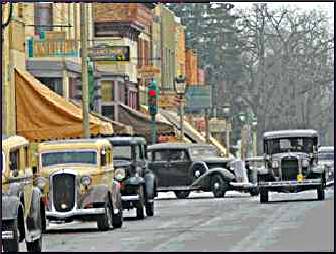 Exterior bank scenes were shot at the West James Gallery, which once was the First National Bank and now includes the visitors center.
Madison. The interior and exterior of the state Capitol stood in for FBI headquarters, with Billy Crudup playing J. Edgar Hoover. Free tours are given daily.
Beaver Dam. The historic Hotel Rogers in Beaver Dam, now an apartment building called The Rogers, stood in for Tucson's Hotel Congress, the site of the Dillinger gang's capture after a fire broke out and authorities recognized them.
Darlington. In this town south of Mineral Point, the Lafayette County Courthouse stood in for the Lake County Courthouse in Crown Point, Ind., where Dillinger was arraigned.
Milwaukee. The Milwaukee County Historical Society building on Old World Third Street in Milwaukee, a former bank, was converted back into a bank by film crews; the interior scenes of the Greencastle robbery were shot there.
Lake Delton. The grounds of Ishnala restaurant, a 1953 restaurant on Mirror Lake that includes parts of a 1909 log home, were used by film crews.
For more on the movie, see the Public Enemies Wiki site. Many YouTube videos feature filming at sites in Wisconsin and especially Johnny Depp, who was gracious to his many fans.
Last updated on June 22, 2020