Choosing snowshoes
You can make, buy or simply try the different models at state parks and nature centers.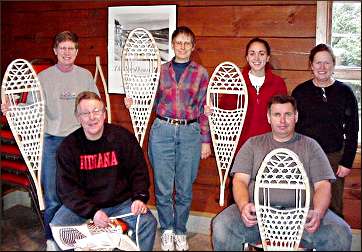 It's easy to see why snowshoeing is so popular. It's slower than skiing, but you can go wherever you want, on footwear that doesn't need to be waxed and on trails that don't need to be groomed.
A lot of people will be getting or giving snowshoes as holiday presents. Many people automatically head for the high-tech metal shoes that are ubiquitous in sporting goods stores, but it's worth considering other kinds.
Aluminum snowshoes are light and have crampons for scaling hills, but they don't give wearers much loft in deep snow, and they're kind of noisy.
If you're envisioning a snow-draped trek through the quiet north woods, choose one of the wood-framed styles that have been used for centuries.
Rounded bear paws are best for maneuvering around trees and brush. Ojibwas , with pointed toes and long tails, and Alaskans , which are similar but have rounder toes, are best for traveling cross-country in deep powder.
They're also good for people who pack a few extra pounds, on their bodies or in backpacks.
To get a look at some of the different kinds of snowshoes and bindings, check Country Ways, the Twin Cities company that makes the kits used in many state-park and environmental-center workshops.
It charges $299 for wood-framed snowshoes. Aluminum snowshoes can cost that much, but they're also available for as little as $90.
Country Ways also sells kits for $169, so you can save a lot of money if you're patient, dexterous and willing to shred your fingers.
I once tried to weave Ojibwa-style snowshoes at a workshop in Jay Cooke State Park, and it seemed like the kind of self-flagellation that only Scandinavians could love.
For two days, I tugged on 22 feet of nylon lace. My eyes were crossing. My fingers were bleeding. My shoulders were aching.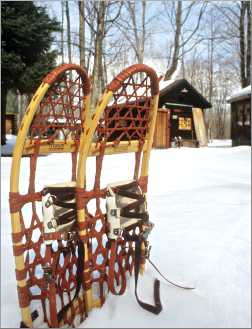 "If you get so frustrated you want to throw it in the fireplace, that's the time to take a walk," said naturalist Linda Radimecky, who now teaches the workshops at Fort Snelling State Park in the Twin Cities.
Of course, if you actually finish your snowshoes, you'll be able to brag about it for life.
Lacing workshops
Many state parks and environmental centers offer wood snowshoe-making workshops, with kits included.
In Minnesota, state parks offer kits and instructions, but not bindings, for $75.
In Michigan, Ludington State Park offers one- or two-day workshops , $190 including bindings.
In Wisconsin's north woods, near Tomahawk, Treehaven offers a snowshoe-weaving workshop that costs $310, including lodgings, five meals, instruction and the kit.
So if you do throw your unfinished snowshoes in the fire, at least you'll have had a nice weekend away.
If you make your own, choose bindings with care. Those that are hard to put on and keep on will take the fun out of the sport.
And if you're not ready to buy or make snowshoes, try them out first at state parks. In Minnesota, 25 parks rent snowshoes for $6 a day.
Many of the parks also offer introductions for beginners and guided snowshoe hikes, some by moonlight. I've used Alaskan snowshoes at one of Whitewater State Park 's moonlight hikes, and they were perfect for the riverside excursion in deep snow.
In western Wisconsin near New Auburn, the Chippewa Moraine Interpretive Center has many snowshoes available.
In Wausau, Rib Mountain State Park, which has dedicated snowshoe trails, rents snowshoes and holds candlelight snowshoe hikes.
Many other state parks, nature centers and outfitters also rent snowshoes; check the ones closest to you.
Want to know where to go? See Great places to snowshoe.
Last updated on November 20, 2014