Great places to snowshoe
In winter, the outdoors is wide open to those who walk on snow.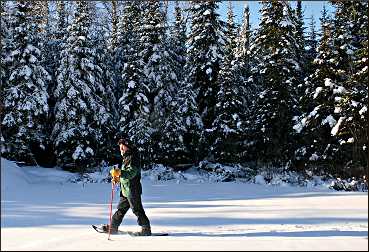 Everyone likes to snowshoe. It's cheap, easy and you can do it anywhere.
In winter, snowshoes are the bridge into the wild white yonder. They allow you get off the beaten path and to places that otherwise would be hard to explore-islands, overgrown woods, bogs and marshes.
In deep snow, the first person to break trail has to expend some serious effort. If you're the fourth or fifth person on the trail, though, that's just about right.
If you're the 20th, you can just wear hiking boots. Often, I've wound up ditching my snowshoes when I'm in a state park, because the trail to wherever I'm going is so packed I don't need them.
Yet trails give you a cleared path through brush and are laid to take in the best scenery, so it's hard to ignore them.
Any state park or nature center is good for snowshoeing; look for wooded areas that are protected from the sun and wind. Sheltered sections of bicycle trails work, too.
If you'd like to get away from the crowds, try a state forest, wildlife area or natural area. On mountain-biking trails, single track provides interesting terrain for snowshoeing.
Anywhere you can hike, you can snowshoe. For more ideas, see our Hiking section.
Be careful on lakes; they freeze at night and thaw during the day, creating a crust that snowshoers might break through to slush.
Before you go, check a state's Department of Natural Resources website for snow conditions in Minnesota and Wisconsin. The Upper Peninsula of Michigan almost always has excellent snow.
Here are some of the best places to snowshoe in the Upper Midwest. For a list of lighted treks, see Ski or snowshoe by candlelight.
Michigan
The sparsely populated Upper Peninsula is almost solidly national and state forest, providing unlimited snowshoe opportunities.
Porkies : On the western edge of the peninsula, along Lake Superior, Porcupine Mountains Wilderness State Park has 100 miles of trails and lots of snow.
It rents four year-round yurts, two on Lake Superior's Union Bay and two that require guests to hike in by snowshoe or skis.
For more, see White gold in the Porkies.
Mount Bohemia : This ski resort on the Keweenaw Peninsula also has more than 20km of snowshoe trails, free and open to the public.
Here are 12 other places to snowshoe in the nearby Keweenaw Peninsula.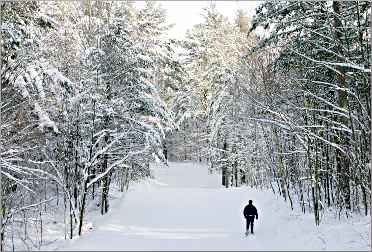 Black River : Just to the west, five waterfalls line the last few miles of the Black River as it flows into Lake Superior, and snowshoeing is the perfect way to tour them.
For more, see Waterfalls of the Black River.
This area north of Bessemer is part of Ottawa National Forest, and marked sections of the North Country National Scenic Trail provide even more possibilities.
Sylvania Wilderness : On the southwest edge of the peninsula, near Watersmeet and just across the border from Land O' Lakes, Wis., Sylvania Wilderness and Sylvania Recreation Area have more than 18,000 acres of old-growth forest with 34 named lakes.
Once owned by the elite Sylvania Club, which hired armed guards to keep intruders out, it's now part of Ottawa National Forest.
Pick up trail maps at Sylvania Outfitters on U.S. 2, which rents snowshoes and also grooms 10 ski/snowshoe loops that connect to wilderness trails.
The wilderness is less than half an hour from Afterglow Resort in Wisconsin, which makes a nice base. For more, see Snow asylum.
Pictured Rocks National Lakeshore : East of Marquette, the 43-mile Lakeshore Trail along the cliffs of Lake Superior, in Pictured Rocks National Lakeshore, makes scenic snowshoeing. Much of it is remote, though. The closest trail to Munising is the 1.2-mile Miners Falls Trail.
Sleeping Bear Dunes National Lakeshore : Rangers lead snowshoe hikes from the visitors center in Empire every Saturday at 1 p.m. from January through February and beyond, if conditions permit.
Reserve at 231-326-4700, Ext. 5010. The hike and use of snowshoes is free.
Ludington State Park : This popular park on the shore of Lake Michigan offers free 1½-hour guided snowshoe walks through woods and dunes at 3 p.m. and 7 p.m. on Saturdays in January and February.
Snowshoes are available on a first-come, first-served basis.
North Country National Scenic Trail : This trail has many other developed sections on the Upper Peninsula and also the Lower Peninsula.
Traverse City : In this town on Grand Traverse Bay, snowshoe right in town on the grounds of Grand Traverse Commons or down Lake Michigan on eight marked trails at Sleeping Bear Dunes National Lakeshore.
In January, the Bigfoot Snowshoe Race is held at Timber Ridge Resort.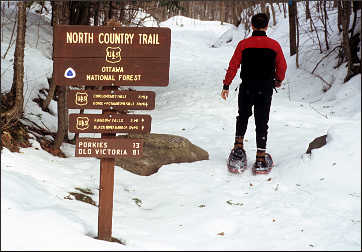 In many parts of north-woods Minnesota, especially the Boundary Waters Canoe Area Wilderness, snowshoes give you the luxury of going anywhere you want.
The Ely area and the Gunflint Trail, which border the BWCAW, make good jumping-off points and have good trails of their own through thick forest.
The Superior Hiking Trail follows the scenic North Shore of Lake Superior from the Canadian border to Duluth. It's popular, so many segments quickly become packed. But when there's fresh snow, hiking up rivers and along gorges is unsurpassed.
In bluff country, trails follow streams through coulees. Even the Twin Cities have miles of dedicated snowshoe trails.
The state parks offer many naturalist-led snowshoe events, and 31 parks rent snowshoes for $6 per day.
For details, see Snowshoeing in Minnesota and North Shore by snowshoe.
With the 1,000-mile Ice Age National Scenic Trail winding across the state, there's lots of great terrain-and glacial moraine-on which to snowshoe.
Wisconsin also has two huge national forests, Chequamegon in the northwest and north-central part of the state, and the remote Nicolet in the northeast. Sections of the North Country Trail provide good snowshoeing, especially around Cable.
Along Lake Superior, thousands look forward to making the mile-long trek over the frozen lake to the mainland ice caves on the Bayfield Peninsula.
On the Mississippi River in the southwest part of the state, snowshoes take bird-watchers onto frozen sloughs to see bald eagles.
And this is the state that pioneered snowshoeing and skiing by candlelight, one of the most magical experiences.
For details, see Snowshoeing in Wisconsin.
Illinois
Near the northern Illinois town of Wonder Lake, McHenry County parks offer snowshoe rentals at Lost Valley Visitor Center in Glacial Park, $10 per day.
In the west Chicago suburb of Lisle, the Morton Arboretum has 1,700 acres open for snowshoeing. It rents snowshoes.
Admission to Illinois state parks is free, so take your pick. In winter, one of the most popular is Starved Rock State Park, which features a string of canyons along the Illinois River.
Iowa
At Lake Red Rock, just east of Des Moines near Pella, adult and youth snowshoes can be checked out for a day or weekend, free of charge. Call 641-828-7522 or 641-628-8690 to reserve.
Rangers also guide several Winters Wonders snowshoe hikes each winter, looking for wildlife.
Admission to Iowa state parks is free.
What to wear snowshoeing
In deep, powdery snow, Ojibwe or Alaskan snowshoes, which have long tails, are best because they give wearers the most loft.
Rounded bear paws are best for maneuvering in the woods. Metal shoes with crampons are best for packed, icy snow and for scaling hills.
Don't forget to carry poles if you'll be climbing or descending hills. Choosing the right bindings also is important; those that are hard to put on and keep on will take the fun out of the sport.
For more, see Choosing snowshoes.
Mukluks or pac boots, such as Baffins or Sorels, work best with snowshoes. And to keep snow out of your boots, buy a pair of gaiters to wear on your shins. They're available at sport shops and from catalogs.
Don't wear too much, since you'll be generating body heat. For more, see Staying warm in winter.
Last updated on January 18, 2022