Winter lodge adventures on a budget
At non-profit centers, you can try something new-ice fishing, dog mushing, wolf tracking-and everything is included.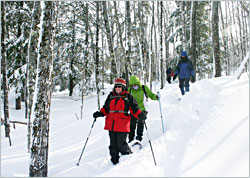 In winter, it's hard to find a lodge getaway that fits every budget.
Lodges that offer skiing on groomed trails, wood-fired saunas and home-cooked meals aren't cheap.
But if you'd like to try those things — and be greeted by a plate of warm chocolate-chip cookies afterward — you have a friend in environmental learning centers.
These non-profit centers are the low-cost Club Meds of the north woods, offering all-inclusive weekend packages that include lodgings, meals and winter fun — cross-country skiing, snowshoeing, ice fishing, even wolf-tracking and sled-dog mushing.
Here are some great winter adventures.
Cross-country skiing for beginners
East of Traverse City, Mich., the Ralph MacMullan Conference Center on Higgins Lake offers a Cross-Country Skiing and Snowshoeing Getaway. Cost includes lodgings, meals and use of equipment.
The MacMullan Center also has offered such weekend programs as Ice Fishing 101 and Cross-Country Skiing 101.
Snowshoeing from a Michigan lodge
The Ralph MacMullan also has offered a Snowshoe Building weekend that includes a morning snowshoe hike and a lantern-lit snowshoe hike at nearby Hartwick Pines State Park.
Private groups can rent one of its six rustic lodges, each sleeping 12 to 40 people, and attend the lantern-lit snowshoe hikes. The center also may offer an inexpensive overnight package that including lodgings, snacks, breakfast and a morning snowshoe hike.
Tracking wolves in Wisconsin
The Timber Wolf Information Network organizes Winter Wolf Ecology workshops at nature centers around the state. Register in advance.
At Beaver Creek Reserve east of Eau Claire, it's in January. Cost is $70, plus $13 for lodgings.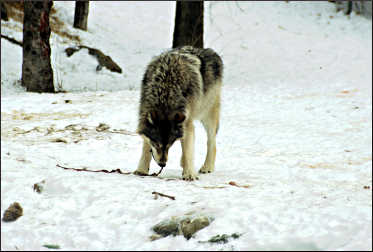 At the Sandhill Outdoor Skills Center west of Wisconsin Rapids, it's in February. Cost is $90, including lodgings and two meals, plus $20 for Friday night, too.
At Treehaven near Tomahawk, it's in January. Cost is $130, including lodgings and four meals.
Becoming an Outdoors Woman in three states
BOW workshops are offered year-round by state DNRs. Costs include lodgings, meals and gear unless noted. Often, scholarships are offered.
Minnesota offers many weekends for women and families that include cross-country skiing, snowshoe archery biathlon, dark-house fishing and outdoor survival.
At Osprey Wilds Environmental Center near Sandstone, formerly Audubon Center for the North Woods, the state's BOW, or Becoming an Outdoors Woman, program offers a Winter Workshop.
Cost includes dorm lodgings and all meals. Reserve as early as possible.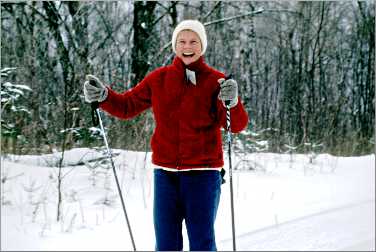 In north-central Wisconsin, Treehaven, a natural-resources center operated by the University of Wisconsin-Stevens Point between Tomahawk and Rhinelander, has offered a Going to the Dogs mushing and skijoring weekend in Springstead, Wis.
Treehaven also offers Becoming an Outdoorswoman Winter Workshops. Activities include cross-country skiing, ice fishing, bow-hunting, winter survival, even kayaking.
Michigan's BOW, Becoming an Outdoors Woman, program usually offers a Winter Workshop at Bay Cliff Health Camp, overlooking Lake Superior near Marquette. Activities included cross-country skiing, snowshoeing, archery, ice fishing and winter biking, and cost includes food and lodging.
Dog sledding on the Gunflint Trail
On the central Gunflint Trail in northeast Minnesota, YMCA Camp Menogyn offers skiing, snowshoeing, sled-dog mushing and trips into the Boundary Waters.
Over the MLK and Presidents' Day holiday weekends, the YMCA of the North offers Family Camps at Camp Menogyn that include sled-dog mushing.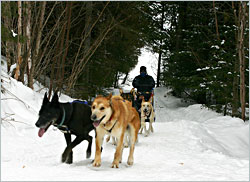 Private groups can rent the camp for a weekend of their choice. They'll be greeted by cookies, served meals in the cozy lodge and allowed to mush dogs on the lake. The bigger the group, the lower the price.
Running with wolves in Ely
In the northern Minnesota town of Ely, the International Wolf Center is offering Wolves and Women's Weekend, based in rustic cabins at the Northern Tier High Adventure Canoe Base.
Activities include dog-mushing, wolf-tracking and snowshoeing.
More adventures in Ely and the Iron Range
North of Ely, on the North Arm of Burntside Lake, the YMCA Camp of the North offers many family and adult weekends in winter, all featuring outdoors sports and use of the camp's wood-fired sauna next to the lake.
Other adult weekend camps are offered at YMCA Camp Warren in Eveleth, YMCA Camp Northern Lights in Babbitt and YMCA Camp Widjiwagan in Ely.
Presidents' Day family weekends in northern Minnesota
Near Sandstone, Osprey Wilds Environmental Center, formerly Audubon Center of the North Woods, hosts a Winter Family Weekend, with sleigh rides, kick-sledding and a high ropes course in addition to skiing and snowshoeing.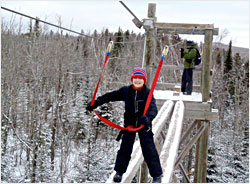 Sampler weekends on the North Shore
In the hills above Minnesota's North Shore, Wolf Ridge Environmental Learning Center offers family and adult weekends. Activities include the ropes course, skiing, snowshoeing, ice fishing, winter survival adventures and indoor rock climbing.
Adventures for people over 50
North of Virginia on Minnesota's Iron Range, Laurentian Environmental Center has offered winter getaways for people 50 and over.
Cost includes lodgings, activities and meals. Cross-country skis are available.
More
For more on ELCs in Minnesota, see Minnesota's environmental learning centers.
Would you like to create your own winter weekend adventure? For more about inexpensive group lodges, see Cabins for a crowd.
Last updated on February 24, 2021