By river and trail in Lanesboro
Head out from this Minnesota river town by tube, canoe, kayak, bike or skates.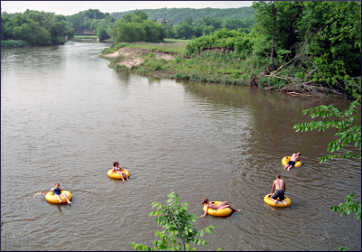 For a hamlet out in nowhere, Lanesboro is picturesquely blessed.
It's hemmed in by tall limestone bluffs, circled by a spring-fed trout stream and bisected by one of the nation's best bicycle trails.
Eagles, herons and egrets cruise along the scenic river just to the north, alongside canoeists and kayakers.
But Mother Nature can throw it for a loop in spring, when the Root rises and, sometimes, floods the towns along its path.
Even in an ordinary year, businesses suffer when spring is slow to arrive. But when it does, don't waste time.
One year, my niece Livi and I went on the first nice weekend of June, throwing off the effects of a raw spring.
Draped over inner tubes on the Root River, nearly somnolent in the hot sun, we marveled at the scenery, the serenity and a perfect confluence of river conditions: fast water, great weather and a stiff tail wind.
"And no people!" Livi said, then added in mock indignation: "What's wrong with those people?"
On a summer's day, few places make a better escape than Lanesboro and its river.
On our first day, Livi and I rented a canoe. Putting in at the Moen's Bridge access on the North Branch of the Root, we glided past solid limestone bluffs, bouncing through riffles and rapids every mile or so.
Cliff swallows and warblers made swooping arcs around us, and a great blue heron became our scout, accompanying us for miles by flapping ahead, waiting until we caught up and finally passing us off to a smaller heron.
We paddled around the ruins of an old dam, then approached an especially tall bluff, where we saw the high-ropes course of Eagle Bluff Environmental Learning Center poking out of the treetops.
An abandoned 1915 power plant clung to the base of the bluff, a ladder reaching from the river into an empty concrete doorway. On the other bank, we saw a bald eagle sitting in the lowest branch of a tree, its haughty pale-yellow eyes gazing in every direction except at us.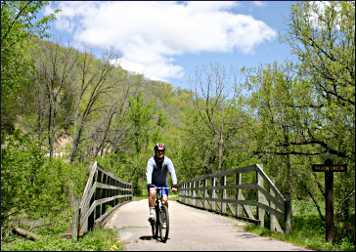 We also saw ducks, geese, cows and a deer, but no people until Mile 12, where the North Branch joins the South Branch and the bicycle trail three miles above Lanesboro.
In another four miles we were at Whalan, trying to avoid the industrial-strength mud at the takeout.
And we still weren't finished with the river. After returning the paddles and life jackets, we set off to ride the Root River State Trail's easternmost section.
Livi started in Rushford and I set out from Houston's Nature Center, gliding down to the river and into forest that lined pancake-flat valley floors, which, with the peaked hills surrounding them, mark the beginning of the coulee country that stretches into southwest Wisconsin.
It was a wild, exhilarating ride — not being on a former rail corridor, it's definitely not flat — and its easternmost scenery rivals the stretch from Isinours Junction to Preston, on the other end of the trail.
It's a great part of the 60-mile system, which includes the 18-mile Harmony-Preston Valley State Trail.
The next morning, we were back along the Root River, this time on in-line skates. We headed west from the downtown trestle bridge, under which two Amish teen-agers were fishing, and soon were cruising along a quiet corridor lined by Queen Anne's lace.
Then, having worked up a sweat, we rented tubes and plopped into the river behind the shop, just below the 1868 dam.
The water turned our backsides into Popsicles — the South Branch is spring-fed and much colder than the North Branch — and we wondered what we'd let ourselves in for.
But the a series of rapids grabbed us — just like an amusement-park flume ride, except with real rocks — and before we knew it, we'd floated into the warmer waters of the North Branch, where we leaned back, wiggled our toes and looked pityingly at the bicyclists above, sweating in their helmets and shoes.
While we were in Lanesboro, we also saw a play, browsed at the art center and bought perennials from the Amish at the Saturday farmers market in Sylvan Park.
But we knew it would be the cool Root River of which we'd dream later in the summer, as we sweltered in the heat.
"When I'm sitting in my office thinking of something to look forward to," said Livi, lolling on her tube, "this will be it."
Trip Tips: Outdoors in Lanesboro, Minnesota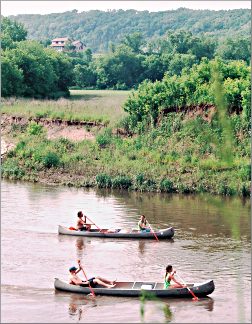 Getting there: It's in the southeast corner of Minnesota, 15 minutes east of U.S. 52.
For more about summer in Lanesboro, see The belle of bluff country.
Events: May, Root River Triathlon from Houston, with an eight-mile bike ride, three-mile run and 6.8 canoe or kayak stretch. August, Bluff Land Triathlon between Peterson and Rushford, with a 15.5 mile bike ride, 3.1-mile run and 2.1 hike.
Accommodations: Lanesboro has many fine inns and B&Bs. For a list with descriptions, see Lodgings in Lanesboro.
In Whalan, the Cedar Valley Resort is right on the river and trail and has large cabins, perfect for groups. It's a good take-out point for tubes, too.
Camping: Sites at Lanesboro's Sylvan Park and Riverview campgrounds, on the river, are first-come, first-served. Sixty tent sites are $20 and 43 camper sites $30. Hot showers are in the community center.
Canoeing: Rainfall speeds up the Root River considerably, but in general, the 16-mile North Branch trip from Moen's Landing to Whalan takes 4 to 4½ hours.
Outfitters often recommend the slower 14-mile South Branch stretch from Preston to Lanesboro if the North Branch is too high; the 16 miles between Whalan and Rushford also are an option.
Miles Paddled offers a report on the 13.5 stretch from Lanesboro to Peterson, on which paddlers can shuttle themselves by bicycle on 11.5 miles of the Root River State Trail.
For a route map, call the DNR at 800-766-6000 or 651-296-6157; the Lanesboro visitors center also stocks them.
Root River Outfitters, Little River General Store, Cedar Valley Resort and Eagle Cliff Campground are among the outfitters that provide boats and shuttles.
Tubing: The South Branch of the Root River carves a shady one-mile loop around downtown Lanesboro that takes about 45 minutes on a tube; people can get in below the dam, out at the County Road 250 bridge and walk back with their tubes on the state trail to do it again.
Or, they can tube to the Minnesota 16 access, about 2½ hours, or Whalan, about five hours.
Bicycling: The 42-mile Root River State Trail and 18-mile Harmony-Preston Valley State Trail, which connects to the Root five miles west of Lanesboro, are Minnesota's pride and joy.
Besides the big hill five miles west of Houston, the only hills are up to Harmony and Fountain; many bicyclists like to take shuttles and start from there.
For more, see Bicycling in bluff country.
Information: Lanesboro tourism, 800-944-2670.
Last updated on February 1, 2022