Baraboo River glide 'n' ride
In central Wisconsin, paddle down a scenic river and return on the 400 Trail.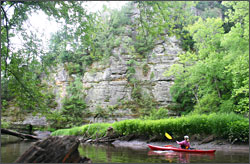 In Wisconsin's Driftless Area, the 400 Trail and Baraboo River go together like ice cream and cones.
One is good. Both is better.
They follow each other for 22 miles, the trail only a few feet above the river and its sloughs. Snapping turtles think the trail is a beach, depositing their eggs into its crushed limestone, and fishermen walk the trail to get to secret fishing holes.
This rather jungly corridor once was a long finger of the last glacier, curling northward from Devil's Lake. When the ice receded, it left a perfectly flat path for a railway.
The Chicago and North Western used it to run its best-known passenger train, the Twin Cities 400, which traveled the 400 miles from Chicago to Minneapolis in 400 minutes.
After the line was abandoned, the 400 became a state trail. Now bicycle tourists zip along the trail, which is as straight as the river is twisting. To get the full effect of both, many pedal one way and paddle the other.
Wisconsin's 2,000 miles of rail trails often follow rivers, so it's easy to make a loop by paddling downstream and returning by bicycle. The Baraboo has two good stretches, one between Union Center and Wonewoc, and a longer one between La Valle and Reedsburg.
Why do just one fun thing when you can do two?
My friend Sue Ann always is up for an adventure, so she met me at the midpoint of the trail, Wonewoc, whose slogan is "We're user friendly."
It is, too. The last time I rode through the town, I was invited to an ice-cream social in the bakery, where I paid $1.25 to have coffee and a superb piece of blackberry pie with a trio of sunburned farmers.
This time, I came away with a long john, a chocolate cake doughnut, two twists and a large milk for $2.75, first checking to make sure the friendly baker hadn't made a mistake.
This is why city folks love small-town Wisconsin — one of the reasons, anyway.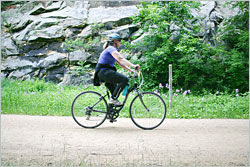 We left our bikes at Wonewoc's canoe landing in the Lost District, named because so few traces remain of the many tanneries and mills powered by the local dam, removed in 1996. It took the removal of four more dams, but in 2001, the Baraboo River finally ran free.
Unfortunately, our take-out was just a sloping slick of mud.
So was the put-in at Union Center, but a mat covered the mud. Sue Ann slid me into the river in my kayak, then did a daring seal launch herself that was . . . almost successful.
Not only did she get wet, she discovered the lovely clay mud that early settlers dug out of the sloughs and used to make bricks for their downtowns.
Wearing a good bit of it herself, she pumped out her boat and then set herself to wildlife spotting, noting many places where animals, like her, had tumbled down the muddy banks.
First we saw a muskrat, watching it glide among the tree roots before it found a den. Then we rounded a corner and glided right into a gaggle of geese and ducks.
The ducks immediately zigzagged downstream, and their babies skittered off like windup toys. But the big geese started honking indignantly and the goslings bobbed up and down in the water, leaving one mud-covered brother behind.
"I'm not going to lie; I'm kind of scared of those parents," Sue Ann said.
Whole trees had toppled into the river from low banks, but it wasn't hard to paddle around them in the lazy current. This narrow, winding stretch of the Baraboo is a lot like the Kickapoo, but with fewer rock outcroppings — until you get to Third Castle.
Once, this massive, 150-foot sandstone bluff was an island in the glacial lake, which eroded it into what early settlers imagined as parapets and battlements.
On this muggy day, it was an island emanating cool, cave-scented air, and we lingered at its feet. Baby ferns grew on its face, and white pine and hemlock in its shadow.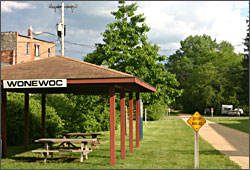 It wasn't far from there to Wonewoc, and, feeling guilty about Sue Ann's mud bath, I volunteered to drag us up the take-out. But while we were paddling, the elves from Beyond Boundaries outfitters in Wonewoc had mowed the grass, shoveled off the muck that had hidden concrete steps and covered them with a mat.
So, after a dip into my bag of doughnuts, Sue Ann and I got on our bikes and headed up the trail. As we left, a bachelorette party from Cross Plains got ready to take our places on the river.
It seemed as if we got to Union Center in a flash — it's only four miles by trail, 5½ by river — so we headed west on the spur trail to Hillsboro, Wisconsin's Czech capital.
It was celebrating Cesky Den, or Czech Day, so we rode over to the fairgrounds to listen to some polka and have ourselves some pork sandwiches and poppyseed cake. Beer, too — and luckily, we both picked the "Hillsboro Pale Ale by Snapper Verbsky," because the linebacker-sized Verbsky was right there serving it.
Turns out Verbsky is the brewer at the new Hillsboro Brewing Co., and a genial kind of guy. He told us Hillsboro still is Czech, more or less.
"It's kind of diluted now," he said. "But the old families are still here."
On the way back, we stopped to investigate two men poking around in the brush along the trail — maybe for morels, we thought. But they were geocachers, racking up finds.
Steve Haas of Holmen told us he's the No. 1 cacher in Wisconsin but has fallen to No. 21 from No. 13 worldwide. So he and friend Mark Gullickson of West Salem were on the Hillsboro State Trail because it's a Power Trail, with more than three dozen caches along the four-mile trail.
"Oh you bet, it's all about the numbers," Haas said.
"Some biker probably did this one," Gullickson added.
Back in Wonewoc, we stopped at Beyond Boundaries to thank the owners for cleaning up the take-out and to look around the century-old feed mill. Miah Jones and his wife, Brandi Pollard-Jones, both certified kayak instructors, opened their outfitting business there in 2008.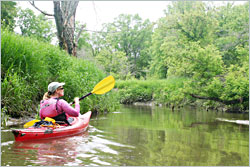 "We didn't pick it; it picked us," Jones said. "We had a house in Reedsburg, and we were riding by and fell in love with the building."
Now, they're the ones who keep up the river, not only maintaining the landings but clearing deadfall and detritus, so paddlers don't get snagged.
People come from all over to paddle. And oddly, says Pollard-Jones, about a quarter of their business comes from people in Minneapolis and Chicago who want a place where they can meet halfway.
"A lot of them are online dating, or friends, and there's biking and lots of other things they can do, too," she says.
Turns out the old 400 line still is on track after all these years.
Trip Tips: Baraboo River ride 'n' glide
Getting there: Wonewoc, the midpoint of the 400 Trail, is about an hour northwest of Madison and half an hour west of Wisconsin Dells.
400 State Trail: It's 22 miles between Elroy and Reedsburg, with a four-mile spur to Hillsboro from Union Center, the Hillsboro State Trail.
It's four miles from Elroy to Union Center, then four miles to Wonewoc, seven miles to La Valle and seven miles to Reedsburg.
State trail passes are $5 daily, $25 annual.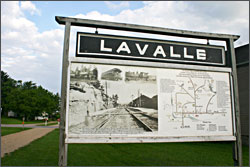 Baraboo River: It's 5.5 river miles from Union Center to Wonewoc and 14 river miles from La Valle to Reedsburg.
In Wonewoc, Beyond Boundaries provides kayaks, canoes, bikes and shuttles. Reserve at 608-464-7433.
For more places where bicycle trails follow rivers, see 10 great places to ride 'n' glide.
Lodging and camping: Just off the trail, two miles north of La Valle, September Farms B&B is an 1880s country manor with five bedrooms, one with private bath, and four that share baths.
Next to the river between Wonewoc and La Valle, Chapparal Campground and Resort rents cabins as well as campsites. It has a heated pool, game room, restaurant and bar.
There's always space for tents in Wonewoc's Legion Park on the north side of town, with hot showers at the city's heated pool. Camping at Baker's Field, which has restrooms and is just off the trail, is free.
Elroy's Schultz Park also has camping, with showers and a pool.
Reedsburg is the largest town on the trail and has a variety of lodgings, including the Quality Inn, which has an indoor pool and accepts pets.
Dining: The towns along the 400 Trail have a variety of pizza, family and bar and grill restaurants.
More bicycling in the area: The Elroy-Sparta State Trail, famous for its three tunnels, is 32 miles between Elroy and Sparta and part of a 101-mile trail system that includes the 400 Trail.
Also from Elroy, Juneau County's Omaha Trail runs 12½ miles north to Camp Douglas and also has a tunnel.
For more, see Cycling in coulee country.
Last updated on April 3, 2021