10 great places to ride 'n' glide
Traveling by both bike and boat, a river trip is twice the fun.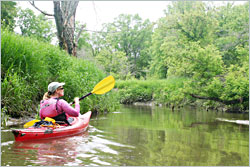 On rivers, only salmon like to paddle upstream.
People like to paddle the easy part, then get a shuttle from friends or outfitters. But there's another way to get back to your car-by bicycle.
Rail trails in this region often follow rivers, so it's easy to make a loop.
Here are 10 good places in Wisconsin and Minnesota to use bimodal transportation (otherwise known as two times the fun).
One year, a friend and I canoed 15 miles on the Red Cedar River in western Wisconsin, then rode back on the Red Cedar State Trail.
That was pretty exhausting, with all the logistics: We biked it once and paddled it once, but we had to drive it four times while dropping off bikes and picking up the canoe.
Traversing the Baraboo River in southwest Wisconsin was more our speed.
We kayaked 5½ river miles from Union Center to Wonewoc and rode four miles back on the 400 State Trail, and we still had enough energy to ride eight miles on a spur trail to Hillsboro and back.
We still had to drop off and pick up our gear, though.
If you want a really slick way to travel, be like my plumber and paddle an inflatable kayak with a folding bike in the bow.
Trip Tips: River trips by boat and bike
If it's been raining recently, check with outfitters or DNR offices to make sure paddling is safe.
Wisconsin
Mike Svob's "Paddling Northern Wisconsin" and "Paddling Southern Wisconsin" books are invaluable resources.
The online journal Miles Paddled includes many interesting reports.
Travel Wisconsin lists outfitters and destinations.
For water levels, check the U.S. Geological Survey updates.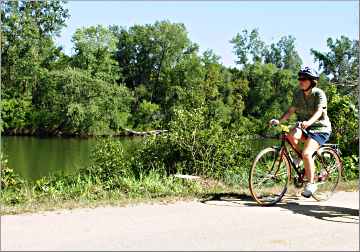 Baraboo River/ 400 State Trail: Paddle 5½ river miles from Union Center to Wonewoc or 14 river miles from LaValle to Reedsburg.
It's 4 trail miles from Wonewoc to Union Center and 7 trail miles from Reedsburg to LaValle.
In Wonewoc, Beyond Boundaries provides boats, bikes and shuttles.
For more, see Baraboo River glide 'n' ride.
Red Cedar River/ State Trail: Paddle 15 river miles from Menomonie to the Dunnville Wildlife Area. Ride 14½ trail miles back to Menomonie.
Irvington Campground south of Menomonie provides boats, bikes and shuttles.
For more, see Red Cedar ride 'n' glide.
Chippewa River/ State Trail: Paddle 12.8 river miles from Eau Claire to Caryville, 9.5 river miles from Caryville to Meridean, 9.3 river miles from Meridean to Dunnville or 9.2 river miles from Dunnville to Durand.
On the Chippewa River State Trail, the four sections are 6 miles, 6 miles, 8 miles and 6 miles.
In Eau Claire, Riverside Bike & Skate rents boats and bikes.
Chippewa River/ Old Abe State Trail: Paddle from downtown Cornell to just above the dam at Jim Falls. Ride 11.3 miles back along the trail.
Or, continue by portaging around the dam or put in below Jim Falls and take out at the junction of county roads O and S or at Lake Wissota State Park. Ride 5.6 miles back to Jim Falls.
For more, see A trail for Old Abe.
Ahnapee River State Trail: Paddle 9 miles from Forestville County Park to Algoma and ride 5 miles back on the trail.
Bay Shore Outfitters in Algoma rents kayaks. (The river is pronounced ANN-a-pee.)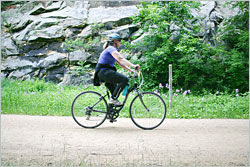 Oconto River/ State Trail: Paddle from Stiles to Oconto on Lake Michigan, passing Copper Culture State Park. Ride 8 miles back on the trail.
Put in at Iron Bridge Landing below the dam in Stiles and take out at Holtwood Park in Oconto.
Pine River/Trail: Paddle 10.75 miles from Richland Center to Twin Bluffs in scenic coulee country near Spring Green. Ride 7 miles back on the trail.
Sugar River/ State Trail: Paddle from Albany to Brodhead (portages required). Ride 7 miles back on the trail.
S & B Tubing in Albany provides canoes, kayaks and shuttles.
Scuppernong Creek/Glacial Drumlin State Trail: The folks at Miles Paddled report that the water of this creek is incredibly clear and that paddlers will see a lot of wildlife.
Put in off Sunset Drive/U.S. 18 in Waterville and paddle 8.5 miles to the west edge of Dousman. Return trip is 4.3 miles on the state bike trail. Portages are required, and watch for low water levels.
Minnesota
The DNR sends out free canoe-river guides that include maps and descriptions of public access points, campsites and navigational features. Get them by calling 651-296-6157 or 888-646-6367, or pick them up at the DNR Information Center, 500 Lafayette Road near downtown St. Paul.
Minnesota has 30 designated water trails, and the DNR's website also reports current river levels and lists 42 places to rent boats on 15 rivers.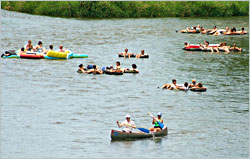 Lynne Diebel's books "Paddling Northern Minnesota" and "Paddling Southern Minnesota" are very useful.
For water levels, check the U.S. Geological Survey updates.
Cannon River / Cannon Valley Trail: Paddle 12 river miles from downtown Cannon Falls to Welch and ride 9.6 miles back.
Daily trail fee is $4. This stretch also is popular with people on tubes, so go early if you'd like to escape the crowds.
Root River Water Trail / Bicycle Trail: Paddle 6 river miles from Lanesboro to Whalan. Ride back 4.5 miles on the trail. To Peterson, it's 13.5 miles, with an 11.5-mile ride back.
For longer trips, paddle 14 river miles on the South Branch from Preston to Lanesboro, riding 10.2 miles back on the Harmony-Preston Valley and Root River trails, or 16 miles from Whalan to Rushford, riding 13.7 miles back on the Root River trail.
The Root River Outfitters, Cedar Valley Resort and Eagle Cliff Campground are among the outfitters that provide boats and shuttles.
It's also easy to tube along the river from downtown Lanesboro and walk back on the trail.
For more, see By river and trail in Lanesboro.
Last updated on June 25, 2020