Road Trip: Otter Tail County
Big surprises pop up along a scenic byway in northwest Minnesota.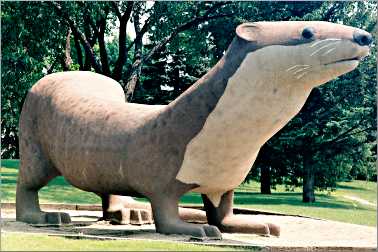 In Minnesota's Otter Tail County, everything comes extra-large and in multiples.
Few know that this county near the North Dakota border has more lakes than any other in Minnesota — 1,048 — or even that it has lakes at all.
It also has the state's densest concentration of giant mascots and roadside sculptures, largely thanks to a scrap-metal wizard who also is the father of an astronaut.
But before he made his first piece, a 1,200-pound foot, the county already had a 23-foot fiberglass warrior plus a 15½-foot pelican and 22-foot otter, both billed as the world's largest.
One of the newer pieces is another giant otter — because in Otter Tail County, one is never enough.
All of the giants can be seen along the Otter Trail Scenic Byway. For not only is the county overflowing with mammoth mammals, it's amazingly scenic.
This 150-mile loop passes two state parks, a picture-postcard historic mill and Inspiration Peak, the state's second-highest point after Eagle Mountain on the North Shore.
Nobel Prize-winning author Sinclair Lewis was thinking about Otter Tail County when he chided other Minnesotans for not knowing about their own "haunts of beauty."
The rolling landscape was created by the back-and-forth scraping of glaciers from four ice ages.
It left a glacial moraine of kames, piles of gravel dropped by receding glaciers, and kettles, created when block of ice fell off, pressed into the earth, melted and filled up again as ponds and lakes.
It's the kettles Lewis saw when he climbed Inspiration Peak, a high kame atop the hilly moraine.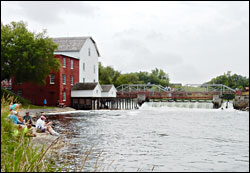 His ode to the view of "a glorious 20-mile circle of some 50 lakes, scattered among fields and pastures like sequins fallen on an old paisley shawl," led people to begin calling it Inspiration Peak, and the name stuck.
Today, a short but steep asphalt path leads to the summit, cloaked with prairie wildflowers.
From there, fields and woods undulate into the far-off haze; just to the west, the eastern hardwood forest gives way to what once, below the arrival of the plow, was a sea of tall-grass prairie.
From the peak, the byway heads west, through Dalton, where the steam-threshing days of the early 1900s are re-created the weekend after Labor Day.
Near Fergus Falls, it passes the Prairie Wetlands Learning Center, where four miles of nature trails and boardwalks wind through 200 acres of restored grasslands and 38 acres of wetlands.
In town, the original giant otter crouches alongside Grotto Lake. A tree-lined Riverwalk winds through a pretty downtown that includes A Center for the Arts, a 1921 vaudeville house that now is a venue for music, theater and film.
From Fergus, the route heads east to Phelps Mill Park. Set deep in lake country, it's a dreamy place that evokes a nostalgia for a time most of us never knew.
Above the dam, on nice summer days, teen-agers swing from a tree into the Otter Tail River; below, families gather to fish.
The 1889 brick and clapboard mill, once the center of a bucolic rural community, was made obsolete by the rise of the huge mills in Minneapolis, and the rails that brought local grain directly to them.
The mill closed in 1939, but it's still filled with heavy machinery for grinding, sifting and sorting. The grounds along the Otter Tail River host one of the region's most popular festivals, featuring an arts and crafts fair, music and home-cooked food.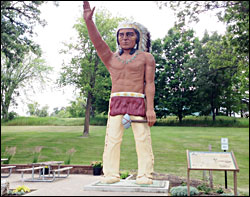 To the north, the byway skirts the southern border of Maplewood State Park, a big park with 25 miles of hiking trails. It has eight large lakes and another dozen kettle lakes amid a series of high hills, created when one glacier rear-ended another and dumped piles of debris.
Stands of basswood, sugar maple and oak here mark the very end of the hardwood forest, and the park's overlooks are a good place to spot fall color.
In Pelican Rapids, a 15½-foot concrete pelican stands in the froth below Mill Pond Dam, just off the main street. Early settlers saw pelicans feeding at the original rapids. Now, the birds stop at nearby Lake Lida, which the scenic byway passes on its route east.
Perham is the home of turtle races, held on Wednesday mornings in summer, and the Barrel O' Fun factory, which makes chips from the local potatoes that grow well in this transitional zone between prairie and pine forest.
From there, the byway heads south past the town of Ottertail, where a second giant otter reclines with his paw on a fish. Then it hugs the eastern shore of big Otter Tail Lake and heads into Battle Lake.
An early resort town frequented by millionaires from Missouri and points west, the village of 700 has become a laid-back hub for the local cottagers and tourists, who can stop in the gift shops and cafes that line wide Lake Avenue.
Nearly everyone stops in at Granny's Pantry for ice cream or bulk candy, which includes baskets of old-time penny candy and a big selection of gummies.
Just north of downtown, the stern, 23-foot-tall Chief Wenonga stands along the shore of West Battle Lake, named for a 1795 battle between the Dakota and Ojibwe, who were badly beaten and renamed the lake Ish-quan-a-de-win-ing, meaning, "where but few survived."
This area, a coveted hunting ground, was for many years thereafter part of the "war road" between the rival tribes.
A lovely paved bicycle trail connects Battle Lake and Glendalough State Park, which includes six undeveloped lakes, two of them havens for waterfowl.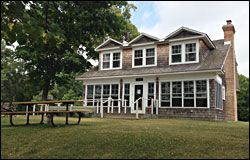 Formerly a private game preserve owned by the Cowles family, which owned the Minneapolis Star Tribune, it's hosted two presidents — Dwight Eisenhower and Richard Nixon — and many other high-profile visitors.
Glendalough is kept more rustic than most state parks, with cart-in tent camping and two yurts that can be reached only by foot, bicycle or boat.
There's bird-watching and bicycling on a trail circles the lake, and several sand beaches on Annie Battle Lake. The best beach is in front of the former Cowles lodge, which large families and other groups can rent for day use.
East of Battle Lake is the tiny village of Vining, which the Nyberg family has put on the map. For decades, construction foreman Ken Nyberg has been collecting pieces of scrap metal and turning them into quirky sculptures.
First came a foot with an oversized big toe, then a square knot, then a coffee cup poised in mid-air, a pliers gripping a cockroach and a knife slicing a watermelon.
An astronaut pays tribute to his daughter Karen Nyberg, a NASA scientist who made regular visits to the International Space Station.
Now that he's retired, Nyberg has picked up the pace, adding an elephant and a hand holding a football, both made of lawnmower blades, and a spoon dancing with a knife.
There's more at his studio on the edge of town, including a giant giraffe, rhino, ram and heron.
From Vining, the route dips down to Urbank and back to Inspiration Peak. From there, it's just a short sprint to I-94 — and the regular-sized world.
Getting there: From the Twin Cities, Inspiration Peak is the closest point along the 150-mile route. Get off I-94 at the Brandon exit, just west of Alexandria, and head north on Minnesota 7.
2023 events: June 9-10, Summerfest in Fergus Falls. June 14-18, Perham Turtle Fest. July 8-9, Phelps Mill Festival. Fourth weekend of July, Wenonga Days in Battle Lake. Aug. 19, Watermelon Day in Vining. Weekend after Labor Day, Lake Region Pioneer Threshermen's Show in Dalton.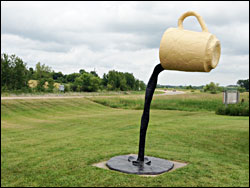 Sculptures in Vining: Most of them are in town, next to the Big Foot Gas & Grocery, but there are more at Ken Nyberg's studio on the edge of town. For more about Nyberg and his work, watch this video.
For more photos from Nyberg Park, see our Facebook album.
Nyberg also has supplied neighboring towns with giant sculptures, including the otter in Ottertail, a stethoscope in Henning and a Spartan in Fergus Falls.
Bicycling: You can see the southern part of Otter Trail country on the paved, 55-mile Central Lakes Trail between Fergus Falls and Osakis.
In Ashby, just across the border from Otter Tail County, there's a giant coot, or mud hen.
For more, see Bicycling the Central Lakes.
Accommodations: Maplewood State Park rents five camper cabins, three of them year-round.
Glendalough State Park rents four year-round camper cabins in the main campground and two year-round yurts that are two miles away. One of the yurts sleeps seven and one sleeps three. There's a dock, but the water is shallow and weedy. Bring insect repellent.
Five miles west of Battle Lake, the Hideaway at Xanadu Island is a 1920 stone and wood lodge on a seven-acre island, reached by bridge.
In Ottertail, Thumper Pond is a large, full-service golf resort.
Dining: In Battle Lake, Stella's Bistro & Wine Bar has a very pleasant patio on which to enjoy pastas, sandwiches, salads and perhaps some sangria. It also hosts live music some weekend nights.
Craft beer: Pick up a cold one at Disgruntled Brewing in Perham or Fergus Brewing in Fergus Falls.
Nightlife: A Center for the Arts in Fergus Falls schedules events many weekends.
Information: Otter Tail Lakes Country tourism, 800-423-4571.
Last updated on February 2, 2022