Chilling at an ice bar
Enjoy life on the rocks at these pop-up canteens.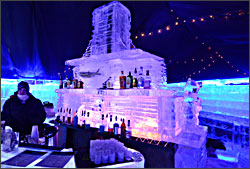 You think you hate the cold, but maybe you just need more ice in your life.
Ice as in ice bar, where you can sip a White Russian from an ice glass or eat a snow cone made with passionfruit vodka.
It's the kind of fad any winter-hater can get behind. Ice bars generally come with ice sculptures, warming fires and fur-clad servers.
Here's where to find one.
Most ice bars are under tents and open only Friday and Saturday evenings, unless noted.
Winter Carnival Ice Bar in St. Paul. During the festival, the ice bar in Rice Park is surrounded by ice sculptures and serves local beer and wine.
Ice Bar at Little Angie's Cantina in Duluth. This small ice bar is on the deck of this Canal Park restaurant. It's open Thursdays as well as Fridays-Saturdays.
Vertigo Sky Lounge at the Dana Hotel in Chicago. This rooftop ice bar, 26 stories over Erie Street in the River North neighborhood, is open in the cold months. It has a fire pit and is open daily.
Fire & Ice Lounge at the Baker House 1885 in Lake Geneva, Wis. This ice bar overlooks Geneva Lake, in the front yard of an 1885 inn. Ice Angels serve snow cones topped with flavor-infused vodkas and drinks in cups made entirely of ice.
It opens in February for Winterfest & U.S. National Snow Sculpting Competition in downtown Lake Geneva.
SocialIce in Rochester, Minn. Seven themed ice bars will be open in Peace Plaza during WinterFest. Bands will play each evening, and there's a Walk of Ice with 33 sculptures.
Last updated on December 21, 2016