Mad about brew
In the town that worships beer, brewery tours draw legions of fans.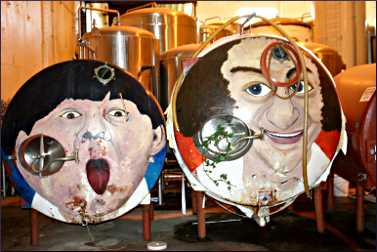 For people who love beer, there's no better place to drink it than in a brewery.
In 1880s, beer-loving Milwaukee had more than 80 of them. Three became national giants, giving Milwaukee the nicknames Beer Town and Suds City, but only one survived.
That's Miller, acquired in 1969 by Philip Morris and now part of Molson Coors. Schlitz closed in 1981, and Pabst in 1997.
Enter the first upstarts.
In 1985, Sprecher became the first brewery to start up in Milwaukee since Prohibition. Against Miller's Lite, it put up beers with so much heft you could have them for lunch: Black Bavarian, Russian imperial stout, Doppelbock.
Lakefront brewed its first beer in 1987, after Russ Klisch bought his brother Jim a home-brewing kit and soon found himself competing to see who could make the best beer.
The brothers brewed fast and furiously-the first fruit beer since Prohibition, the first certified organic beer, the first gluten-free beer, a spicy pumpkin lager. With Sprecher, they put the love back into the beer.
All three breweries offer tours, all different but all popular: You get to drink the beer.
And when you're done with those, visit the new upstarts: the dozens of craft breweries popping up around the city. Many of them offer tours.
Lakefront Brewery
It's safe to say that Lakefront's is the most fun. I got there an hour early, riding my bike from downtown past the old Schlitz brewery and through the rejuvenated Beerline B neighborhood. Already, 15 people were in line for the 1 p.m. tour.
At 12:35 p.m., we showed our IDs and were ushered inside a cavernous hall, where we got a plastic glass, four coupons for beer and a voucher for a free beer that afternoon at one of 13 restaurants.
I could see that some serious drinking lay ahead, so I bought a slice of Meglio's pizza to have with a glass of the Rendezvous Ale, a French country ale that was light but more substantial than New Glarus' popular Spotted Cow, a Wisconsin farmhouse ale.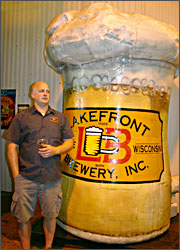 That went down pretty easily, so I followed it with a glass of Wheat Monkey, which our guide, Joe, said was "flying off the shelves."
Standing in front of three fermentation tanks painted with the images of the Three Stooges, Joe told us the only rule at Lakefront is to have a good time.
"There's always someone who's been here as many times as I have, and the reason is what we have in our hand, it's the beer," he said. "Okay, who's been here 25 times? 35 times? More than 100?"
He told us about the home-brewing kit that started it all and claimed that the city sold the current brewery, an old power plant, to the Klisch brothers in return for "free beer for life."
The brewing process is basically the same everywhere: In the mash tun, grain is steeped in hot water. After the grain is strained out, the resulting wort is boiled and hops are added. It's cooled and sent to fermenting tanks, where yeast is added.
But at Lakefront, Joe explained what the yeast does after it devours the sugars in the wort: "It does what we do when we eat too much. The yeast is going to poop-poop out alcohol and carbon dioxide, which creates carbonation. Then it reproduces with itself and parties."
The used-up grain, he said, is fed to worms, whose waste becomes organic fertilizer. For good measure, he added that the cups from which we were drinking were made from old plastic bags and diapers and also will be composted.
Yum! But no one stopped drinking.
Then Joe showed us the original Bernie Brewer's Chalet from the old County Stadium, which the Klisches bought as a souvenir. He pointed to its famous slide.
"Bernie would only slide down it when the Brewers hit a home run, so of course it's in perfect shape," he cracked.
In the bottling room, Joe made us sing "Making Our Dreams Come True," the theme song from "Laverne and Shirley," the TV sitcom that was based in the fictional Schotz Brewery in Milwaukee and ran from 1975 to 1983: "Schlemiel! Schlimazel! Hasenpfeffer Incorporated!"
"If you don't sing, we'll send you out that exit door, and that way there's no more beers," he warned.
But I made it onto the sunny riverside patio where tour guests can spend as much time as they want, using up their coupons and watching the Brew City Queen II tour boat chug up and down the river between Lakefront and two brewpubs, the Milwaukee Ale House and Rock Bottom Brewery.
I only had room for one more beer, so I tried the Riverwest Stein amber lager, which Joe said was the brewery's most popular.
"People think it's too dark, but then they taste it," he said. I could see why the brewery is so popular. Its beers are deceptively mild, pleasing to most palates yet packed with flavor.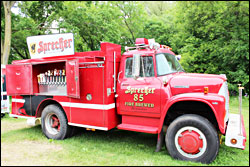 Sprecher Brewery
At Sprecher, the beers are as chewy as a slice of multigrain bread. Started in 1985 by Randal Sprecher, a former Pabst supervisor, it takes the Belgian view that beer is the bread of life.
And sure enough, on the tour, we got up close and personal with the ingredients, smelling hops pellets and tasting barley-malt grains -- yum, just like a bowl of Grape-Nuts.
Brewmasters can tinker with the beer at many points. Corn, rice or wheat can be used as grains along with various barley malts, which, when roasted, give beer color and flavor-of coffee, caramel or chocolate, for example.
The type of hops used gives it aroma, and its bitterness balances the sweetness of the malt. Like Lakefront, one of Sprecher's bestsellers is a Viennese-style lager, the Special Amber.
Its flavors span the globe-in addition to its German-style Black Bavarian and Hefe Weiss, it also produces the Belgian Abbey Triple, Irish Stout and Austrian-style Radlers.
Ironically, for the first Milwaukee brewery to open since Prohibition, Sprecher is just as well known for its delectable sodas, which are ubiquitous in gourmet delis.
On this brewery tour, you're likely to drink just as much of its root beer and cream soda, and it makes seven other soft drinks, including Orange Dream, Grape and Cherry Cola.
MolsonCoors
And then there's the MolsonCoors brewery tour. It's just as popular as the other two, because more people still drink Miller Lite than craft beers.
When I went, it was only 11 a.m. on a chilly Saturday, and already 94 people were gunning for a taste of High Life.
"Now, you all signed the Enthusiasm Clause before going on the tour," shouted a peppy young guide named Ryan. "So I'll be assessing your enthusiasm to see if you get the free samples."
We had gathered in Miller Valley, along the Menomonee River, to hear the story of Frederick Miller, a royal brewmaster in Germany who had New World-size ambitions.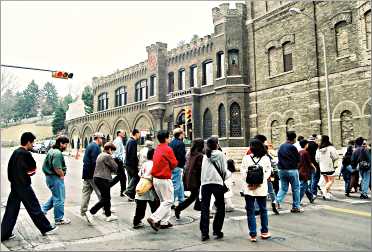 One day, he packed up his yeast and decamped to America, where, in 1855, he bought a small brewery in Milwaukee. Miller not only knew how to make beer, he knew how to make people want to drink beer.
Over the years, he and his sons gave social cachet to a workingman's beverage. They opened a beer garden and used catchy slogans — for High Life, it was "the Champagne of Bottle Beers," winner of a 1903 contest — and symbols, such as the Girl in the Moon, a coy damsel perched on a crescent.
Thus Miller beers became part of the fabric of Milwaukee, and the city's beautiful new ball park bears its name.
The nice family success story grinds to a halt in 1969, when Miller was acquired by tobacco giant Philip Morris. In 2002, South African Brewing bought it, and in 2008, it merged with Coors. In 2016, the Belgian multinational InBev acquired SABMiller, which then sold its stake in MillerCoors to Molson Coors.
Today, it's a little hard to work up much enthusiasm for a global conglomerate that's best known for making Miller Lite and 30 other brands of American-style pilsener.
The tour include a flashy video, but it's as insubstantial as the beer. We looked through a glassed-in balcony at a room full of machinery and got a dizzying 30-second explanation of brewing as we looked at a row of kettles.
However, the Caves Museum and wood-paneled Miller Inn pub, where we drank our samples, were quite atmospheric.
They should be, considering the brewery's age and history. Even if a tour guide's explanation of the brewing process makes your eyes glaze over, the story behind the beer always is interesting.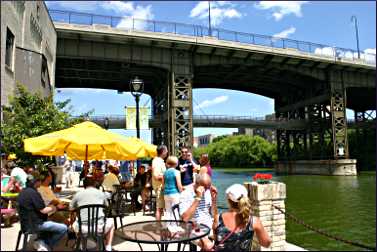 For more on breweries in southern Wisconsin, see Road trip: Breweries of southern Wisconsin.
For a list of beer festivals, see Best brew fests.
Trip Tips: Milwaukee brewery tours
Be sure to bring photo identification; otherwise, you might end up drinking root beer.
Events: Milwaukee Beer Week, with sampling and other events across town.
Riverwalk Boat Tours: On Saturdays, the Brew City Queen II or Milwaukee Maiden pontoon boats offer a 3 Pub cruise.
Lakefront Brewery : On the Milwaukee River just north of downtown, Lakefront Brewery's daily tour is very popular. Tour hours vary. All Saturday tickets are sold online; for other days, 15 tickets are first-come, first-served.
Cost is $8-$11, including a pint glass, four 6-ounce pours and a free beer at local restaurants, good only until 6 p.m. that day.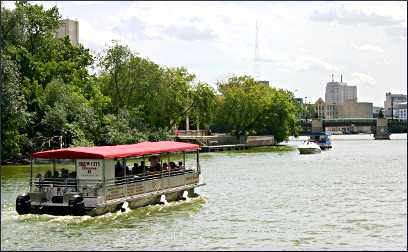 Sprecher Brewing Co.: In the suburb of Glendale, Sprecher brews artisan beers and sodas. Tour hours vary, but generally there are at least two tours on weekday afternoons and more from Friday through Sunday; check the schedule.
Cost is $8, $5 for people under 21, and includes a tasting glass and four samples. Reserve online or call 414-964-2739.
Milwaukee Brewing Co.: Now with two breweries, one in the Walker's Point neighborhood and one in part of the old Pabst Brewery complex, it supplies the beer for the Milwaukee Ale House in the Third Ward.
Both breweries offer tours, Saturdays at the original 2nd Street Brewery in Walker's Point and Fridays through Sundays at the 9th Street Brewery near Fiserv Forum. Cost of $12 includes a pint glass, samples and a token for a beer at a later time.
Miller Brewery (MolsonCoors): One-hour tours are given daily in summer and Monday through Saturday the rest of the year. It's no longer free; cost is $10, $5 for Wisconsin residents with state-issued ID.
Walk in or reserve in advance, 414-931-2337 or 800-944-5483. Saturday is busiest, though visitors won't see production that day. The plant is along the Menomonee River, west of downtown and just south of Washington Park.
Best Place at the Historic Pabst Brewery: This event center offers Beer History Tours that include a 16-ounce Pabst or Schlitz, $10.
For more about sightseeing, festivals and lodgings, see Milwaukee stories.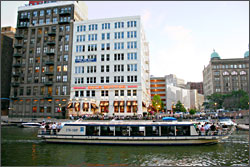 Where to drink beer
Great bars and brewpubs are legion. But one of the most popular places to drink in the summer is Estabrook Beer Garden in Estabrook Park, on the Milwaukee River and Oak Leaf Trail north of downtown.
Modeled on beer gardens in modern-day Munich, it features German beer served in half- and full-liter glass mugs, shared tables, polka music and fresh-baked German pretzels and wurst.
People also can bring their own food, and dogs are allowed. In the park, there's a dog park, disc golf and a riverfront boardwalk.
There are also beer gardens in Humboldt, Hoyt and South Shore parks. Others parks are served by a traveling beer truck from Sprecher Brewing. There's live music at each of the stops from Wednesday through Saturday.
In Glendale, the Bavarian Bier Haus has a large beer garden. On the four weekends after Labor Day, it hosts the annual Oktoberfest in adjoining Old Heidelberg Park.
Where to stay
The 90-suite Brewhouse Inn & Suites now occupies parts of the 1877 Pabst Brewery. It's built of Cream City brick and is the centerpiece of the new Brewery neighborhood around the 20-acre complex.
Getting around
It's easiest by bike. Not far from Schlitz Park, the paved, 3.7-mile Beerline Trail heads north on the west side of the Milwaukee River, passing Lakefront Brewery. The trail is lined with murals and public art.
Last updated on March 11, 2021