Road trip: Breweries of southern Wisconsin
A beer-lover's tour taps into Old World flavors.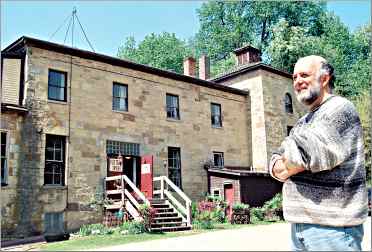 Fat Squirrel. Spotted Cow. Lazy Mutt. Uff-da.
Uff-da? In Wisconsin, say that and you get a great glass of beer. Anywhere else, and you get . . . a funny look.
Wisconsin may be full of cheeseheads. It may be a party state. But boy, are they drinking a lot of good beer there.
Its days as the nation's beer capital are over — Schlitz, Pabst and Heileman are gone — though you still can tour the old Miller plant in Milwaukee and sample 10 American-style pilseners with different names.
Or you could go to New Glarus for a Belgian Red, a delectable cherry beer that has won New Glarus Brewing Co. a boatload of prizes.
Or to Middleton for a Blonde Doppelbock from Capital Brewing.
In fact, you could try quite a lot of good beers.
That's what a girlfriend and I did on a tour of southern Wisconsin, where the state's first brewery was built in 1835 — not in fledgling Milwaukee, but in Mineral Point. That's where we stayed, at a brewery that's also an inn, and shopped, at an old brewery that's now a pottery studio.
We listened to music at a brewpub in Mount Horeb, and toured the breweries in Middleton and New Glarus as well as one in Janesville.
It was Germans and Englishmen who brewed, but the Swiss also added to the melting pot. In New Glarus, we bought Linzer bars and nut horns at one of the best and oldest bakeries in the Midwest.
In Monroe, the capital of cheese country, we stopped at Wisconsin's oldest cheese shop.
We didn't have the notorious Limburger-and-onion sandwich. But other than that, we didn't shrink from new flavors.
"Beer people and cheese people have a lot in common," says Deborah Carey of New Glarus Brewing. "If all you'd ever had was Velveeta, and one day you had cheddar, you might be grossed out — or you might fall in love with it.
"But you'd definitely know there were different flavors out there."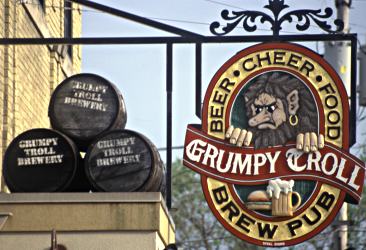 Ben Franklin and Frank Zappa
Behind the 1892 walnut bar at Capital Brewing in Middleton, Tom Westfall was quoting Benjamin Franklin.
" 'Beer is living proof that God loves us and wants us to be happy,' " he said. He led us into the brew house, past fermenting tanks named for Frank Zappa songs — Redunzel, Magdalena, Heavy Duty Judy — and handed out kernels of malted barley to chew on; they tasted just like Grape-Nuts cereal.
Then he let us smell the hops, which grow on vines.
"Anyone know what its closest relative is?" he asked. "Yep — a slight little change in the genome and you're smoking wacky tobacky. So you're either smoking dope or drinking beer."
Capital Brewing, he said, was started in 1984 by four servicemen who'd been stationed in Germany and, once back in the States, yearned for good beer. They're no longer involved, but their brewery has taken off.
"We were rated No. 1 brewery in the U.S. by the Beverage Testing Institute, and No. 4 in the world," Westfall said. "Not bad for Madison, Wis."
He poured a sample of Capital 1900, from an old Schlitz recipe. "Give 'em a glass of this, and I guarantee they'll never go back to Bud or Miller."
In the Bier Garten, picnickers were sitting at tables, with occasional visits to the open-air bar, adorned with a mural of Alpine mountains. There's a bandshell, too, for the musicians who play on Friday and Saturday nights.
Heading west
We were tempted to hang out — a guitarist was noodling with some blues tunes — but we headed west to Mount Horeb, a Norwegian town whose Main Street is lined with carved wood trolls.
Half a block off the Trollway, we found the Grumpy Troll brewpub in a restored 1916 creamery.
On the airy second floor, we listened to the jazzy quartet Harmonious Wail and ordered beer. We had Liberty Pole ale and the Norwegian Wood, an India pale ale that's packed with hops — enough, by tradition, to preserve ale on voyages from Britain to colonial India.
Our inn is in nearby Mineral Point, to which Cornish miners came in the 1830s after the discovery of lead. They were expert stonemasons, which explains the town's lovely limestone cottages, many now used by artists, and warehouses, including the 1854 Brewery Creek Inn.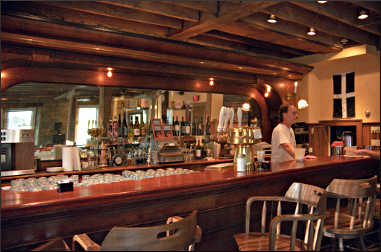 We ate elsewhere but we returned to the cozy pub to draw our own beers — a Kölsch-style blonde ale, a porter from a 1750 recipe and a Schwartzbier.
Proprietor and brewmaster Jeff Donaghue eventually joined us, offering pickled eggs, which we politely declined.
"I call this English pub meets Wisconsin frontier," he said, waving at the wood-beamed ceiling and paneling from behind the columned oak back bar, taken from a clothing store near his former home in a Minneapolis suburb.
And the rooms are simple and elegant, with walls of glowing limestone, tiled gas fireplaces, gleaming antiques and Arts and Crafts accents. We threw lavender salts into the double whirlpool and had a soak, emerging to wrap ourselves in fluffy robes.
Past Pendarvis, a state historic site where costumed interpreters give tours of restored miner's cottages, we found Brewery Pottery Studio, in a huge 1850 stone brewery where Mineral Springs beer was made from 1852 to 1961.
Potters Tom and Diana Johnston live and work here, and Diana Johnston gave us a tour, including the fermenting room, now a basketball court, and a series of caverns dug into the hillside.
"They definitely brewed beer here during Prohibition," she said. "The story is that when the Feds came, the people would climb a ladder to the ventilation shaft and scatter."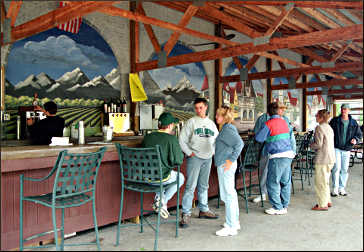 Drinking with the Swiss
It's a bucolic drive through rolling farmland to New Glarus, settled in 1845 by colonists from the impoverished Swiss canton of Glarus, and still a town in which the local German dialect often is heard.
It's a great town in which to drink beer — at the 1853 New Glarus Hotel,  the wood-beamed Glarner Stube and the 1893 Puempl's, with its 1913 murals of Napoleonic scenes and dollar bills stuck to 18-foot ceilings.
The beer? New Glarus, of course.
"Everybody in town feels a distinct personal ownership in our beer," said Dan Carey, a master brewer who opened New Glarus Brewing in 1993 with Deb, his wife. "We have 2,000 people selling for us."
Carey worked for a small brewery near Munich and for Anheuser-Busch in Fort Collins, Colo., before returning to Wisconsin with Deb, a Milwaukee native. Each of its beers — from the popular Spotted Cow to such limited-edition Unplugged brews as Smoke on the Porter — is made from a completely different recipe.
We stocked up on its beer, since it's sold only in Wisconsin. Then we headed to Monroe, where Huber Brewing was started in 1845.
Mountain Crest Brewing of Calgary, Alberta, bought the brewery in 2006 and renamed it Minhas Craft Brewery, but it's still one of the oldest continually operating breweries in the nation.
Now it's making such craft beers as Lazy Mutt Farmhouse Ale, but it also still makes its trademark Berghoff beer.
We had some with bratwurst and barbecued beef at Baumgartner's, an atmospheric tavern and cheese shop opposite Monroe's beautiful Romanesque courthouse.
Bartender John Stratton pointed out the old-timers playing the Swiss card game Jass in the corner. "They play for 15 cents a game," he said. "It's blood money."
All in the family
Janesville isn't far away. That's where, in 1854, Irish immigrant Joshua Gray started bottling soda and beer. Gray's stopped brewing beer during Prohibition, but when the bottling works burned down in 1993, great-great-grandson Fred Gray rebuilt it to make both beer and gourmet sodas.
Today, it's the nation's oldest family-owned bottling company.
"I saw a niche for a good ale brewery," Fred Gray said. "We just consider ourselves a brewery — I don't really like the word "micro"; it's too trendy." Gray's biggest sellers are Honey Ale and Old Mill Stout, and his connoisseur's beer is the Oatmeal Stout.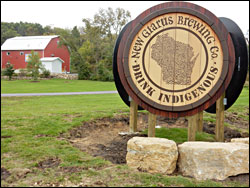 "I'm pretty passionate about my beer," Gray said.
We didn't go on to Milwaukee, since I've already toured its breweries (for more, see Mad about brew ).
Besides, our trunk already was full of six-packs. We hoped they'd last a while. Like craft brewers, we're followers of a slogan adapted from an old German wine adage: "Life is too short to drink cheap beer."
Trip Tips: Wisconsin beer tour
Capital Brewery in Middleton: The Bier Garten is open May through early October, with live music and food catered by local restaurants.
To get there, take I-94 to Madison and continue on I-90 to U.S 12-18 west. Continue on 12-14 and exit at Greenway Boulevard. Turn right (north) onto High Point Road. The brewery is at the corner of High Point and Terrace Avenue.
Wisconsin Brewing Company in Verona: Former Capital brewmaster Kirby Nelson is in charge at this new brewery in a south Madison suburb.
New Glarus Brewing Co: With an expanded brewery, the Careys doubled production, but they still distribute only in Wisconsin.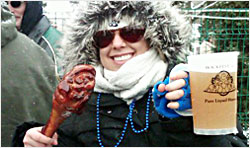 Tastings are $3.50 and include a glass. 608-527-5850.
For more about New Glarus, see Swiss at heart.
Gray Brewing Co. in Janesville:
The restaurant also owns Gray's Tied House (a British term for a public house that serves beer from just one brewery) in Verona, just southwest of Madison. 608-845-2337.
Minhas Craft Brewery in Monroe: The young brother-sister team of Rajinder and Manjit Minhas has spent $4 million expanding the brewery. Tours are offered daily.
Cost is $10 for those 13 and older and includes a gift pack of beers and Blumer sodas. There's also a museum to visit. Call 608-325-3191 to reserve.
For more about Monroe, see Cheese country.
Brewery Creek Inn in Mineral Point: The renovated 1854 limestone warehouse has five rooms, plus the Miners' Cottage and two Springside Cottage suites on Shake Rag Street.
For more about Mineral Point, see Mining for art in Mineral Point.
Milwaukee : For information on touring Lakefront, Sprecher and MillerCoors, see Mad about brew.
For more about Milwaukee in summer, see Party in Milwaukee.
Beer festivals: Capital holds its annual Bockfest on the last Saturday of February to celebrate the release of its Blonde Doppelbock.
The annual Great Taste of the Midwest beer festival, with more than 100 Midwest breweries serving samples of 500 beers, is held the second Saturday of August at Olin-Turville Park in Madison. Tickets sell out quickly.
They're available by mail order (must be postmarked May 1) and in person, starting the first Sunday in May.
For more, see Best brew fests.
Last updated on September 14, 2016