Wine walks on the Wisconsin
On a fall girlfriend getaway, we hike, eat and sip our way along the river valley.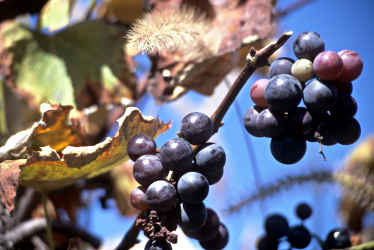 For some people, "Wisconsin wine" is a puzzling concept, like "New York nice."
But grapes do grow in Wisconsin, primarily on the high ridges of the Wisconsin River, near its confluence with the Mississippi. There, vines bask in sunlight and frosts sink into valleys.
What vintners can't grow they truck in from other states, adding a Wisconsin je ne sais quoi to the grapes during blending, fermentation and aging.
Wisconsinites now are enthusiastic supporters of their local vineyards, thanks largely to the late Bob Wollersheim, who resurrected the state's first vineyard in 1972.
He made good wines, but more importantly, he made wine-buying fun, holding tasting events and festivals at his oak-framed hillside vineyard.
The Wisconsin River Valley isn't the Napa Valley. But it also doesn't have a shred of snobbery.
"We try to show people they can drink and buy what they like," says Julie Wollersheim Coquard, who married the French-born winemaker her father recruited. "They don't have to drink what's 'supposed' to be good."
One October, four girlfriends and I devoted the weekend to fall scenery, hiking trails, good food-and wine.
Wisconsin River vineyards occupy some of the most picturesque terrain in the state, and on our way to Spurgeon Vineyards near Muscoda, we admired little country churches, waved at Amish men pulling weeds and stopped to pet a trio of billy goats.
At the winery, we met Mary Spurgeon, who'd just returned from Michigan that morning with six tons of chardonnay grapes, and watched as her husband, Glen, dumped the grapes into the press.
They planted their first vines in 1978 and became the first vinters in Wisconsin to use only their own grapes, Mary Spurgeon said, but their saleswoman sold so much wine they had to start buying grapes to supplement those from their own 16 acres.
We tasted the dry, oak-aged Proprietor's Reserve Red first, then moved on to the grapey Proprietor's Reserve White and the sweet Ruby Lady, the vineyard's best-selling wine.
"I don't care what anybody says, sugar sells," Spurgeon told us. "Our top three sellers are sweet; if we dropped everything else except those, we'd still thrive."
Then we climbed up a steep hill to the vines, where we soaked up some sun ourselves and tasted a few grapes, which were packed with flavor.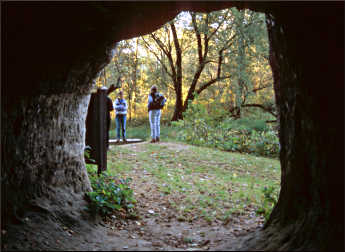 Then we drove to Botham Vineyards near Barnveld, which looked like a Wisconsin Falcon Crest. Fittingly, the vintner, Peter Botham, races vintage cars.
"I think I'd like to have a vineyard," said my friend Grace, looking covetously at the owners' Victorian painted-lady, on a manicured knoll above the red-barn tasting room and picnic terrace.
"Wow, this looks as if it could be in California," said Adele.
Botham doesn't offer tours, so we went straight for the wine, starting with the driest, the estate-grown Uplands Reserve.
Our lively guide, college student Sara Gullicksrud, provided a running commentary on each wine, and when I said I'd serve the semi-dry Riesling as a dessert wine, she laughed.
"That's what's so fun about this job," Gullicksrud said. "One person will say, 'Whoa, this is so sweet,' and the next will say, 'It's not sweet enough, I need it so much sweeter.' "
We all were impressed with Botham's wine, and we left with armfuls of it, as well as Bolivian wine bags and Stonehill Kitchen chocolate sauces from the gift shop.
Then we took country roads back to the Wisconsin River, where we got in a late-afternoon hike in Tower Hill State Park near Spring Green. In 1831, enterpreneurs built a shot tower on the hill, dropping balls of molten lead 180 feet into a pool of water.
The wooded trail led us into the limestone tunnel through which the shot was retrieved and up to the rebuilt tower, where we had a sweeping view of the river valley.
From Tower Hill, we headed straight east to Mazomanie, where the popular Old Feed Mill operates in an 1857 stone mill. It's famous for its pot roast and cider roast chicken, but we were surprised to see chef's selections that included sturgeon, wild boar and veal loin.
My New Zealand cherry lamb was delectable, and so was my friends' chicken and the Lake Louis pale ale, made just down the road in Arena.
The next morning, we followed the river to Wollersheim Winery, across from Prairie du Sac. The vineyard has quite a history: In 1840, a flashy Hungarian count named Agoston Haraszthy arrived in the valley with root stock from Europe, which he planted on a sheltered hillside.
He founded Sauk City, first known as Haraszthyville, but in 1849 he left for California, where he became the first sheriff of San Diego, co-founder of the San Francisco Mint and the California wine commissioner.
He may or may not have been eaten by alligators in Nicaragua while operating the world's largest rum factory, but he certainly is known as the father of the California wine industry.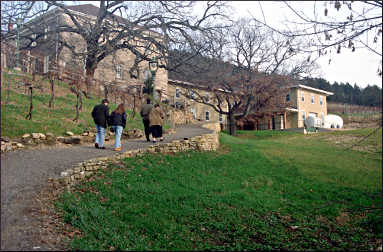 Back in Wisconsin, the count's vineyard was taken over by Peter Kehl, an immigrant from Germany's Rhineland, and cultivated by the family until 1899, a year of record-setting cold that saw the demise of both the vines and Peter's son Jacob.
In 1972, Bob and JoAnn Wollersheim bought the dilapidated farm, moving into Peter Kehl's 1858 limestone house and planting hardy Marechal Foch vines along the wooded ridge above it, on which more than 100 eagles roost in winter.
Today, people love to visit the picturesque vineyard, framed by giant oaks.
"Once again, you feel you're not in the Midwest," Adele said.
"I'm going with Portugal," said Sandy.
After a walk around the grounds, we again tasted from dry to sweet, starting with the pinot noir and going on to the Domaine du Sac, the dry Riesling and the Prairie Fumé, which is by far the vineyard's best seller.
Of the three vineyards, we agreed, Wollersheim was most atmospheric, Spurgeon was most fun and Botham had the best wines. But all of them had one thing in common.
"I'll tell you a secret," Mary Spurgeon had told us. "We're in the entertainment business. Why do people come to a winery? To spend time and be entertained. When you come into the winery, you're buying an experience."
Trip Tips: Wisconsin River vineyards
Spurgeon Vineyards near Highland: Tours are given April through October. Its Harvest Festival is the second weekend in October, with free tours and sampling, hayrides, live music and grilled buffalo burgers.
Botham Vineyards near Barneveld : It's open for tastings Wednesday-Sunday from April through Christmas and weekends only in March. Tours are given for groups of 15 and more.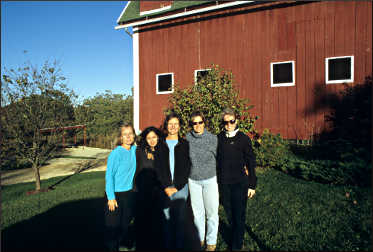 On the second Sunday in August, it holds a Vintage Celebration, featuring music and rare and vintage sports and race cars.
Wollersheim Winery near Prairie du Sac : Tours are given daily between 10:15 a.m. and 4:15 p.m. It holds special events year-round, including Ruby Nouveau Tasting and Vintage Christmas in November.
For more, see A vintage vineyard.
Wild Hills Winery near Muscoda : The former Weggy Winery Tram offers wine tasting and vineyard tours.
Accommodations : Spring Green makes a good base; stay at the Silver Star Inn, in the hills above town, or in two-room suites at the Wright-style House on the Rock Resort.
In Sauk City, the Cedarberry Inn is a pleasant chain-style hotel, 800-342-6625.
Dining : There's something for conservative as well as adventurous diners at the Old Feed Mill in Mazomanie, open daily. Also in Mazomanie, the Wall Street Gallery & Bistro serves Tuscan sourdough pizzas, salads and design-your-own pastas.
In Roxbury, just south of Wollersheim, the Dorf Haus serves German classics. It's open Wednesday-Sunday but offers a Bavarian smorgasbord the first Monday of the month and also the third Monday from June through October.
Last updated on November 3, 2020