A vintage vineyard
More than 175 years after its founding by a Hungarian hustler, Wollersheim is basking in success.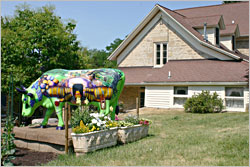 In the wooded bluffs across the Wisconsin River from Prairie du Sac, the Saturday before Thanksgiving is a red-letter day for wine drinkers.
That's when Wollersheim Winery releases its Ruby Nouveau and throws open its doors for a tasting party that always draws hordes of loyal fans.
The wine is good — better than good, according to judges at international competitions. But visitors also come for the atmospheric setting, on a hillside wrapped by massive oaks and frequented by bald eagles, and for the vineyard's colorful history.
They add a cool factor, a certain * je ne sais quoi,* to Wisconsin's oldest and largest vineyard.
The story starts in 1840, when a flashy Hungarian count arrived in the United States and made his way to a valley along the Wisconsin River with root stock from Europe.
Agoston Haraszthy-who may or may not have been a count, but certainly was a wheeler-dealer-planted his cuttings on a sheltered hillside near Prairie du Sac, between Wisconsin Dells and Madison.
The vines grew, but not well, and in 1849 the count decamped to California. There, he became the first sheriff of San Diego, founded Buena Vista Winery in Sonoma, introduced more than 300 varieties of European grapes and became the first state wine commissioner.
But his vineyards were hit with the first infestation of phylloxera, and in 1868, he left to start a rum distillery in Nicaragua. A year later, he fell into a river and was presumed eaten by alligators.
Still, Haraszthy is known as the father of the California wine industry. In 2007, he was inducted into the Vintners Hall of Fame.
His Wisconsin vineyard was taken over by Peter Kehl, who came from a wine town in Germany's Rhineland, and cultivated until Kehl's son Jacob died in 1899.
That also was a year of record-setting cold, and the vines died. The land went into a deep sleep.
In 1972, Bob and JoAnn Wollersheim of Madison bought the dilapidated farm, moved into Kehl's 1858 stone home and began to see what kinds of vines could survive a Wisconsin winter.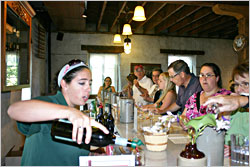 For reds, they turned to Marechal-Foch grapes, which were bred for hardiness in France at the turn of the century, just as Peter Kehl's vines were dying in Wisconsin.
But the wine that kept the winery afloat turned out to be a semi-dry white made with grapes grown in New York. Today, the semi-dry Prairie Fumé is the top-selling wine in Wisconsin.
Winemaker Philippe Coquard does use Wisconsin-grown white grapes to make his Coquard Brandy, which is aged in Wisconsin oak barrels. The brandy debuted in April 2013 and instantly sold all 5,000 bottles.
Now there are four seasons at Wollersheim-port in January, brandy in May, ice wine in October and beaujolais in November. Summer is for sipping a glass in the wine garden.
Fans welcome any excuse to visit. From a parking area, a path lined by limestone-slab walls winds up a vine-covered hill to the tall stone winery, wrapped by the gnarled black limbs of a massive oak.
Along the walkway are weathered wooden barrels banded in red metal, built during the Civil War by Confederate prisoners on an island in Lake Erie.
Next to the winery is Peter Kehl's limestone home, surrounded by a wrought-iron fence with grapevine ornaments. On the hillside behind it are rows of vines, the cave Kehl and his family lived in for more than a year and a wooded ridge on which bald eagles roost in the winter.
It's not exactly "Falcon Crest," but it's as close as Wisconsin gets, and wine buyers love it.
When I visited one year for the Ruby Nouveau tasting, people were tottering down the path loaded with cases of wine.
"That was fun, but expensive," said one woman with a giggle.
Inside the busy wine shop, a guide named Leslie took me and a dozen others to the end of a hall that smelled of yeast and overlooked a two-story fermentation room.
Members of the case club were there hobnobbing with winemaker Coquard, who came from Beaujolais in 1984 as an agricultural-exchange student, soon became the winemaker and later married the Wollersheims' daughter Julie.
We watched a video about wine production, and Leslie told us the warm, dry summer had been good for the grapes. Then she took us into the underground cellar, filled with the casks to which the wine is brought after fermentation in stainless-steel tanks.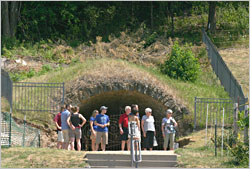 The casks — some made from local white oak, some imported from France — give the wine much of its character. "The extracts in the wood mingles with the wine and mellows it," Leslie said. "The barrels are used more or less like spices in cooking."
Then it was time for the tasting. Leslie ran us through the rudiments — hold the glass by the stem, swirl and sniff — and then we drank: A pinot noir, made from grapes grown in Washington. The sweet Prairie Fume and the Prairie Blush, made with Wisconsin-grown Marechal Foch grapes.
Back in the shop, a chef was dispensing custardy Gruyere cheese puffs and a fragrant coq au vin made with the Ruby Nouveau.
It's taken a while, but eventually Wollersheim won respect for Wisconsin wine. In 2012, it was named Winery of the Year at the San Diego International Wine Competition, and in 2013, its Dry Riesling was named Wine of the Year.
Bob Wollersheim always said that, as Wisconsin's first modern vintner, he "had to make all the mistakes myself."
But Wollersheim, who died in 2005, acknowledged that he was lucky: The vineyard Agoston Haraszthy chose happens to be in a relatively warm spot, a climatic aberration that can be seen only on modern weather maps.
"You wonder how this guy can come riding up over the hills, stick his thumb in the air and say, 'This is the place to grow grapes,' " he said. "It's pretty amazing."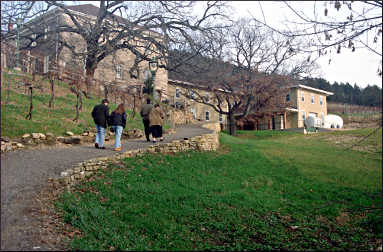 Getting there: It's half an hour northwest of Madison, across the river from Prairie du Sac off Wisconsin 188.
Winery: The winery is open daily except holidays. Guided tours are $18 and include sampling.
There's also a distillery, with tastings offered daily, and a bistro that offers paninis, salads and desserts.
Events: Last Saturday in January, Port Wine Celebration. First Saturday in March, Winery Open House. First Thursday in October, Ice Wine Release. Third Thursday of November, Ruby Nouveau Tasting. Saturday after Thanksgiving, A Vintage Christmas.
In Prairie du Sac, the biggest events are Bald Eagle Watching Days in mid-January and the Wisconsin State Cow Chip Throw on Labor Day weekend.
For more about the area, see Road trip: Wisconsin River.
Accommodations: In Sauk City, the Cedarberry Inn is a pleasant chain-style hotel.
Ten miles south in Mazomanie, the Iron Amethyst Inn is an 1865 Italianate home with five rooms.
Dining: In Sauk City, Vintage Brewing on Water Street offers daily specials as well as sandwiches, burgers, soups, salads and its own craft beers.
In Roxbury, on County Road Y southeast of Sauk City, the Dorf Haus Supper Club serves German classics.
Last updated on November 6, 2021