Road trip: Wisconsin River
The valleys and bluffs around Prairie du Sac draw paddlers, hikers and Sunday drivers.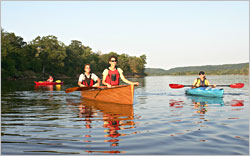 At Prairie du Sac, the Wisconsin River finally breaks free.
Lined with so many dams and reservoirs it's often called the nation's hardest-working river, the Wisconsin devotes itself to play after it passes the town.
Then it becomes the Lower Wisconsin State Riverway, beloved by canoeists, who like to play on its many sandbars.
The busiest stretch is west of Sauk City, which is halfway between Wisconsin Dells and Madison but has its own A-list attractions: bluff-top panoramas, a historic vineyard, a paved bike trail, a free car ferry, a picture-postcard mill and, of course, the river.
In one jam-packed weekend, we sampled all of it and more.
These adjoining towns on the Wisconsin River, together known as Sauk Prairie, are best known for the bald eagles that hang around in winter, picking off fish stunned by the turbines in Prairie du Sac's hydroelectric plant.
The two main streets follow the river between the Wisconsin 60 bridge in Prairie du Sac to the U.S. 12 bridge in Sauk Prairie and are linked by the paved, 10½-mile Great Sauk State Trail.
Sauk City is the home of my friend Debra's sister Sue Ann, an enthusiastic paddler and bicyclist who wanted to show us her favorite places.
First, we stopped at the Saturday-morning farmers market and River Arts on Water Gallery, near the riverfront.
Then, we headed west.
There are outfitters who supply canoes and kayaks for the 11-mile trip to Arena from Sauk City, but we have our own boats, so we put in at the canoe landing south of town, off Lueders Road.
It was a gorgeous evening on the wide, slow river. We passed a few houses, then nothing but wooded banks; the state owns most of the land along the last 92 miles of river.
As we paddled along, a biplane swooped over our heads, and the pilot waved. A big family was hanging out on the opposite bank, with a gazebo tent, chairs, coolers and toys.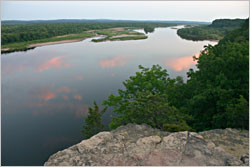 Bald eagles sit in trees on both sides of the channel to the mouth of Honey Creek, just four miles from Sauk City. We got out, loaded our boats and climbed a mile to a gorgeous overlook.
Named for a Civil War-era ferry landing, this sandstone bluff rises more than 300 feet above the river. The views from its ledges are magnificent, especially at dusk, when the river reflects the moon and clouds tinted pink by the setting sun.
As we headed back to the landing, the woods twinkled with hundreds of fireflies, like a fairy version of fireworks.
Ferry Bluff also is a popular day hike and picnic spot, reached by Ferry Bluff Road off Wisconsin 60 west of Sauk City.
Outfitters out of Mazomanie (pronounced MAY-zo-MAY-nie) and Spring Green supply canoes for the 10-mile trip from Arena to Spring Green.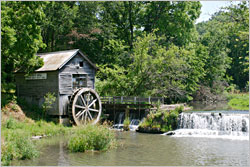 Hyde's Mill
In the bucolic coulees south of Arena, you'll find this old wooden mill on Mill Road, between County Road T and H.
With its big wooden water wheel, on a mill pond next to a lively waterfall over an 1850 stone dam, it's a favorite of photographers.
Theodore Sawle, who lived in the miller's house and had operated it since 1931, died in 2009 at age 103.
There was a history fair going on around the corner, to celebrate the sesquicentennial of the 1862 Hyde Chapel. But we didn't see any food there, so we headed into Spring Green for lunch.
As a tourist attraction, this town is more than a little bipolar, with the high-brow Taliesin built by Frank Lloyd Wright and the low-brow House on the Rock.
Many people forget it's also a river town. We ate at the Wisconsin Riverside Resort, watching passing canoes and flotillas of tubers lolling offshore.
On Wisconsin 14, we stopped at Bargain Nook III for a few Land's End deals. In town, we peeked in the windows of the Shitty Barn, a funky folk venue. It was empty, but we could see it'd be a fun place to hear music.
You could easily spend a whole weekend here. But we head for our next stop, east of Sauk City.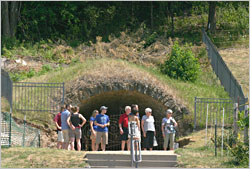 On the hillside just across the river from Prairie du Sac, this stone winery, surrounded by old oaks, is Wisconsin's first and most picturesque. It also has the most interesting backstory.
In 1840, the first vines were planted by a Hungarian count, who left to follow the Gold Rush in 1849 and became the father of the California wine industry. They were taken up by a German immigrant, but in 1899 his son died and the vines froze.
In 1972, Bob Wollersheim rejuvenated the vineyard, becoming Wisconsin's first modern winemaker. Today, its Prairie Fumé is one of the state's most popular wines, and its annual Grape Stomp became so popular it had to be discontinued.
The property is on the National Register of Historic Places, and Bob and JoAnn Wollersheim's daughter Julie and her winemaker husband, Philippe Coquard, make the wines.
When we stopped by, the place was buzzing. Patrons were taking tours, sampling wines and drinking in the wine garden. It's not Falcon Crest, but it's close.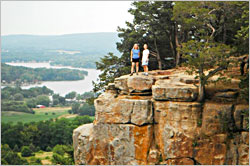 Just south of Lake Wisconsin, on County Road VA west of Wisconsin 113, we parked and climbed up an overgrown road.
The view from the gnarled cedars atop this 200-foot cliff makes it one of the most popular spots on the Ice Age National Scenic Trail.
It's a Sconnie version of Grant Wood country, with rolling farmsteads in the forefront, the Baraboo Hills in the distance and the giant lake of the Wisconsin River around the corner.
"It's like being on the Devils Lake bluffs, except there's more below you than just the lake," Sue Ann said.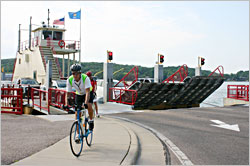 Every day, all day, the free Colsac III ferry serves as the bridge on the highway between Baraboo and Lodi. It's also the bridge for the Ice Age Trail.
We waited for it to chug across Lake Wisconsin, then boarded and enjoyed the view. It's part of the highway system, but it seemed to us like a poor man's cruise.
When they were little, Sue Ann and Debra used to go for Sunday drives with their family, crossing on the ferry and stopping for ice cream at one of the stands on each side of the river.
We wondered if the captain would kick us off if we rode all day.
"We could bring a grill, some brewskis and lawn chairs and make a day of it," Debra joked.
North of Merrimac, off Wisconsin 78, we drove into a peaceful retreat built by the Durwards, a family of priests, painters and writers who arrived in the valley in 1862.
There's a chapel, a lodge, a guesthouse, a shrine and, most interesting to us, the Cornerstone Hermitage. This narrow, two-story building was built in 1926 by Father John Durward for his own use while visiting his family.
Later, it was filled with mounted birds by Wilfrid Durward and used as an art gallery by Mary Durward. Now, it's available to the public for their own retreats. The public also is welcome to walk along the babbling brook and picnic in the glen.
Nearby attractions
Parfrey's Glen, Wisconsin's first state natural area and one of the most magical spots on the Ice Age Trail, is two miles southwest of Durward's Glen.
It's connected by the trail to Devils Lake State Park, Wisconsin's magnificent and most-visited state park.
Baraboo is just north of the Devils Lake. The late Tom Every's Forevertron and other scrap sculptures are just north of Prairie du Sac along U.S. 12.
Trip Tips: Prairie du Sac and Sauk City in Wisconsin
Getting there: The two towns are half an hour south of Wisconsin Dells, east of Spring Green and north of Madison.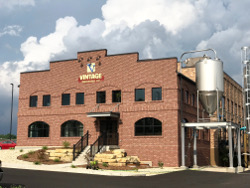 Events: January, Bald Eagle Watching Days. July 4, Fire on the River. Labor Day weekend, Wisconsin State Cow Chip Throw, with music, arts and crafts and the Tournament of Chips parade at noon Saturday.
For events at Wollersheim Winery, see A vintage vineyard.
Accommodations: In Sauk City, the Cedarberry Inn is a pleasant chain-style hotel.
Canoe outfitters: The Wisconsin Canoe Co. offers boats and shuttles for the 10-mile, four-hour trip from Arena to Spring Green and also for the 25-mile, three-day trip from Prairie du Sac.
Camping: In Prairie du Sac, Veterans Memorial Park has a boat landing and playground and is on the Great Sauk State Trail. Sites are first come, first served.
If the river isn't too high, sandbar camping is very popular.
Dining: In Sauk City, Vintage Brewing on Water Street offers daily specials as well as sandwiches, burgers, soups, salads and its own craft beers.
In Roxbury, on County Road Y southeast of Sauk City, the Dorf Haus Supper Club serves German classics.
Bicycling: The southern trailhead of the paved, 10½-mile Great Sauk State Trail is off Water Street on the south edge of Sauk City; from there, the trail heads north to Sauk Prairie Recreation Area, near Devil's Lake State Park. A state trail pass is required, $5 daily, $25 per year.
Information: Sauk Prairie area tourism, 608-643-4168. The attractive Welcome Center in Sauk City is a handy place to stop.
Last updated on April 6, 2021