Bacon bashes
If you fry it, they will come. Here's where to pig out around the region.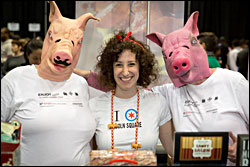 Have you ever had enough bacon?
If not, you can get your chance at a rasher of pork parties around the region. At Des Moines' Blue Ribbon Bacon Festival one year, a Nebraska woman put away 2½ pounds in less than five minutes.
If you're wondering how the bacon boom started, Business Week can give you the official answer. It has to do with pork-belly futures (seriously).
Here's a better answer: The world is complicated, and bacon is simple.
It tastes great and goes with everyone else we love: beer, cheese, burgers.
Plus, pigs are funny-the kind with snouts and their human equivalents. That makes it fun to indulge in all kinds of antics, from prize-filled pigs flying off rooftops to bacon-theme bicycle rides.
At these bacon fests, tickets generally include live music and various swag, such as glasses and T-shirts.
Here are the festivals and events in 2022 .
Feb. 26, Blue Ribbon Bacon Festival in Des Moines . The 13th edition of this blowout at the Horizon Events Center features a bacon-eating contest, bands and cooking demos, plus sampling. This year's theme is "Bacon Gras," with beads and street performers along Bacon Bourbon Street.
Feb. 27, Baconfest MKE in Milwaukee . In this city, famous for hogs of a different stripe, top chefs will create bacon cuisine at the Potawatomi Hotel & Casino.
Baconfest Chicago . This is a major foodie festival, with tastings and demos from more than 160 chefs at UIC Forum.
June 11, Beer, Bacon and Cheese in New Glarus, Wis . The tasting in this Swiss town near Madison, in the middle of cheese country and home to one of Wisconsin's best breweries, is part of Polka Festival.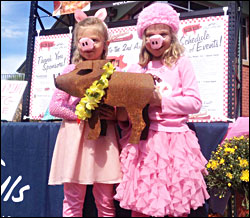 June 18, BACooN Ride Too from Waukee, Iowa . This bacon-themed 72-mile ride starts just west of Des Moines and follows the paved Raccoon River Valley Trail.
Treats along the route include bacon cinnamon rolls and bacon ice-cream sandwiches.
July 23, Bacon and Brews in Madison . This festival at McPike Park features hundreds of craft beers and live music as well as artisan bacon-infused dishes.
Bacon and Beer Classic in Minneapolis . On Columbia Golf Course in northeast Minneapolis, there will be more than 40 craft beers and ciders and eight bacon dishes, plus music and games.
Sept. 17, Paul's Bacon Ride from Brainerd, Minn . Join Paul and Babe the Big Blue Pig for a 45-mile ride on the Paul Bunyan State Trail, with bacon for breakfast, bacon for lunch and bacon stops in between.
Sept. 17, Beer & Bacon Fest in Wausau, Wis . This festival on Fern Island Park in the Wisconsin River also features live music.
September, Bacon Bash in River Falls, Wis . In this western Wisconsin town, there are pig races, a pig-calling contest, costume contests, a pig-wing eating contest, an amateur bacon cook-off and many bacon dishes, including ice cream.
There's also live music, children's activities and a craft-beer tent.
Nov. 5, Beer and Bacon Walk in Racine, Wis . At 20 downtown locations, bacon-infused bites are paired with beer from local breweries.
Last updated on January 30, 2022