Swiss at heart
In Wisconsin's Little Switzerland, New Glarus hangs onto a colorful heritage.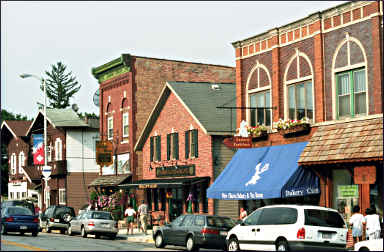 In a verdant little glen in southwest Wisconsin, the 13th century makes a reprise appearance every year.
It comes with pageantry, bloodshed and a whole lot of noble sentiments, courtesy of the 18th-century dramatist Friedrich Schiller. It also comes in German that's as meaty as the Landjaeger sausages sold to spectators.
As I arrived during the first act of "Wilhelm Tell," a rich Swiss patriot was discussing the horrors of war with his wife.
"Furchtbar schlecht ist der Krieg!" he cries, to which Gertrud replies, "Den Brand warf ich hinein mit eigner Hand!" — "I'll throw the first torch myself!"
Seven hundred years later, the Swiss struggle for independence from Austria still resonates in the town of New Glarus, founded in 1845 by 108 desperately poor colonists from the Swiss canton of Glarus.
They had been weavers, but they learned to farm and make cheese amid the rolling hills of Wisconsin, and soon they prospered.
By 1938, German still was the first language of most residents, but they could see their culture eroding.
That's when the town of 2,000 started open-air German and English performances of the famous play, in which the legendary hero Tell is forced to shoot an apple from his son's head.
Residents also began building houses and shops with half-timbered Alpine facades and Germanic platitudes unfurling across the plaster in Gothic script.
They added Swiss canton flags, and window boxes overflowing with geraniums and, in 1965, annual performances of "Heidi."
Today, the sign over the fire department reads "Feuerwehrhaus." Railroad Street also is "Bahnhofstrasse."
It's as Swiss as Swiss can be in 21st-century America. Yet the springerli and marzipan fruits sold at the New Glarus Bakery, the husky notes from a 6-foot alpenhorn, the 1913 murals of Napoleonic scenes at the tavern — they're not just for tourists.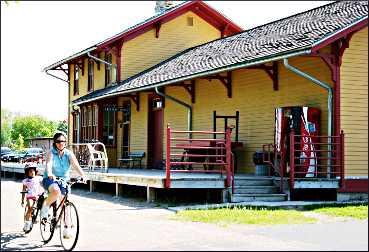 However, even the tourists often are Swiss.
When I was having dinner at the 1853 New Glarus Hotel, a classic gasthaus with dirndl-clad waitresses, 50 Swiss tourists were there, too.
They'd finished their rahmschnitzel and raclette and were happily settling in for an evening of singing to folk tunes played by the accordion-toting Swiss entertainer they'd brought along.
But one of the other attractions of New Glarus isn't Swiss at all. The town is at one end of the 23-mile Sugar River State Trail, a crushed-limestone bicycle path that's groomed for cross-country skiing in winter.
I caught a ride to the other end with a retired milk deliveryman who spoke nostalgically about the heyday of the cheese factories. Once, there were more than 200 in this area, called Little Switzerland.
Many supplied the mail-order firm Swiss Colony, which was founded 15 miles to the south in Monroe, still the cheese-making capital of Wisconsin.
The Sugar River turned out to be more of a creek, and a tortuously winding one. The path was scenic, though, lined with wildflowers, bogs and views of pastoral little dairy farms.
Near Albany, a 50-strong contingent of bicyclists streamed onto the path from a family farm, wearing pink T-shirts that read "Hill Family Labor Day Fun. Meet You at Puempels Olde Tavern."
They were already in a festive mood, anticipating a cold glass of beer from the New Glarus Brewing Co.
We passed the depot in Monticello, where the east-west Sugar River trail intersects with the north-south Badger State Trail. There was a cool stretch in the shadow of 50-foot limestone bluffs, and then we cut through a golf course on our way to New Glarus.
From its depot, I rode up a murderous hill to the Wilhelm Tell Grounds, where I borrowed a German-language script from a young German teacher who'd brought his high-school students up from Iowa.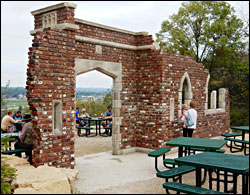 He was marveling at the quality of the acting and by the Swiss dialect spoken by some of the actors.
"Swiss has a lilt, that da-DA-da-da," said Aaron Bicknese of West Union, Iowa. "And they really roll the r's; listen to how they say 'mirrrrr.' " The actor playing the vile Gessler, however, was using High German, full of Teutonic bluster.
"My speech sounds higher-class, which makes me a good tyrant," said Peter Etter, New Glarus' German-born high-school principal, after the play.
Back in town, I loaded up on Linzer bars and nut horns at the New Glarus Bakery. Then I joined the party at Puempels, an 1893 tavern with dollar bills stuck all over its 18-foot ceiling.
I caught the end of an elbow-pumping, hip-waggling Chicken Dance, then listened to an Illinois polka band work its magic, or whatever it was, with an accordion, washboard, tambourine and string bass.
It's never hard to find traditional music in New Glarus. After dinner, I walked down the street, where the New Glarus Yodel Club was performing on the lawn of the Swiss Church.
Its members were crooning lovely folk harmonies, with the lilting yo-ho-ho as a refrain — easy to parody if you've never heard it, but actually a very expressive kind of music, melancholy or festive to suit the lyrics.
The tiny town also has a Männerchor, or men's chorus, which sponsors Volksfest in August. Its Roger Bright Polka Band performs weekends at the New Glarus Hotel and at Polkafest, in June.
Tourists, of course, love this town and its festivals. The refreshing thing is, there's not a trace of kitsch. In New Glarus, being Swiss means much more than cuckoo clocks, cowbells and fondue.
Trip Tips: New Glarus, Wisconsin
Getting there: It's half an hour southwest of Madison.
2023 events in New Glarus: June 9-10, Polka Festival, and June 10, Beer Bacon and Cheese. June 23-25, Heidi Folk Festival and Play. June 24, Blues, Brews and Food Truck Festival. Labor Day weekend, Wilhelm Tell Festival. Sept. 21-24, Oktoberfest. Dec. 1-3, Christkindli Market.
Cow Parade: Walk around town spotting the 16 artist-painted Swiss cows.
Sugar River State Trail: The 23-mile trail links New Glarus and Brodhead and intersects with the Badger State Trail in Monticello. Daily trail pass is $5, annual is $25.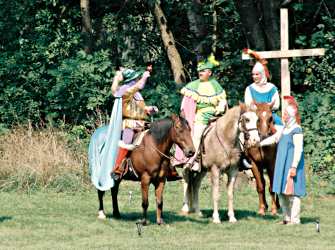 You can rent bikes at the Depot.
Local retired folks provide shuttles, charging by distance. Reserve in advance by calling 608-527-2095.
For more about the Badger State Trail, see A slice of cheese country.
Accommodations: Chalet Landhaus has comfortable rooms with Swiss accents, and there's a pool complex. A large hot breakfast is included in the rates.
The recently renovated Blanc Chalet, formerly the Swiss Aire, is a mom-and-pop motel on Wisconsin 69.
There are quite a few guesthouses.
Camping: There's camping on the edge of town in New Glarus Woods State Park, 608-527-2335. It doesn't have showers, but sweaty bicyclists can use showers at the municipal pool in Village Park next to the depot, open until 8:30 p.m. Monday-Friday and 8 p.m. Saturday-Sunday.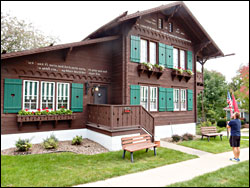 Dining: The Glarner Stube is intimate and atmospheric, 608-527-2216. The glassed-in balcony of the New Glarus Hotel is the place to be for Sunday brunch.
For dessert, stop by the New Glarus Bakery. In a Victorian house a block from downtown, Kristi's is a Mexican-influenced steakhouse.
For more about touring and tasting, see Grazing in Wisconsin and Cheese country.
Wineries: West of town off Wisconsin 39, Bailey's Run Vineyard offers pizza and live music on weekends.
Museums: Two are well worth a visit: the Swiss Historical Village and the Chalet of the Golden Fleece, open daily May through October.
Brewery tours: You can take a free, self-guided tour of the New Glarus Brewing Co. Hilltop Brewery. It has a gift shop and beer depot, though it's cheaper to buy New Glarus beer in supermarkets or liquor stores.
There's also a very attractive picnic area, in which beer and wood-oven pizza is available.
For more about touring breweries in southern Wisconsin, see Road trip: Breweries of southern Wisconsin.
Shopping: Bring a cooler to bring home cheese and chocolate from the Maple Leaf and cream-filled pastries from the New Glarus Bakery.
For more, see Power shopping in Wisconsin.
Information: New Glarus tourism, 800-527-6838.
Last updated on January 17, 2022