Wisconsin's cheese country
In Monroe, the Swiss stay true to the flavors of their forebears.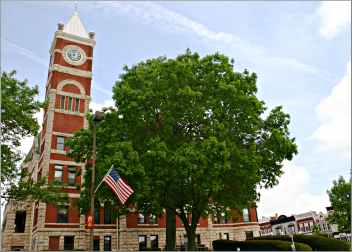 In the land of Velveeta, Wonder bread and Miller Lite, a chunk of southern Wisconsin is an Old World holdout.
Home of North America's last Limburger factory, Green County is the big cheese in a state of cheese makers.
It's still famous for the pungent Limburger and Swiss on which it made its reputation. It's weathered the advent of processed cheese food and gummy white bread. It's survived the tide of bland beer and low-fat diets.
In Green County, people always have gone for the gusto.
"The old Germans and Swiss, they have to have their aged cheese, and that's the truth," said Myron Olson, manager of Chalet Cheese Co-op near Monroe, the county seat.
And sometimes, the younger ones, too.
"I love Limburger, I always have," said John Rosa, a waiter at Baumgartner Cheese Store and Tavern, in business in Monroe since 1931. "When I taste something, I want it to have flavor."
Limburger, whose aroma can turn heads, always has been the butt of jokes. In 1935, a Mrs. Merle Denzler wrote this sonnet:
"O thou, sweet Limburger, whose name
Has brought Green County untold fame —
How oft hast thy fragrance unaware
Brought disgrace on thee unfair!"
At Baumgartner's, slabs of the rich, creamy cheese are served on rye, with rings of raw onion. When I ordered it, Rosa got me to agree to a slab of Braunschweiger on top of that.
"Makes it so you can just see the grease running out," he said with a straight face. "If you're going to do it, do it."
If Monroe's splendid Court House Square is the heart of cheese country, the adjacent Baumgartner's is its stomach. Over the door, a sign reads, "Through this portal you can get the best cheese sandwiches in the world."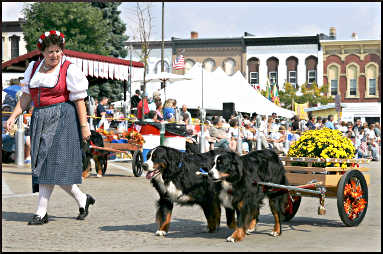 Back in the bar, old-timers play Jass, a Swiss card game, occasionally cashing in chips for sausage and cheese.
Locals keep Swiss folk culture alive, yodeling in a club that includes alpenhorn players and chip carving in wood, or Kerbschnitzen.
The Turners still are going strong, though no longer as a gymnastics club. They were meeting at the alpine-style Turner Hall when I was in its Ratskeller, listening to Swiss music and eating bacon-and-cheese pie and roesti potatoes, an addictive dish made with onions and aged cheese.
Cheese makers ply their trade all around. East of Monroe at the Maple Leaf Cheese Factory Outlet, I tried some Monterey Jack that was much creamier than supermarket cheese.
That's because cheeses sold direct are fresher and have a higher moisture content, said Myron Olson, who was there looking at vats. Supermarkets sell drier cheese, in which acids don't break down as quickly.
As cheese ages it creates acid, and connoisseurs favor the oldest, sharpest cheeses. The mildest cheese is youngest, and it too has fans.
"Every Thursday we make curds, and a number of customers make sure they're here on Thursday morning, first thing," Olson said.
Four miles west of Monroe, I found the Franklin Cheese Cooperative, a brick house to which a milk truck had pulled up. Its side panel read "You deserve real cheese."
Seventeen farmers bring 50,000 pounds of milk a day to the little house, in which Janet Gobeli and her husband, Steve, make 19 styles of Muenster.
As Steve Gobeli pumped tiny curds from a hose into a steel tub, his wife showed me around the warm, steamy room.
"We're one of the last true coops left in the state of Wisconsin," she said. "The farmers make all the decisions, and they hire us to make their cheese. It starts with the quality of the milk. Our farthest farmers are only 15 miles away, and we know them all on a personal basis. They're not just numbers to us."
A whisk moved through the tub, an updated version of the Swiss harp. As the curds are heated, whey rises to the top; after it is drained, the tiny curds are pressed into forms of different shapes, then put into a cold salt bath.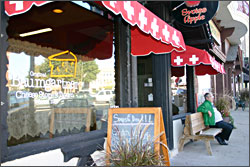 In the cold room, Gobeli gave me a taste of onion-garlic Muenster with basil. I bought a big brick of it, surprised by the low price.
"That's why you should buy it direct," she said with a smile.
Back in Monroe, I tasted many other cheeses at Alp and Dell, where Roth Käse claims to be the only maker of traditional Gruyere outside Switzerland. Beyond the cheese shop, visitors can watch cheesemakers through windows along a hallway lined with explanatory plaques, photos and old-time equipment.
At Monroe's Historic Cheesemaking Center, a museum that also houses a visitors center, I saw more old photos and equipment and realized why so many young Green County men had well-developed muscles.
Cheesemakers had to push 200-pound wheels of Swiss to top shelves in cellars to cure, and every three days they had to be taken down, washed, placed on a clean lid and lifted back onto the shelf.
Near the Historic Cheesemaking Center, the rough-limestone, 47-mile Cheese Country Trail heads west, through Browntown and Gratiot.
To the east, the fine-limestone Sugar River State Trail links four other Green County towns, winding 23 miles from New Glarus to Monticello, Albany and Brodhead. And the Badger State Trail heads north to Madison and south to the Illinois border.
It's a pastoral landscape of rolling green hills, dotted by tidy towns with brick storefronts, old-fashioned squares and train depots now devoted to bicyclists.
Monroe is the county seat and longtime business hub; the mail-order firm Swiss Colony was founded there in 1926, and the town still is ringed by cooperatives and cheese outlets.
With such enticements, the idyllic landscape of Green County is nearly irresistible. Monroe's motto, "We bring you back," is fitting. Tourists do come back, again and again — usually, led by their noses.
Trip Tips: Monroe and Green County in Wisconsin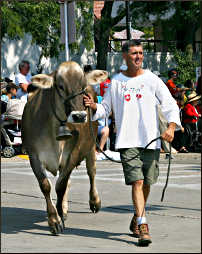 2023 events around Monroe: July, Green County Fair. Aug. 11-13, Covered Bridge Days in Brodhead.
2024 events in Monroe: Sept. 20-22, Cheese Days in Monroe.
2023 events in New Glarus: June 9-10, Polka Festival, and June 10, Beer Bacon and Cheese. June 23-25, Heidi Folk Festival and Play. June 24, Blues, Brews and Food Truck Festival. Labor Day weekend, Wilhelm Tell Festival. Sept. 21-24, Oktoberfest. Dec. 1-3, Christkindli Market.
Accommodations: In Monroe, there's a nice Super 8 and an AmericInn.
There are many places to stay in New Glarus; see Swiss at heart.
Dining: Don't miss lunch at Baumgartner's (hint: split the Limburger sandwich; half is plenty).
For burgers and craft beer, try Buggyworks Restaurant and Pub, three blocks away on 18th Avenue. On 17th Avenue, Bullquarian Brewhouse offers craft beer, flatbread pizza and live music.
Drinking: Huber Brewing, founded in 1845, no longer is Huber but still is the second-oldest continually operating brewery in the nation. Now it's Minhas Craft Brewery, and it offers daily tours.
Cost is $15 for those 12 and older and includes a four-pack of beers or Blumer sodas.
Cheese factory tours: Many factories offer tours; call Green County Tourism, 888-222-9111.
Trails: The crushed-limestone, 34-mile Badger State Trail goes right through Monroe. Its northern trailhead is Fitchburg, a suburb of Madison, and its southern trailhead is the Illinois border.
For more, see A slice of cheese country.
The 47-mile Cheese Country Trail, surfaced in rougher limestone, heads west to Browntown and Gratiot, then north through Darlington to Mineral Point.
Last updated on January 17, 2022