The chocolate cure
When winter drags on, drown your sorrows with sweets.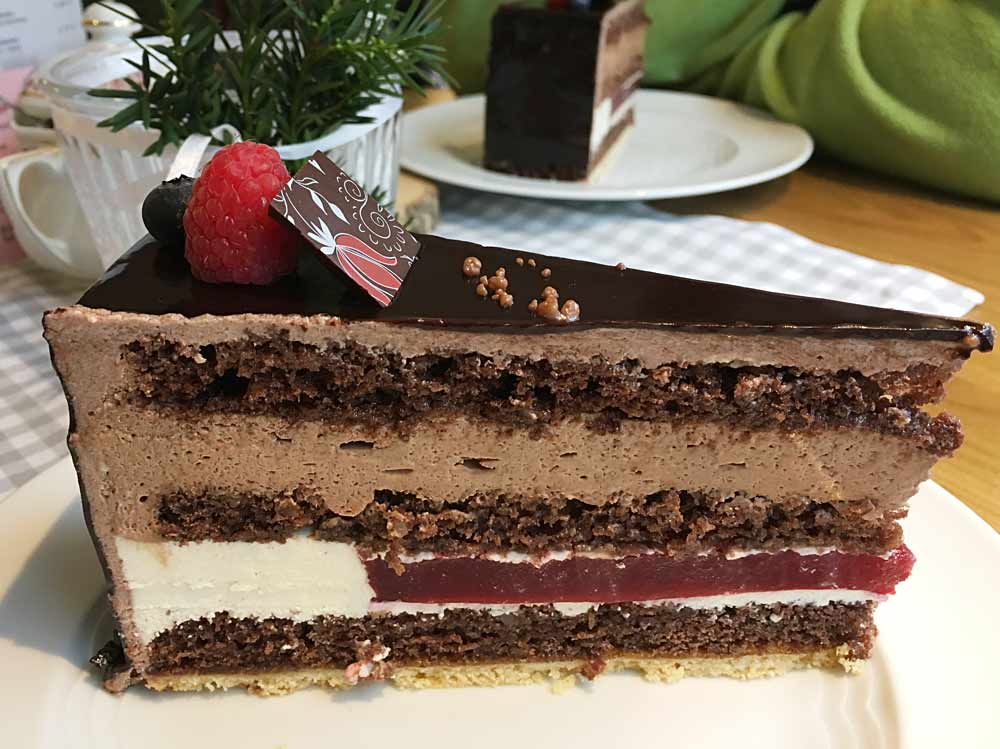 In February and March, most of us are getting tired of winter . . . time to eat some chocolate.
As everyone knows, chocolate has unique restorative qualities. It's effective draped on strawberries, whipped into mousse, covering cakes . . . you get the idea.
Just thumb your nose at winter (and your diet). Choose from tastings, tours and road trips.
Here's where to go to take the chocolate cure.
Festivals
In the northern Chicago suburb of Long Grove, Ill., home of the Long Grove Confectionery, there will be free hot chocolate during a Cocoa Crawl on Feb. 11 in 2023, and also chocolate specials at shops and restaurants.
The town's big Chocolate Fest is May 19-21 in 2023, with a chocolate scavenger hunt, sampling and music.
In Kohler, Wis., Destination Kohler offers In Celebration of Chocolate in Feb. 10-12 in 2023, with high-end chefs leading demonstrations, tastings, pairings and classes, including one on making chocolate sculptures.
In northwest Illinois, Galena is hosting a Chocolate Lovers Stroll along Main Street on Feb. 11 in 2023.
Restaurant weeks . . . with dessert
The multi-course dinner deals offered during Restaurant Weeks always include dessert.
Try them in Madison, Geneva, Ill., Chicago, Kenosha, Wis., Minneapolis, and Traverse City, Mich.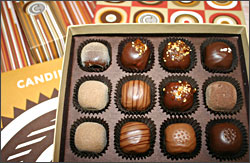 A chocolate getaway
If you'd like to go on a chocolate getaway any time, head for Chicago's Gold Coast. Stay at the Peninsula Hotel, which offers an all-you-can-eat chocolate buffet in its lobby from 8 p.m. to midnight Fridays and Saturdays.
For everyday chocolate, head for the historic Water Tower area. The Ghirardelli store is at 400 N. Michigan.
A chocolate road trip
Wisconsin has a lot of chocolate as well as cheese and beer.
You can spend a very fun day visiting the many artisan chocolate shops of its capital city, as we did in A chocolate tour of Madison.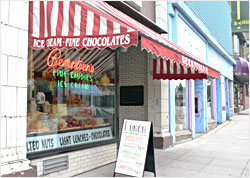 And the New York Times has mapped out a tour of chocolate shops in what it calls the Wisconsin Candy Delta between Appleton, Oshkosh, Green Bay/De Pere and Manitowoc.
The shops are Wilmar Chocolates and Vande Walle's Candies in Appleton, Oaks Candy and Hughes Homaid Chocolate Shop in Oshkosh, Beerntsen's in Green Bay and Seroogy's in De Pere and Beerntsen's in Manitowoc.
If you can do that in one day, you deserve an award.
Chocolate-factory tours
Long Grove Confectionery Co. in Buffalo Grove, Ill. Tours of this family-owned chocolate company, which produces many fun novelty items, are given Monday through Saturday, $2. Reservations are required, 847-459-3875.
Buffalo Grove is a northern suburb of Chicago, west of the intersection of I-94 and 294. It's just east of the village of Long Grove, which celebrates Chocolate Fest in May.
Last updated on February 2, 2022