Dining on Minnesota's North Shore
Finally, the cuisine matches the scenery on a favorite tourist route.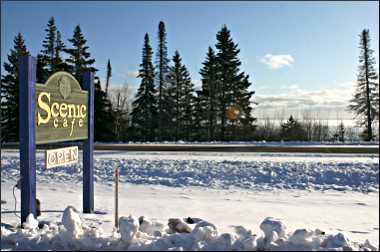 Thirty years ago, dining on the North Shore was pleasant, if a little utilitarian. A meal often came with a view, but most of the menus had the same fish, steak, chops and burgers you could get anywhere.
Things have changed. One Memorial Day weekend, my husband and I ate at three of my favorite places and two newer ones, one of which definitely was worth a detour. A three-star culinary weekend on the North Shore — who knew?
On old Highway 61 between Duluth and Two Harbors, the cheery New Scenic Cafe is a fixture of fine dining. I had my usual, the pistachio-crusted goat-cheese salad, with a starter of sashimi tuna tacos.
But I was a little envious of my husband's salmon, which came with wild rice so savory I made the server ask the chef how he prepared it.
We finished with a slice of one of the restaurant's renowned pies, raspberry-rhubarb, warm and topped with vanilla ice cream.
At the Coho Cafe, part of the Bluefin Bay resort in Tofte, we picked up chicken-salad croissant sandwiches and took them up the road to eat on a quiet cobblestone beach on Lake Superior.
Dining in is very pleasant, too; it's hard to go wrong with the cafe's breads, pizzas, sandwiches and desserts.
In Grand Marais, we had squash ravioli and walleye tacos at the Gunflint Tavern, an old favorite for its wide selection of microbrews, windows overlooking the harbor, convivial atmosphere and acoustic music on weekend evenings.
The next week in Duluth, we ate at Va Bene, on Superior Street a few doors from the Portland Malt Shoppe.
The sunny, brightly painted cafe overlooking the lake offers pasta as well as salads and panini; better yet, it serves homemade gelati.
We've since eaten there many times; the glassed-in deck is as close as you can get to the lake and still be indoors.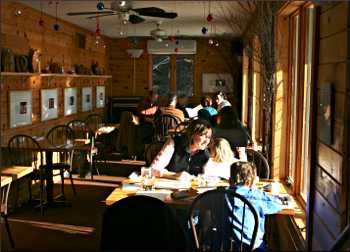 On the harbor in downtown Grand Marais, the Angry Trout Cafe is famous for its fish, especially Lake Superior trout and whitefish. It's open May through October.
Twenty miles farther east, in Hovland, Chicago Bay Marketplace serves homemade pizza, pies and sweet rolls.
And there's always the old favorites: in Duluth, the Lake Avenue Cafe, Bellisio's, Grandma's on Canal Park, Fitger's Brewhouse and Pickwick in the Fitger's complex and At Sara's Table/Chester Creek Cafe near Chester Park.
On a pleasant day, the patio of Sir Benedict's Tavern across from Fitger's is a good place for a sandwich.
For more, see Where to eat in Duluth.
On weekends and other busy times, it's a good idea to reserve at the New Scenic Cafe, 218-525-6274 ; the Crooked Spoon, 218-387-2779; the Lake Avenue Cafe, 218-722-2355; Bellisio's, 218-727-4921.
The Angry Trout doesn't take reservations, but you can call 15 minutes ahead at 218-387-1265 and have them put your name on the waiting list.
Last updated on March 1, 2021