Seeking the best soft-serve
Their ranks are thinning, but old-time ice-cream stands still brighten road trips.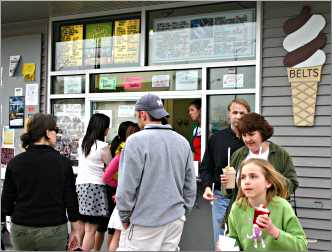 On road trips, some people look for the best pie or burger. But I look for the perfect twist cone.
Braking for soft-serve ice cream is how I stick up for the mom-and-pop drive-ins that used to be in every little town until the arrival of a certain franchise.
The ice cream almost always is better — richer, with not as much air — and the atmosphere is more fun.
Or maybe it's that so many of us have fond memories of our hometown Tasty Freeze or Dairy Delite, where we'd go on a warm summer night and slowly eat our cones as softball teams and old folks and families fresh from the beach filed up to the little window to get their cones, too.
These places are shockingly rare these days. But I'm still finding new ones. When I was in central Wisconsin on a 69-degree day in April, Belt's Soft Serve in Stevens Point was mobbed.
A constant stream of people came to buy flurries topped with brownie-sized peanut-butter cups and giant sundaes and to get free Puppy Cups for their dogs. A collage of photos chronicled the stand's opening on the first Friday in March, when the first customers arrived at 3:30 a.m. and pitched tents so they could be first in line.
I got a twist cone, of course, a junior cone that was the size of the Olympic torch — well, almost. It was ice-cold and firm on the tongue, and the chocolate tasted like chocolate.
I found another stand not far away, just west of Wisconsin Rapids in Pittsville: the Lake Dexter Drive-in. And in Black River Falls, the Davis Dairy Way serves twist cones south of town on Wisconsin 27.
Here are some of the other towns that still can boast a home-grown soft-serve ice-cream stand.
Wisconsin
Just across the Mississippi River from Red Wing, Minn., outside Hagar City, the friendly little Hagar Heights Drive-In sells a tasty twist cone.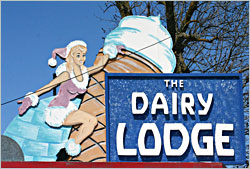 In the northeastern Wisconsin town of Cecil, the Dairy Cove is famous for enormous cones. It's between Shawano and Bonduel, a four-mile detour for bicyclists on the Mountain Bay Trail.
In southeast Wisconsin, I found the Frostie Freeze doing a land-office business on U.S. 12 in downtown Fort Atkinson, serving strawberry-and-vanilla twists as well as the usual zebra cone.
In Walworth, just a stone's throw from high-bucks Lake Geneva, Meggy Moo's Dairy Ripple serves a nice cone (and cheeseburgers, too).
In the off-season, I found Briq's Soft Serve in the north-central town of Wausau, and it advertised not only zebra cones but sundaes and shakes made with fresh, locally grown strawberries, rhubarb and raspberries.
And it turned out there are other Briq's, founded in 1985 by the late Dan Briquelet of Wausau, who loved ice cream. Besides Wausau, they're in Rhinelander and Minocqua as well as Wausau neighbors Mosinee, Weston and and Rib Mountain.
Briq's calls itself "Home of the One-Pound Cone." If you buy 100 of them, you'll become a member of the Hundred Pound Club, which entitles you to a T-shirt AND two days of free all-you-can-eat ice cream every summer.
Also: Boy Blue Dairy Treat Store in Beaver Dam and the Cone Zone in Milton, between Lake Koshkonong and Janesville. And just across the border in South Beloit, you'll find the M & M Dari Ripple.
Frozen custard: Wisconsin is famous for this eggier style of ice cream, though it doesn't really count. Still, it's awfully nice to have around.
If you do like frozen custard, it's a close second to drinking beer in Wisconsin. The Milwaukee Journal-Sentinel asked readers to weigh in on Wisconsin's best frozen custard and drew many passionate responses.
The favorites appear to be Leon's, at 3131 S. 27th St. near Jackson Park, and Kopp's, which has several locations.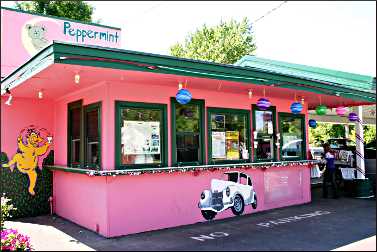 Minnesota
In western Minnesota, just east of Alexandria, a cone at the Tip Top Dairy Bar in Osakis is a just dessert for bicyclists finishing the Central Lakes Trail from the west or the Lake Wobegon Trail from the east.
Not far south, in the lakes area around Sibley State Park, the Deep Freeze in New London is across from the high school on just off the Glacial Lakes State Trail, which stretches from Willmar to Spicer and beyond.
It'll serve you a zebra cone, dipped cones and all kinds of novelties toppings.
On U.S. 12 just west of the Twin Cities, I stop at the hot-pink Peppermint Twist in Delano, taking as long as I can to eat a fresh-strawberry or fresh-raspberry shake (depending on season) because it's so much fun to sit on the shady picnic grounds, with its jukebox, ladybug chairs, inflatable monkeys and cut-out bears and candy canes.
Sadly, it doesn't serve twist cones, but you can have them put a shot of chocolate syrup into your shake.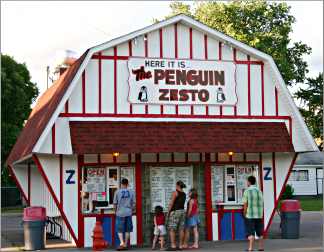 Along the Mississippi River in Winona, I found the adorable Penguin Zesto across the street from St. Stanislaus Church; just look for the bright-white spires.
Coming back from Blue Mounds State Park in southwest Minnesota, I found JJ's Tasty Drive-In in Luverne and got a cone for the road. It's on I-75 just north of the 1-90 exit, so it couldn't be more convenient for people driving by.
On the east side of St. Paul, Conny's Creamy Cone at Maryland and Dale is a neighborhood classic.
In the suburb of White Bear Lake, the Cup and Cone is the destination of folks who've spent the day at the lake.
Iowa
In northeast Iowa, I often stop at the Whippy Dip in Decorah, a beloved town institution. It's on College Drive just northwest of downtown, next to a bridge over the Upper Iowa River.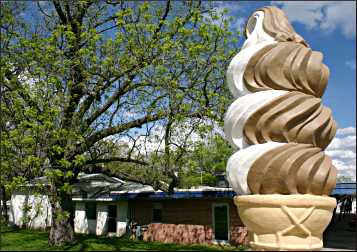 In Cedar Falls, the 4 Queens Dairy Cream is two miles west of U.S. 218/Iowa 27, on Iowa 57, or West First Street. They're also in nearby Waterloo and Evansdale.
Michigan
On a Circle Tour of Lake Michigan, I saw so many old-fashioned ice-cream stands off U.S. 2 on the Upper Peninsula that I stopped counting. If only I had had enough room for a cone at them all!
On the Lower Peninsula, the beach town of Traverse City is blessed with the Dairy Lodge.
Last updated on October 7, 2021