The good life in Traverse City
On Lake Michigan, this beach town has a high IQ and refined appetites.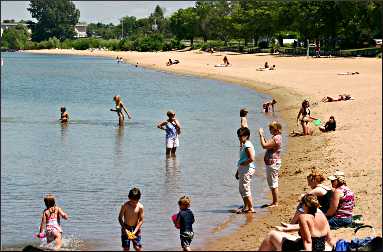 At first glance, Traverse City seems like just another Lake Michigan beach town.
It's a truly gorgeous one, for sure. There's sand as far as the eye can see, wrapped around two vast bays. Everybody's playing beach volleyball, paddling kayaks or swimming in water tinted three shades of blue.
The view gets even better beyond the beach, on streets thick with craft-beer taprooms, wineries, epicurean markets and so many fine restaurants that Traverse City now is considered a top foodie town.
There's also an independent cinema, an opera house and the Interlochen Center for the Arts, supplying world-class performing arts.
This bathing beauty is deeper than it looks. Call it a beach town with benefits.
Traverse City even throws great parties. In early July, hundreds of thousands of tourists descend on the town for its National Cherry Festival, one of the state's biggest.
There's an air show and a few well-known music acts, but it's really just a small-town festival, with pie-eating and pit-spitting contests, fun runs, a classic car show and, of course, a big parade.
Despite its outsized reputation, Traverse City is a town of only 15,000 people. It has four-star restaurants but also such homespun diners and drive-ins as the Dairy Lodge, which is where I met resident Bob Eichenlaub.
"I've been fortunate to travel all over the world, and there's no place like this," said Eichenlaub, who was getting ice cream with visitors from out of town. "I hesitate to tell people that; sometimes, I just want to close the door.
"It's still a small town, the people are friendly, and the food is good. Say, have you been to Georgina's?"
Then he stopped short, with a stricken look on his face.
"Oh my God," he said. "I'd better just shut up."
Locals are torn about sharing such places as Georgina's, which was a Latin-Asian hole in the wall. Because when word spreads, they get crowded out.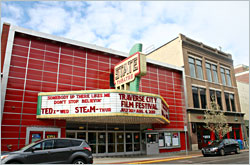 There are plenty of good eateries to go around, though. Some people assume that New York City chef Mario Batali, who has a summer home nearby and is vocal in his love for the area, inspired the local food scene.
But as Eichenlaub notes, "This (food scene) was cooking way before that."
Traverse City sits at the base of two lobes of Grand Traverse Bay. They create the Old Mission Peninsula and the Leelanau Peninsula, two water-wrapped fingers of gravelly, well-drained land that's perfect for growing things.
Early farmers grew apples and potatoes and sent them to Chicago and Kansas City. Then cherries became big business, and now there's a new generation of gentlemen farmers growing hops for craft beer, rye for whiskey and grapes for wine.
And with the spirits has come an enhanced appreciation for fresh, locally produced fare.
"For its size, Traverse City has such an amazing food culture," says local foodie Lysa Gudz.
"It's partly because we've got the whole variety of everything in the food cycle, and also because everyone within this whole cycle knows each other. They want to create the best ingredients and best products they can, because they'll be selling to people they know will continue to be their customers."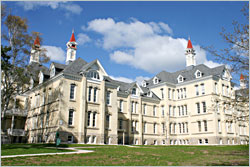 I started my tour along Front Street, the main avenue through downtown.
My first stop was Burritt's Market, where I sampled smoked salmon jerky, chicken jalapeno sausage, Spanish olive oil with bread and three kinds of spreads — a whitefish dip being the local standard for when friends drop by.
The place is a palace for picnickers, a temple of nibbles and noshes. Tourists don't frequent the market much, said employee Stephanie Snook, but locals do.
"I get a lot of hugs," she said. "It's crazy; you go into a bar, and it's "Oh, you're the Burritt's girl!"
From there, I stopped by the Grand Traverse Pie Company, famous for its cherry crumb pie, and, across the street, Folgarelli's Market, which sells wine, meat, cheeses and handmade pierogies.
In a former candy factory, North Peak Brewing Co. brews stouts, porters and IPAs, one of nearly a dozen microbreweries, brewpubs and taprooms around town.
This neighborhood west of downtown, known as Slabtown, was settled by Bohemian woodworkers who worked in the sawmills and brought home leftover boards for their homes.
Many assimilated quickly and became cherry farmers, bringing their produce to the big canning factory in what is now Clinch Park.
This was working-class Traverse City and still is home to Little Bohemia tavern, Lehto's Pasties, Slabtown Burgers and Sleder's Family Tavern, which is adorned with mounted animal heads and still has the "snug" where women could get a beer without mingling with men.
The houses here are well-kept and adorable, though no longer owned by factory workers. Some, including the distinctive Aberdeen Stone Cottage B&B, are made of thousands of round cobblestones.
Keep going west, and you'll hit Division Street and the family-run Dairy Lodge, known for the Santa-capped blonde riding an ice-cream cone. With Bardon's Wonder Freeze on the other end of town, it keeps Traverse City well-supplied with malts, shakes and twist cones.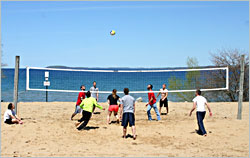 Head down Division, and you'll come to the winding driveway of Grand Traverse Commons, once the Northern Michigan Asylum. Recruited by town fathers to replace sawmill jobs, it was built with 8 million white bricks in 1883-85 and had 42 buildings on 728 acres.
But it wasn't a "One Flew Over the Cuckoo's Nest" kind of institution. Inmates apparently were content; an old postcard shows a cuddling couple and the slogan "A'm Not Luny, Just Spoony."
Each room had a window that opened to sunlight, and inmates were encouraged to work outdoors on the sprawling campus, in greenhouses, orchards and the farm, which included a world champion milk cow.
The complex closed in 1989 but was renovated and now holds luxury condos on upper floors and restaurants, galleries and shops on the lower levels.
Its wooded front lawn, once an arboretum, now is a gathering place.
Fine food is nearby, in old buildings pressed into new uses: at the Pleasanton Brick Oven Bakery in the hospital's old fire house, at Underground Cheesecake Factory in the old soap-making building, and at Left Foot Charley Winery in the old laundry.
People use what they have in Traverse City, and what they have is not only useful but attractive and scenic. The Boardman River, which flows through downtown, once supplied power to the mills. Now, kayakers paddle it between Lake Michigan and Boardman Lake.
The TART and Leelanau trails use old rail corridors, which bicyclists ride from the East Arm to downtown and around the West Arm to Suttons Bay. Five schooners and sloops sail from docks along its route.
Downtown, old brick storefronts are occupied by shoe shops, bookstores, coffeehouses, a juice bar, jazz and martini bar and olive-oil and vinegar bar.
At Cherry Republic, the omnipresent fruit is covered with chocolate and put into jam, soda, salsa, cookies and trail mix — and the popular shop is very generous with samples.
And across the street from each other, Doug Murdick's and Kilwin's duke it out for the fudge-loving crowd.
In Traverse City, it's easy to find everything that makes life sweet.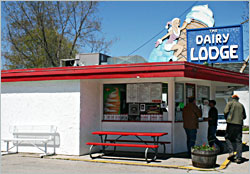 Trip Tips: Visiting Traverse City, Michigan
Getting there: It's a 5- to 5½-hour drive from Chicago and a 7-hour drive across the Upper Peninsula from Green Bay.
When to go: There's swimming and boating in summer, wine-tasting in fall, skiing in winter and morel-hunting and cherry blossoms in spring,
For more, see Spring in Traverse City and Chasing cherry blossoms on the Old Mission Peninsula.
2023 events: Feb. 26-March 4, Restaurant Week. June 17, Old Town Arts & Crafts Fair. July 1-8, National Cherry Festival. Nov. 10-17, Beer Week.
2023 festivals nearby: June 10, Wine & Food Festival in Leland. Aug. 5-6, Suttons Bay Art Festival. Aug. 2-5, Harbor Days in Elk Rapids.
Beaches: Beaches are easy to find. West Grand Traverse Bay is lined with beach parks, with Clinch Park the center of activity. It has a splashpad for kids.
On East Grand Traverse Bay, the biggest beach is part of Traverse City State Park.
Bicycle trails: Together, the TART Trail and Leelanau Trail provide 26 paved miles between the east edge of Traverse City and Suttons Bay, along both the East and West Arm of Grand Traverse Bay.
If you want to go one-way, Bay Area Transportation Authority buses provide Bike-n-Ride trips to or from Traverse City and Suttons Bay.
They also provides rides to or from Glen Arbor and Empire on the 17-mile Sleeping Bear Heritage Trail along Sleeping Bear Dunes National Lakeshore.
Paddling: The River outfitters in Clinch Park rents kayaks for exploring the Boardman River and bay and also offers daily guided tours. It also rents tubes and stand-up paddleboards.
Hiking: There are lovely trails on 480 acres of wooded parkland behind Grand Traverse Commons.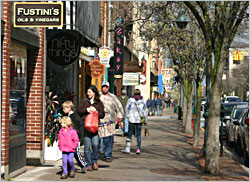 East of town in Pere Marquette State Forest, the Vasa Pathway has four loops — 3K, 5K, 10K and 25K — that can be used by hikers, mountain-bikers and cross-country skiers.
Shopping: Downtown, Front Street is crammed with shops. There are more at Grand Traverse Commons, just west of downtown off Division (U.S. 31) and 11th streets.
Accommodations: The Hotel Indigo is across from Clinch Park, on the west edge of downtown. On the east edge of downtown, the Bayshore Resort and the Delamar are the only other hotels that are on the beach and also walking distance from downtown.
The 1930 Park Place Hotel is the only downtown hotel and is walking distance from the lake.
Between the two bays, Howard Johnson's is a good budget choice.
There are dozens of hotels and motels along U.S. 31 east of town, some of which suffer from highway noise, so ask for a quiet room if you're concerned. One of the best is Cherry Tree Inn & Suites on the East Arm.
Grand Traverse Resort & Spa is on the far east side of the area, near Acme. Great Wolf Lodge is on the west side of town.
If you're on a budget, stay in a dorm at Northwestern Michigan College.
It's at the foot of the Old Mission Peninsula, between the two arms of Grand Traverse Bay.
Camping: Traverse City State Park, which occupies a wooded sliver of land along the highway east of downtown, includes 350 campsites, two mini-cabins and a three-bedroom, two-bath cottage that sleeps 11.
The park, connected to the beach by pedestrian overpass and to downtown by the TART bicycle trail, gets very crowded in peak season.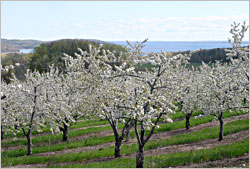 Dining: Increasingly, Traverse City is known as a foodie town. Longtime favorites downtown include Amical, Red Ginger and the Cooks' House.
For a touch of old Traverse City, have breakfast at the Omelette Shoppe and a burger and beer at Sleder's Family Tavern.
Microbreweries: There are more than a dozen microbreweries, brewpubs and taprooms, including Right Brain Brewery, North Peak Brewing Co., the Filling Station and 7 Monks Taproom.
Wineries: In town, Left Foot Charley is at Grand Traverse Commons. There are 25 wineries on the Leelanau Peninsula Wine Trail and 10 on the Old Mission Peninsula Wine Trail.
Nightlife: Fifteen miles south of Traverse City, Interlochen Center for the Arts offers free recitals, inexpensive but top-notch musical theater productions by students of the Interlochen Academy of Arts and also concerts by big-name performers.
The State and Bijou theaters downtown shows classic and independent films and is home of the Traverse City Film Festival, founded by Michael Moore. The City Opera House hosts touring performers.
Bad weather: There's plenty to do at the indoor water park at Great Wolf Lodge and the casino and spa at Grand Traverse Resort.
Information: Traverse City tourism, 800-872-8377.
Last updated on January 21, 2022