Chow-down in Chicago
In a city of neighborhoods, cooks from many countries stir the pot.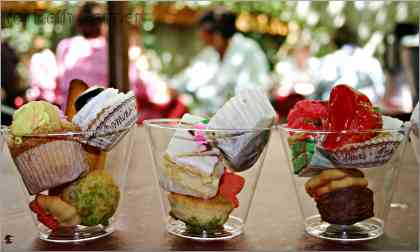 Chicago has come a long way since it was hog butcher to the world.
There was nothing very appetizing about early Chicago. The factories and slaughterhouses that made it grow also made it stink. Rotting carcasses made the Chicago River bubble; a glass of water came with a side of cholera.
But the city grew up. The immigrants who packed its meat, dug its waterways and built its railroads moved on and were replaced by new immigrants, who settled in places that became known as Little Italy, Andersonville, Polish Village, Ukrainian Village, Chinatown, Greek Town and Pilsen.
It remained a meat-and-potatoes town, city of big shoulders and big bellies. But it also became a city of neighborhoods, a source of samosas, dim sum and quesadillas.
Chicago is always reinventing itself. From its gritty origins, it became a 20th century Oz, the stage on which American architectural aesthetics evolved.
Now it's a people magnet, too, drawing tourists from around the world as well as suburbanites, fascinated by their suddenly charismatic city.
Festive crowds mass night and day on the Magnificent Mile, at Navy Pier and especially in Millennium Park, where they gaze, mesmerized, at their reflections in a 110-ton stainless-steel bean.
But Chicago's heart and stomach still are in its neighborhoods, traditional home of strivers.
They're easy enough to visit on the El, on the subway or by bus; I did that a few years ago and had a great time eating my way through the East Indian enclave of Devon Avenue, the remnants of Swedish Andersonville and bustling Chinatown.
But there was an even easier way to explore Chicago's neighborhoods.
For 15 years, the city showed off its many ethnic enclaves on the Chicago Neighborhood Tours. They became very popular, growing from five people in a van to 45 people in a luxury motorcoach, listening to a guide while lumbering down shady streets lined with painted Victorians and brownstones.
There were tours of all the neighborhoods, even the cemeteries, and many included lunch stops. But the most popular tour, of course, was all about eating.
Omnivores on the prowl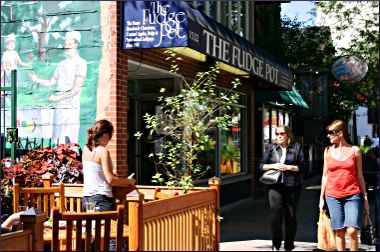 It was the Taste of the Neighborhoods Tour, led by a lively tai-chi teacher named Evelyn Thompson who seemed to know everything about every cuisine.
One year, we went on it. As we rolled along Lake Shore Drive, she told us about our first meal — "We see so many Mexican restaurants, we forget they're really ethnic restaurants" — and our first neighborhood.
"We're going to Belmont, so any of you who want to get a tattoo today, be my guest," she said. "Any of you ladies or men want a leather thong or nipple pincers, whatever you want, be my guest."
The Mexican food we know, Thompson said, developed after the Spaniards brought cows, which supplied milk for cheese, and pigs, which provided lard for frying. Before that, the indigenous people subsisted on roasted corn, pumpkin and domestic animals, such as rabbits, turkeys and dogs.
"You don't have a choice, you have to take what the area provides," she said. "Whenever I'd see one of those little Chihuahua dogs, I'd think, 'This would really fit on a skewer,' and I was right."
At Mi Tierra restaurant on Belmont Avenue, a friendly place with a folksy decor one of the group called "Barbie's castle," we filled plates with chimichangas, quesadillas and chicken in mole sauce. There are as many kinds of moles as cooks, Thompson said, but it's usually made with ground nuts, spices, lard, fruit and a bit of bitter chocolate.
"Supposedly it was the nuns who made it popular, but who knows," she said.
The waiters kept plying us with pitchers of Pepsi and more chips, but I tried to pace myself.
"Some of these restaurants are so proud to have a big group like this, they just heap on more and more," said Donna Lenfest, a downtown-Chicago resident who was sitting next to me and was on her fifth tasting trip. "There was one Turkish restaurant where I think we stayed a lot longer than the tour guides meant to."
After eating, we had a few minutes left to "walk on the wild side," as Thompson put it, though it didn't look too wild. Marilyn DeGraff, who said she lived a few blocks away, explained.
"They call it Boys Town," she said with a giggle. "You know, where boys go two by two. It gets pretty busy at night, you could say that."
Back on the bus, tour coordinator Cesar Sanchez talked about the next stop in Albany Park, where nearly half the local population was born in another country.
"We've been trying to do Korea for two years, and you have no idea how hard it is to communicate in Korean," said Sanchez, who chooses the stops. "But we finally made it. This is becoming like a new neighborhood; they're calling it Korea Town."
We were heading for "grocery-store heaven," Thompson said. Egyptians live in the area, Bosnians settled nearby, and Greeks moved in when the expressway went through Greek Town.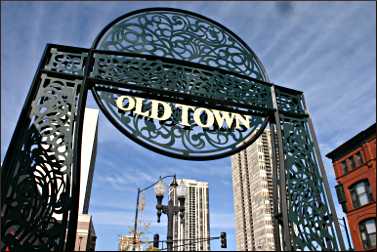 Out of the window, I spotted Hellas Bakery, Huaraches restaurant, Restaurant Sarajevo and Tikim Restaurant — tikim meaning "taste" in Tagalog, the main language of the Philippines.
Lots of little dishes
Our destination was Kangnam, a Korean restaurant in a strip mall on Kedzie Street. Traditional Korean cuisine, Thompson said, relies on soups and fermented vegetables, both good to eat during cold winters that are much like ours.
Like the Chinese, Koreans claim to have invented pasta, and they use many grains, even to make tea.
"Their diet has been called the perfect diet, 70 percent carbs, 13 percent fat, 14 to 17 percent protein," she said. "They're a hardy people, and their diet reflects it."
As we sat down, small grills were placed in holes in the table and thin strips of marinated beef placed on them to cook. Then, the dishes started coming: first a simple salad, then fried vegetable and squid pancakes, pork dumplings and a plate of fried seaweed — "like potato chips," Thompson said.
There were ribbonlike curls of blanched scallions, steamed spinach tossed with sesame seeds, a white sweet-potato salad and raw fish with a kind of chutney. When I reached for the fish, tour veteran Marilyn Guest, who lives in the Jefferson Park neighborhood, nodded approvingly.
"That fish is extremely fresh," she said. "That fish was alive a few hours ago."
There was pork with eggs, scallions and cellophane noodles and a big bowl of bi bim bop, a vegetable dish. When the bulgogi was finished grilling, servers showed us how to wrap it in lettuce leaves with garlic cloves or eat it with slices of white daikon radish with a dab of chili paste.
And, of course, there was kim chee, the fermented vegetables for which Korea is famous. Often buried underground in pots, it's a winter staple.
"I haven't had Korean food in 40 years," said Carl Lundin from Munster, Ind. "That was when Uncle Sam took care of us. But I remember kim chee."
For dessert, we all got tiny bottles of yogurt that tasted like liquid sherbet. It was a spectacular meal, and afterward, Thompson complimented us.
"Things like that, you don't always know what you're eating," she said. "You did a really good job to try things like that."
Just desserts
Our next stop was Old Town, an affluent Lincoln Park neighborhood that's the home of the Second City comedy theater. But 40 years ago, Thompson said, it was the province of artists and hippies, who helped preserve its Victorian buildings.
"Those of you who were potted up at the time, maybe you'll recognize it, maybe you won't," she said tartly. "Now, instead of pot, everyone's got a yoga mat; it's still the same principle."
We were heading for dessert at Orso's, an Italian restaurant off Wells Street, and Thompson said she hoped we'd get some cannoli or tiramisu.
"Cannoli is Sicilian, fried dough filled with mascarpone and dipped in pistachio nuts," she said. "It's Latin for 'reed.' Talk about your fertility symbols; we live in hope, right?
"Tiramisu is zabaglione with ladyfingers dipped in espresso; it was given to grooms for a little pick-me-up before the honeymoon; also, supposedly prostitutes used it for a little pick-me-up, so who knows what's going to happen when we eat these wonderful desserts."
I would have had some of everything if Orso's had set out a platter in their pretty back courtyard. Instead, we each got a plastic cup of desserts; mine contained a chocolate-dipped strawberry, a macaroon, a slice of cream cake and a red-glazed carrot cookie.
After a quick stop at the nearby Fudge Pot, we all got back on the bus, and soon we were back at the Chicago Cultural Center, across from Millennium Park.
It was a great tour, but it was over way too fast.
"I'm a foodie and I love to cook, so this is right up my alley, going on an ethnic tour," said Lundin, who said he takes the train into Chicago every other weekend with his partner, Betty Rudnick, just to eat and explore. "It's so interesting."
Chicago no longer has stockyards. But for many, it's still hog heaven.
Trip Tips: Chicago Neighborhood Tours
The original city tours no longer are offered, but there are many privately run food tours. For more, see Into the belly of Chicago.
For help planning a self-guided tour of ethnic neighborhoods, see Globe-trotting in Chicago.
For more about architecture tours, see Skyscraper city.
Last updated on December 22, 2016