Time to feast
During Restaurant Weeks, you can be a glutton with a good conscience.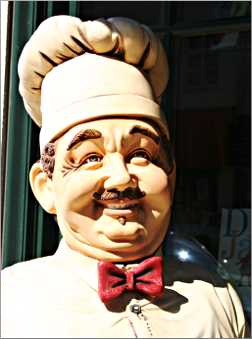 There's only one good way to respond to cold: Take a cue from bears and pile on some fat.
Oh, you could buy long underwear. But doesn't it really make more sense to gobble some blueberry cobbler with freshly whipped cream?
The Restaurant Week season is starting, giving you another good-o, irresistible-excuse to eat: It's a deal!
In Duluth one spring, we got three courses for $20 (it's now $25) at the revolving JJ Astor atop the Radisson, where we watched an ore boat approach the harbor as we started on duck confit salad with arugula, parmesan, sun-dried tomatoes and truffle.
Then we moved on to pan-seared walleye with grapefruit, arugula, fennel, leeks and blue cheese and finished with a hunk of orange olive-oil cake.
Yum. You can put on a few ounces just looking at the menus.
The lunches are a good deal, too. At Va Bene Caffé, which has a fireplace and a glassed-in porch with a killer view of the Aerial Lift Bridge, we paid $10 for Italian sausage soup, panini with pancetta, lettuce and tomato and a dessert of housemade gelato.
In Madison, the deal is $25 for a three-course dinner, with three options for each course, and some restaurants offer a $15 three-course lunch. Participating restaurants include many of the city's best: 43 North, Graze, Lombardino's, Harvest.
Of course, you always spend more than you think, especially if you order wine. But Restaurant Week is not the time to watch pennies-or calories.
You also can take food tours in these towns. For more, see March of the foodies.
Trip Tips: Restaurant Weeks in the Upper Midwest
Menus for each restaurant are posted online. If you're not familiar with a restaurant, you can find reviews on Yelp, TripAdvisor and Chowhound.
Typically, restaurants offer three-course dinner menus for $20-$30 and lunches for $10-$15. Reserve as soon as possible; prime slots go quickly.
Geneva, Ill. : This Chicago suburb on the Fox River offers $19 lunches and $39 dinners (many for two people) in January .
Milwaukee : Sponsored by Downtown Milwaukee, Dining Weeks are in January-February and in June . More than 40 restaurants offer three-course $10 lunches and dinners for $20 or $30.
Madison : Sponsored by Madison magazine, Restaurant Weeks are in February and July and includes more than 40 restaurants offering three-course dinners with three options for each course, most for $25 but some $30 and $35.
For more, see Foodies in Madison.
Kenosha, Wis.: This Lake Michigan town south of Milwaukee offers Restaurant Week in February , with breakfast and lunch for $10 and dinner for $20 or $30.
Minneapolis : Mpls.St.Paul magazine sponsors Restaurant Week in February and July , with more than 40 restaurants offering lunches for $10-$20 and dinners for $15-$30.
Traverse City : This city on Lake Michigan offers Restaurant Week in late February and early March , with more than 20 restaurants offering dinner for $25.
St. Charles, Ill. : This Chicago suburb on the Fox River offers Restaurant Week in late February and early March , with 20 percent off the total bill at more than 30 restaurants.
Duluth : Sponsored by the Greater Downtown Council, Restaurant Weeks are in March and November . Three-course lunches are $10 and dinners $25.
Chicago : This massive eating festival is in March-April and includes more than 370 restaurants, offering $22 lunches and dinners for $33 or $44.
Marquette, Mich.: In this Lake Superior college town, restaurants in the Eastside Dining District offer $10 prix-fixe lunches and $25 dinners in April .
Lake Geneva : The dining week in this southeast Wisconsin resort town is in April-May . Lunches are $10 and $15 and dinners $25 and $35.
Green Bay : More than 50 restaurants offer multi-course lunches for $10 and dinners for $10, $20 or $30 during Restaurant Week in July .
Des Moines : Sponsored by dsm Magazine and the visitors bureau, Restaurant Week is in August . Diners pay $25 for one three-course dinner or two lunches.
Main Street Iowa : Nearly 150 restaurants in 28 Main Street Iowa towns offer specials in September .
Last updated on March 23, 2021