Tours for foodies
In tourist towns, guides are feeding a growing appetite for culinary walking tours.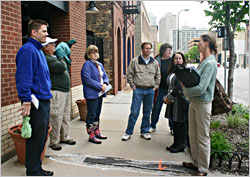 These days, sightseeing tours by trolley or bus seem like old hat.
More and more tourists are discovering that the best way to get to know a town is through its stomach. In fact, many towns are most famous for things that are edible.
On a trip to Chicago, my husband and I took one of the Chicago Food Planet tours. We started on the Gold Coast, assembling our own reuben with pastrami from the local Vienna Beef, and walked to Lincoln Park, sampling tea, fudge, artisan oils, kolaches, pierogies and, of course, deep-dish pizza.
That was so much fun that when we vacationed in Boston, we took a Bites of Boston tour, sampling fried clams, meat-loaf sandwiches, cookies, cheese, pizza and Venezuelan bacon-wrapped dates — no Boston baked beans or Boston cream pie, though.
On spring break in Puerto Vallarta, I found two walking food tours and took them both, consuming a week's worth of mole enchiladas, empanadas, tacos, ceviche tostadas and tortilla soup.
Along the way, I also digested all kinds of interesting nuggets not only about the food, but also local culture, history, architecture, even real-estate prices and gossip.
Food tours have become so popular that in many cities, the omnivore's only dilemma is: Which tour?
Typically, all food tours are at the top of the rankings for city attractions. Who doesn't like to eat?
"It's something everyone can relate to, because everyone has to eat," said Lysa Gudz, who operated Tasty Morsel Culinary Excursions in Traverse City, Mich.
But I like the tours modeled on Chicago Food Planet tours, founded in 2006 and so successful that the company now offers courses and coaching to would-be tour owners.
These tours are all about the story: Who founded this or that restaurant or market, and why? What's the background of the local cuisine? What interesting things happened along the tour route?
Guides are personable, well-informed and a font of anecdotes.  They also hand out a four-sheet guide that lists the restaurants visited plus other good restaurants, shows them on a map and includes coupons if you want to go back to eat or buy something.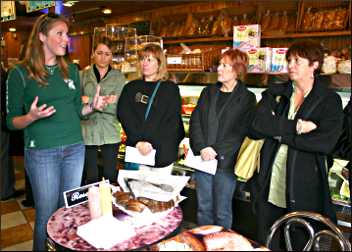 More than tourists
These tours aren't just for tourists. In fact, at least half of the participants were locals on every tour I've taken.
One rainy spring week, the Twin Cities Food Tours in Minneapolis offered a discount on a Saturday tour, so my husband and I signed up.
Local foodies Rebekah Leonhart and Julie Gann had just bought the company from its original owners, who had taken the Chicago Food Planet course. They were both at hand at the start of the tour at Local D'Lish, an "indoor farmers market" not far from the Hennepin Avenue Bridge.
As we munched on hummus and tabbouli with spelt crackers, Leonhart told us the market's story: how owner Ann Yin was inspired by the markets of her husband's native China, where people shop daily and have personal relationships with the vendors who grow their food.
"Everything here comes from within 100 miles, and 70 percent of the companies are owned by women," she said.
As we walked across the Mississippi to northeast Minneapolis, we learned about early Minneapolis history.
Once a shabby neighborhood of Eastern European émigrés, most of whom had moved on by the 1980s, it's now full of restaurants, shops and condos.
Our first stop was Punch Pizza, whose founder grew up in Milan and returned to St. Paul with a nostalgia for Neapolitan pizza cooked in a wood-fired oven.
Our samples included the borghata pie with black olives, eggplant and goat cheese, also known as the "Meryl Streep" because, when the star was in town filming "A Prairie Home Companion," she said it was the best pizza she'd ever had.
Then we walked across the street to Kramarczuk's, where we were hit by a garlicky perfume of homemade sausage, laced with traces of pastries, cabbage rolls and freshly baked bread.
Founded in 1954 and run by the son and grandchildren of Wasyl and Anna Kramarczuk, war refugees from Poland, the butcher shop/deli/restaurant/bakery had just received "America's Classics" designation from the James Beard Foundation.
Sitting around a table as the lunchtime crowd swirled around us, we ate dense kielbasa sausages, homemade sauerkraut and pierogi, potato-filled dumplings served with horseradish-laced sour cream.
Around the corner, we settled into Gorkha Palace, an Indian/Nepali/Tibetan restaurant. Its owner had made such a splash selling her momos at the Mill City Farmers Market, she opened a restaurant by popular demand.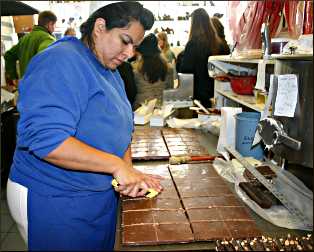 We had the momos, filled with yak meat from a local ranch, and pakora, vegetable fritters fried in chickpea batter and served with tamarind and mint sauces.
From there, we walked on to the art-filled Gardens of Salonica for dessert. Its owner also started her Greek restaurant by popular demand, after her boughatsa-filled phyllo pastries were a hit at art fairs and parties.
We each got a plate of three: lemon, chocolate and honey-walnut, like a lighter, crispier baklava.
There was only one thing missing from our food tour of Minneapolis: Scandinavian food.
That's a great heritage, but not such an appealing cuisine. Luckily, Italians, Poles, Nepalis and Greeks also came to feed our city, along with Vietnamese, Mexicans and many other ethnic groups.
They're all part of the Minneapolis story.
Trip Tips: Food tours in Minneapolis, Milwaukee, Madison and Chicago
Reserve early for summer weekends. Tours go out rain or shine; wear comfortable shoes and clothing.
If you have an allergy or food restriction, let the company know when reserving and it will arrange for alternate choices.
Because the group has to keep moving, you won't be able to buy anything during the tour. Many tours, however, give you coupons to the places visited, so you can get a discount later.
Most tours cost $50-$80.
Twin Cities area
Taste Twin Cities Food Tours in Minneapolis. Three-hour tours include five stops, with 10 to 12 tastings.
The three-hour Minneapolis Riverwalk Tour starts at Gold Medal Park, next to the Guthrie Theater, and crosses the Mississippi to Northeast, a gentrifying area once populated by immigrants. It's held from April through October.
It also offers Trendy North Loop, Heart of St. Paul and St. Paul Skyway tours.
Hudson Food Walk: Across the St. Croix River in Wisconsin, this weekend tour includes stops for sampling at five downtown restaurants and a chocolate shop.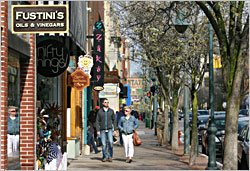 Madison
Madison Eats offers many three-hour theme tours, including Capitol Square Downtown, Atwood Avenue Brew & Chew and the Bike N' Bites Food Tour
The three-hour Madison Food Explorers Downtown Lake to Lake tour offers the basics of Madison history and food, with stops for cheese, pizza, brats and ice cream.
For more, see Madison for Foodies.
Milwaukee
Milwaukee Food Tours. This company offers mile-long, 2½- to 3-hour walking tours: Brady Street Lunch Tour; Walker's Point Stroll, Sip and Savor; and the shorter Around the Ward in 90 Minutes.
It also offers many bus and streetcar tours, such as the Burger & Custard Capital of the World tour.
In Cedarburg, half an hour north, it offers a Sweets & Treats walking tour. For more, see Jolly Cedarburg.
Chicago
Chicago Food Tours: Formerly Chicago Food Planet, its guides lead two- to three-hour walking tours to five to seven rotating restaurants, bakeries and shops.
They're in the River North, West Loop, Pilsen, Wrigleyville and Chinatown neighborhoods.
Tours include many historical and architectural details and are given year-round.
Tastebud Tours: It offers three-hour walking tours of eateries in the Millennium Park-Loop area or Gold Coast, with overlapping stops. There are four themes: World's Fair Food, Food and History, Taste of Chicago and Magnificent Chicago-Style Bucket List.
Tours run year-round, with five to seven stops.
For more about Chicago food tours, see Into the belly of Chicago.
Last updated on March 12, 2021