Table-hopping in bluff country
On a culinary adventure to Decorah, we tighten our belts, then let them out.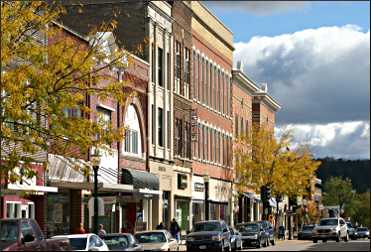 Sometimes, we like to travel like kings . . . and paupers, too.
I suspect a lot of other people do the same thing. To get what we want, we save on something else.
Our favorite splurge is eating out, but a meal for two in a really good restaurant costs $80-$100, same as a hotel room. Our solution? We pitch a tent.
In early October one year, we headed for the scenic bluffs of northeast Iowa, a hotbed of locavore chefs and artisan farmers as well as artists and musicians.
We had a lot to do around Decorah: Browse at the Northeast Iowa Artists' Studio Tour, go to the Harvest Festival at Seed Savers Exchange and ride our bicycles on the art-lined Trout Run Trail. And eat, of course.
Our first stop was near the Iowa border at QUARTER/quarter Restaurant & Wine Bar, in Harmony. Named for the smallest homestead in frontier America, 40 acres, it was run by chef Stephen Larson and his pastry chef/farmer wife, Lisa Flicker.
We ordered the three-course dinner, and we both chose the pizza rustica, beef tenderloin with chicken of the woods mushrooms from the couple's farm and Italian carrot cake.
"You get all this for $23?" said my husband, Torsten. "People from New York probably would think, 'What is this?' "
With two beers, our bill was possibly the best dining deal in the region -you can tell because even the local Amish occasionally come in for a meal.
From Harmony, it's just 45 minutes to Decorah, where we set up our tent at the city-owned Pulpit Rock Campground.
We didn't feel too deprived by camping, because the setting was gorgeous, framed by bluffs on one side and the Upper Iowa River and Twin Springs Creek, a trout stream, on the others.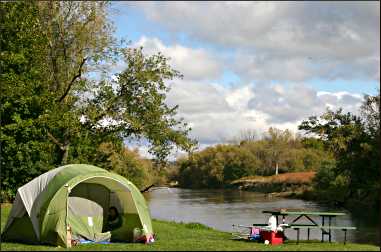 In the morning, we went to Café Magpie on Winnebago Street, which was packed and had an interesting college/townie vibe. We got a table near the picture window to eat our frittata, ciabatta egg sandwich, fresh-berry muffin, hot chocolate and mocha.
We just missed the nearby Winneshiek Farmers Market, so we went straight to the annual artists' tour, starting with Gene and Sandy Somdahl's pottery and fiber studio.
The ridges and valleys around Decorah are a magnet for artists and musicians, especially Norwegian ones, who are drawn by the cultural amenities provided by Luther College.
"We liked coming down here, so we retired here," said Gene, a member of Decorah's Luren Singers. "Lots of us retired here. Lutheran ministers are like boxelder bugs; they're everywhere, but they don't hurt anyone."
From there, we drove north of town to the Harvest Festival at Seed Savers Exchange, which preserves heirloom seeds at its bucolic farm in the bluffs. There was a lot to sample: bean dip, apple crisp, fried kale leaves and apple cider, fresh from a hand press.
Local chefs were competing in a soup contest, which QUARTER/quarter chef Stephen Larson won with a soup made from heirloom Kilimanjaro speckled beans, garnet sweet potatoes, white yams and coconut milk.
Deep-purple morning glories twined up the sides of the red barn, and heritage poultry roamed its yard-velvety black ducks and chickens with fluffy black-and-white "hats."
Children were rolling pumpkins down a hill, and everyone had rosy cheeks; it's the kind of place where you feel healthy just being there.
In the visitors center, where few can resist the colorful packets of heirloom seeds, artist Gena Ollendieck was showing wonderfully clever collages made with old typewriter keys, handwritten letters and tin cut from old cans thrown into the gullies near her house.
I craved one called "The Joy of It All," but it was $2,500, too much for a part-time pauper.
It must be hard to be an artist. As we left, we were amused to hear a visitor say, "It's not anything I couldn't do myself, but I'm not that good yet."
Back at the campground, we set off on our bikes on the Trout Run Trail, which circles the north end of town along the Upper Iowa River, then closes the loop while following Trout Run Creek.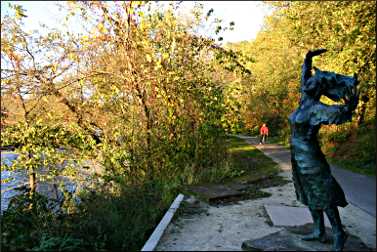 It was extraordinarily lovely, lined with sculptures, wildflowers, bluffs and burbling water. We passed a bowstring trestle bridge that was moved next to the trail to serve as a picnic pavilion, then the fish hatchery where the famous Decorah bald eagles nest.
And then we starting climbing switchbacks, winding back and forth like Christmas ribbon candy, then up to an overlook, across Iowa 9 on a lighted bridge and through a cut through a limestone bluff.
We'd earned another nice dinner. Decorah has a lot of good restaurants, including La Rana Bistro , a classy little nook off Water Street that we love.
This time, we ate in the larger and fancier Rubaiyat , which, befitting a college town, advertises "food for thought" and is named after the classic Persian ruminations on life.
The dining room behind the 1890s storefront, with exposed-brick walls and pressed-tin ceiling, was buzzing with animated conversations; this is a well-educated town, and there's a lot to talk about.
I was drawn by the 34 taps lined up at the bar. I chose from Toppling Goliath, Decorah's own microbrewery-first the Golden Nugget IPA, then the Tsunami Pale Ale.
For dinner, I had the duck with cherry glaze, two plump leg quarters that came with a Caesar salad. Torsten had black-bean soup and turkey pumpkin ravioli with walnuts and cranberries in a blue cheese sauce: "It tastes like fall," he said.
From the dessert tray-and who can resist that?-we chose a chocolate Bundt cake with a caramel center.
By the end of the meal, we were almost cross-eyed from eating so much rich food.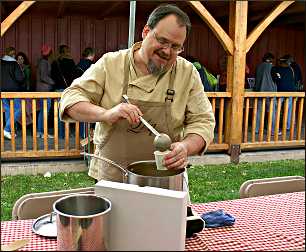 In the morning, we went back to Water Street and had breakfast at the sun-filled Java John's : hot chocolate, milk, two muffin tops and a cinnamon roll.
Then we drove out to the rural 1914 Norwegian old folks' home that now houses the studio of Dean Schwarz, one of the grand old men of ceramics. His works are in museum collections around the world, and Torsten fell in love with a $500 bowl shaped like a tricorn hat.
"The longer I was in there, the more it didn't seem like very much money, really," he said wistfully after we left. He should have bought it, because he's still talking about it.
To work off calories, I had Torsten drop me off at the Harmony-Preston Valley State Trail, and I rode the 12 miles into Preston.
So what if it's mostly downhill from Harmony? I'm sure I worked off the hot chocolate, at least.
Trip Tips: Dining around Decorah, Iowa
Planning a trip : For more about Decorah, see A pocket of Norway.
For more about the Harmony area, see Cave country.
Dining: In Harmony, QUARTER/quarter has closed. However, another popular restaurant has opened on Harmony's Main Avenue: Estelle's Eatery & Bar, which taps local farms for the ingredients in its burgers, soups, salads, pastas and specials, many of which have a global twist.
In Decorah, Rubaiyat Restaurant on Water Street serves a seasonal menu of classics with a nouveau twist and has an extensive wine and beer list. It has nearly three dozen beers on tap, including several from the local brewery Toppling Goliath. 563-382-9463.
La Rana Bistro is a gem on Washington Street, serving fresh and original fare at cafe prices. It has an amazing beer list and well-priced wines. It's small, so reserve at 563-382-3067.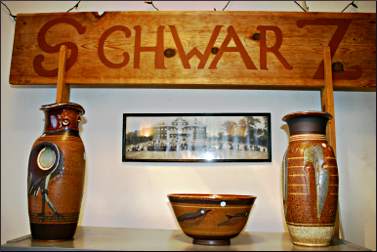 For coffee and breakfast, Java John's on Water Street is sunny and cheerful. Cafe Magpie on Winnebago Street also is a convivial place to have a sandwich, smoothie or a mocha.
Pick up sandwiches and snacks at the Oneota Community Food Co-op on Water Street.
Camping : The municipal Pulpit Rock Campground is on the Upper Iowa River and Twin Springs trout stream, across from Will Baker Park west of downtown.
It has a canoe landing, playground and showers, and sites are first-come, first-served-if you use a tent, get one right on the river. 563-382-9551.
Annual events : Seed Savers holds its Harvest Festival on a Saturday in October. The Northeast Iowa Artists' Studio Tour also is in October.
The town fills up for Nordic Fest in late July and for many college events, including Luther College homecoming and the Christmas concert on the first weekend in December.
Bicycling : The 11-mile Trout Run Trail circles the town, lined with wildflowers and art works. It's flat except for the south section, which uses switchbacks to climb hills.
Nightlife : There's always something going on around town or at Luther College, often at its new Center for the Arts.
Information : Decorah tourism, 800-463-4692.
Nearby attractions : On a heritage farm six miles north of Decorah, Seed Savers Exchange grows and sells rare heirloom seeds and garden gifts.
Near the Minnesota border, the Laura Ingalls Wilder Park & Museum in Burr Oak preserves one of the famous author's homes and is open for tours.
In nearby Spillville, the Bily Clocks/Dvorak Exhibit shows magnificent carved clocks and memorabilia from Czech composer Antonin Dvorak's visit.
For details, see Road trip: Northeast Iowa.
Last updated on April 16, 2021