Old World Christmas at the Osthoff
On the shores of Elkhart Lake, a luxury resort imports a slice of Germany.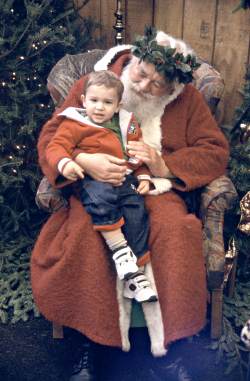 No one knows how to celebrate Christmas like the Germans.
It's thanks to them that Americans decorate Christmas trees, hang wreaths and put nutcrackers on mantels. Because of them, we bake gingerbread men, open Advent calendars and fill stockings with treats.
Still, not every German Christmas tradition has crossed the Atlantic.
Since the Middle Ages, German towns have held a Christ-child market, or Christkindlmarkt, in their market squares.
During Advent, rustic timber booths draped with fragrant evergreen boughs line the squares, selling wooden toys, blown-glass ornaments, cones of warm sugared almonds and steaming mugs of spiced Glühwein to festive shoppers.
It's a charming tradition, but a hard one to import: We have malls in the United States, not market squares.
But that hasn't stopped the Osthoff Resort in Elkhart Lake from creating one anyway, complete with traditional German wares, food and even vendors.
Founded in 1886 by a former Prussian soldier named Otto Osthoff, this lake resort in heavily German eastern Wisconsin first was called the Hotel Münsterland.
The Osthoff family ran it until 1955, then sold it to a Chicago couple who turned it into a theater camp. In 1989, the resort was sold to investors and the old buildings were razed.
Today, the Osthoff is a sprawling, faux-Victorian condominium resort and conference center that caters to affluent Chicagoans and, despite its name, is as American as can be.
But for 10 days each December, the Osthoff returns to its roots.
Inside a big white tent, Father Christmas passes out candy canes, sentimental folk tunes play over the sound system and local restaurateurs cook up plates of sauerbraten, schnitzel and spaetzle.
Shoppers drift from booth to booth, laden with the wares of vendors who, it turns out, are happy to make the trip to this resort town near Lake Michigan.
"This is a dream vacation for me," says Gerhard Lippmann, who carries on the wood-carving business that was founded in 1899 by his grandfather in the Thuringian town of Empfertshausen, seized by the East German government in 1972, then restored to the family in 1990.
The jovial Lippmann, who likes to tease his customers in German, is one of the most popular vendors. One of his loyal customers is James Peychal of Milwaukee, who likes to spend afternoons on a stool in Lippmann's booth, next to shelves lined with hand-carved and hand-painted nutcrackers, smokers, bookends and folk figures.
"I came at 2 p.m. and didn't even get past Gerhard's booth," he said. "I like wood carving, and those two shelves there, it's hard to find the quality and beauty of carving like that. Around here, everything is resin and Wal-Mart; this is the real thing."
Peychal said he's made 30 trips to Europe and particularly likes Bavaria, in Germany.
"You can't always go to Europe, but this is very authentic," he said. "The idea he's from Germany, speaking German, is infectious for me."
In another corner of the tent, Vaclav and Nadia Cinadr had put out a dazzling array of traditional blown-glass ornaments: delicate globes, glittering icicles, silver and gold swans with gracefully arching necks and feathered tails.
Czechs who now live near Milwaukee, the Cinadrs make their living selling Czech and Slovak ornaments at trade shows, then finish out the year at the Osthoff, where they sell their wares at a price never seen in retail stores.
"See, for $5.50, people can buy something very, very pretty like this," said Vaclav Cinadr, holding up a globe with blue and silver snowflakes, "and they will not throw it in the garbage; they'll keep it for years. Tomorrow morning, they'll be in a line waiting to fill their baskets."
"It's scary," Nadia Cinadr said. "People get in a big line, and it stops right here, but nothing gets broken. They wait so patiently."
A few of their pieces reflect the gaudy colors introduced by American entrepreneur Christopher Radko, and a few have non-traditional themes, such as spiders or soccer balls.
But they're all made in European workshops, unlike Old World Christmas Co. ornaments, which were made from old German molds in the 1980s and '90s, when they helped popularize old-fashioned ornaments, but now are made in China.
"If you look at the tag, it says, 'A tradition to cherish,' " Vaclav Cinadr said. "But what kind of tradition is an ornament made in China?"
As she carefully packs up six glass swans, Nadia Cinadr lowers the price even more. "This is very traditional," she says approvingly. "In Europe, you will see a swan on every tree."
June Anderson of Wausau, Wis., also makes her living at trade shows, selling an exquisite collection of enameled ceramics from Uzbekistan and Russian Father Frost figures, nesting dolls and pecking hens, signed on the bottom with the name of the artist and the town where they were made.
Most of the goods come from a single village near Moscow, where Anderson negotiates for them using her "30 words of Russian." For years, she's been selling her finds at the Osthoff.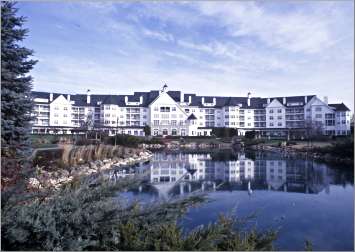 "It's so cool to see people coming back to me every year; it's fun," she said. "Is this your first time here? Well, it's about time you showed up."
Other booths sell Czech crystal, Polish pottery and etched ornaments from Egypt. Vendors from Germany sell lace, straw ornaments and ceramics.
Everyone seems to buy plump, iced gingerbread boys or girls from the Ovens of Gracie O'Malley, which also sells cellophane bags of gingerbread plums and pears, dusted with real gold.
Few resist a cone of the warm, roasted almonds that are a staple at German festivals. And for many, a bite of the potato pancakes, eaten with applesauce and sour cream, will be a reminder of childhood, perhaps of grandmother's cooking.
"It's 80 percent German and Polish here, though there are still some of us French-Canadians around," said Michelle Maurer of nearby New Holstein.
Maurer is an anomaly at the market, selling necklaces of crystal and glass beads she makes herself. But her elegant, inexpensive necklaces sell well, and she keeps getting invited back.
"I love this show," she said. "I see stuff I've never seen before. The beer garden is nice, and I love the evergreen smell. By now, we all know each other. It's like a tribe of gypsies."
By mid-morning on the first Saturday of the market, the weekend crowds begin to arrive. Sure enough, Vaclav and Nadia Cinadr's booth is mobbed with people snapping up fragile glass baubles at bargain prices.
"I put out so much, people can't leave without buying something," Nadia Cinadr says with glee. "We have so much fun here."
Trip Tips: Osthoff Christmas Market in Elkhart Lake, Wis.
Getting there: Elkhart Lake is in southeast Wisconsin, not far from Sheboygan.
For more about the town, see Thrills and hills in Elkhart Lake.
When to go: The Osthoff's Old World Christmas Market starts on the first Friday of December and runs for 10 days. Hours are 10 a.m. to 5 p.m. daily, and admission is $7 for those 15 and older.
On weekends, children's holiday workshops include horse-drawn hayrides, and ornament making and cookie decorating with Mrs. Claus, breakfasts with Santa and brunches with St. Nick and his reindeer.
Lodgings: The Osthoff's Christmas Market package includes a one-night stay and two tickets to the market. Each of the attractive suites has a fully equipped kitchen, living area with gas fireplace and one to three bedrooms.
The resort also has a spa.
Reserve early for the best selection; 800-876-3399.
Dining: The Osthoff has two fine restaurants: the Concourse, which serves favorites with a bit of nouvelle flair-bourbon-glazed sirloin, garlic-crusted walleye, barbecued maple duck breast-and Otto's, which is more casual.
Area information: Elkhart Lake tourism, 877-355-4278.
Last updated on November 5, 2021