Lodgings in Lanesboro
In this bicycling capital, take your choice of B&Bs, small inns and even cabins.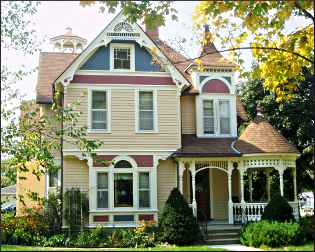 Before the Root River State Trail was built, the only places to stay in Lanesboro were some small hunters' cabins near the city park.
That was before there was anything to do in the isolated village besides hunt and fish. Now Lanesboro is the recreational and cultural capital of southeast Minnesota, with a new theater, an arts center and 60 miles of paved bicycle trails.
With visitors pouring in, Lanesboro also has become the bed-and-breakfast capital of the Minnesota, with more B&Bs than any other town, plus several small inns.
And they're still not enough for everyone who wants to visit on beautiful weekends in summer and fall.
When I first visited Lanesboro in 1990 and stayed at the Carrolton Country Inn, it was the only one of the three inns that allowed children. In 1994, when I stayed with my sister at Mrs. B's, it was the only place that had a room with two beds.
Now there are lots of choices for everyone — families, friends, honeymooners, singles.
All over town, there are innkeepers who couldn't resist the call of this bluff-country burg.
At the Thompson House, I met Kathy Culbertson, who already was in love with Lanesboro when she met her husband Robert, who grew up there but had moved to Wisconsin.
"He thought I was so crazy," she said. "You know, if you grow up here, you don't see the attraction."
But Robert always had admired the 1872 Italianate house across from his childhood home, so they bought it, restored it and opened it as a bed-and-breakfast.
I met triathlete Bonnie Handmacher, who first visited Lanesboro in 1990 as part of a bicycling tour group.
"After the bike trip, I was addicted," Handmacher said. "I'd hop in my car on the weekends and go — I was living in Chicago then, but five hours was nothing."
She'd stay at O'Leary's, and when it went up for sale, she bought it and got herself transferred to the Twin Cities. She's cut her drive in half and has her own B&B to stay in on weekends.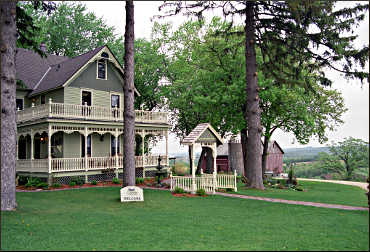 Tastes in lodgings are highly personal. The same piles of pillows one person wants to torch are someone else's decorating coup.
People who like lots of antiques and Victoriana may like the Historic Scanlan House. People who prefer log cabins can find them at Cedar Valley Resort along the Root River.
One of the poshest inns, the Berwood Hill, is in a romantic setting outside town.
In town, the Cottage House Inn and Green Gables are good places to go with children or friends, since they have rooms with two beds.
They're also especially good values in the off season, along with Stone Mill Suites, which often offers specials. Several inns offer discounts to members of Minnesota Public Radio.
Some inns offer extra privacy, such as the Habberstad House, which has a carriage house.
With so many places to choose from, staying overnight in Lanesboro is an adventure. Now, the only challenge is getting a reservation.
Trip Tips: Lodgings in Lanesboro
Most places have two-night minimums on weekends in summer, and some in winter.
Reserve far in advance for summer and fall weekends. Prices drop steeply in winter, especially at the small inns; at the B&Bs, you may have to ask for a deal. Every inn is bicycle-friendly.
For details and an availability search, check the Lanesboro lodgings page.
For more about Lanesboro, see The belle of bluff country.
Anna V's B&B is a 1908 Queen Anne with four rooms, near downtown. 507-467-2686.
The two Art Lofts on Parkway Avenue downtown sleep six and have kitchens and handsome living areas. They're operated by the art center, 507-467-2446.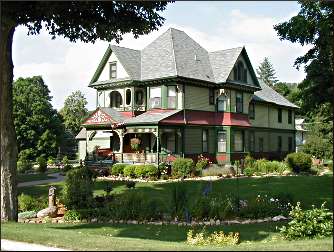 Berwood Hill Inn, a renovated 1870s farmhouse with five guest rooms, sits on a ridge four miles outside Lanesboro and has a lovely view of the countryside from its landscaped grounds. The interior looks like a magazine spread. 800-803-6748.
Cedar Valley Resort is just east of Lanesboro in Whalan, right on the Root River. Eleven newer cabins, some with gas fireplaces, have three to six bedrooms, can accommodate two to 38 people.
There are different rates for peak season, weekday stays in May and September-October and from November through April. 507-467-9000.
Coffee Street Inn is a pet-friendly motel/inn downtown that has seven rooms, one with two beds, and two suites that have kitchen and double whirlpool, one with three bedrooms.
There's a garden patio with gas grill. 507-467-2674.
Cottage House Inn, a modern inn across from the Commonweal Theatre, always is a good bet. It has 14 simple but attractive rooms, seven with two beds.
A large, hot breakfast is extra. 800-944-0099.
Green Gables Inn, a motel with a sunken stone patio and back yard that goes to the river, is a nice place to stay with children. It has 15 attractive rooms, most with two beds, one with kitchen and one-disabled accessible.
A bridal suite has gas fireplace, whirlpool and kitchen. 800-818-4225.
Habberstad House B&B is an 1897 Queen Anne with six attractive, window-lined rooms, three with two-person whirlpools.
The Amish Suite has two double beds, and the Carriage House has a private entrance, galley kitchen, whirlpool and gas fireplace. 507-467-3560.
Hotel Lanesboro, formerly Mrs. B's B&B, is an 1870 stone commercial building right on the river downtown and has nine small but attractive rooms. Breakfast is served at small tables for those who like early-morning privacy.  800-657-4710.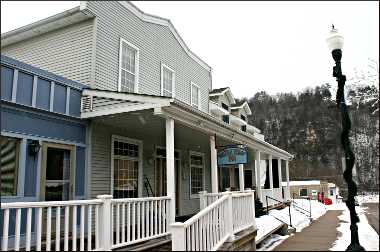 Iron Horse Inn is a motorcycle- and history-themed inn on Coffee Street downtown, with three rooms and a suite. It also offers guided scooter rides on country roads. 507-951-2955.
James A. Thompson House is an 1872 Italianate house next to the river, with airy common rooms decorated with antiques and folk art and four old-fashioned but attractive rooms.
The Maid's Room, with its view of the dam waterfall, is especially nice. 507-467-2253.
O'Leary's B&B is a 1910 Victorian with Arts and Crafts interior accents. It has five simple but attractive rooms, one with twin beds and one with a king, and there's a loft room children love (children over 10 are welcome).
Breakfast is a continental buffet. Open May to October, weekends only. 507-467-3737.
Root River Inn & Suites is in an 1870s building, right off the trail downtown. It has three apartments and studio with kitchen. Six pleasant rooms, three with two beds, have cable but no common rooms. It also rents a cottage. 507-467-2999.
Scanlan House B&B is a classic 1889 Victorian with decor that B&B aficionados enjoy. It has four rooms, two with gas fireplace stoves and three with double whirlpools, and three suites, all with gas fireplaces and double whirlpools. 800-944-2158.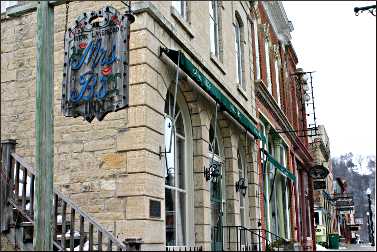 Scandinavian Inn is an 1892 Queen Anne with five small but attractive rooms. A very fine breakfast is included, and common rooms include a rooftop gazebo.
One room has a private balcony and a dumbwaiter, through which the innkeepers send breakfast. 507-467-4500.
Stone Mill Suites is a 1885 former poultry-processing plant downtown, at the end of Parkway Avenue. It has seven suites with double whirlpool and/or fireplace stove. One has four beds, one has two, one has a mini-kitchen and one is disabled-accessible.
All rooms have mini-fridges. A continental breakfast is included. 866-897-8663.
Sites at Sylvan Park campground are first-come, first-served. Hot showers are in the adjoining community center.
Across Parkway Avenue, the Riverview campground has more sites above the dam. The two campgrounds have 60 tent sites, $20, and 43 camper sites, $30.
Old Barn Resort is right off the trail, west of Lanesboro at Isinours Junction, and has a three-season heated pool, restaurant and 18-hole golf course. The campground is open from April through October.
Old Barn also has a hostel with three rooms with up to 16 bunks and one with two beds.
Tubes can be purchased at the resort for use on the river. 800-552-2512.
Last updated on February 10, 2022