What to bring to a rented cabin
Some places are well-equipped and some aren't; here's a packing list.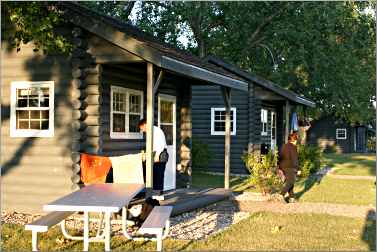 There's a surefire rule that applies to rented houses: Anything you really need but don't bring is exactly what the house won't have.
Virtually every house has coffee filters. But the house I once rented on a lake in Cable, Wis., didn't, and I was reduced to straining coffee — unsuccessfully — through paper bags and toilet paper.
It also didn't have paper towels, a cutting board, a corkscrew or kindling.
It did have many items that often are sorely missed — a colander, a juice pitcher, a muffin pan and — wonders! — a decent chopping knife.
It's always hard to know what to bring. I brought my Swiss garlic press to the Norway Point Guesthouse in Minnesota's St. Croix State Park, but its amazingly well-equipped utensil drawer had one exactly like it, and its cupboards were full of dry goods left by other guests.
I brought a crockpot to my Mountain View Lodges cabin on the Upper Peninsula, but it already had one.
Housekeeping cabins in lake resorts almost always are completely cleared of dry goods before the next guest arrives, so you can't even count on salt and pepper.
Private vacation rentals, however, often have a shelf full of napkins and paper plates plus basic spices, vegetable oil and other leftover ingredients.
You'll be more likely to have these items if you're renting directly from the owner rather than through a property-management company.
It's better to be safe than sorry. So here are the rules.
Kitchens
At housekeeping resorts, always bring towels for the bath, kitchen and beach and soap for the bathroom tub and sink, unless you've been told in writing that they're supplied. You probably won't need dish soap and a scour pad, but bring them anyway.
It's wise to bring coffee filters (and coffee; many cabins do supply ground coffee, but it's often stale), paper towels and a corkscrew for wine bottles.
Chances are you'll want to bring a gallon of drinking water, especially if you plan to make coffee; the well water may be full of minerals or otherwise unpleasant.
If you like to make juice from concentrate, bring a juice pitcher. It's amazing how few cabins don't have one.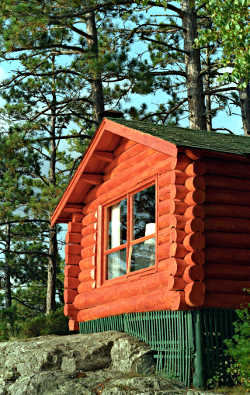 Think about what you'll be cooking and bring items you can't do without. Very few rental properties have well-sharpened knives, so bring either a knife or a sharpener, especially if you'll be cutting meat.
Bring a grater if you're grating cheese, a spatula and griddle if you're making pancakes, a pasta claw and colander if you're boiling pasta, tongs if you're grilling meat (and, of course, charcoal, lighter fluid and matches ).
Bring muffin pans if you're making muffins; cabins often have them, but you can't count on them. Bring a crockpot if you want a nice meal waiting for you after a long hike or paddle.
You'll need leftover containers, plastic wrap and aluminum foil; cabins rarely have them. If you'll be contributing to a potluck, bring a pretty serving plate.
Bedding
Beds in rustic state-park cabins rarely have bedding and pillows, so you'll need those.
Private cabins do supply bedding, but rarely enough blankets for a large group. If you're bringing a large group, chances are that some get to sleep in real beds, but the rest have to sleep in pull-out sofa beds.
Unfortunately, these are often of poor quality, and you'll wake up with a sore back. So if you've got picky sleepers in your bunch, bring some Therm-a-Rest pads and sleeping bags, just in case. Yes, the floor can be better.
Fireplaces
If there's a wood-burning fireplace, bring plenty of newspaper, kindling and matches, and make sure firewood is provided.
And be aware that many properties advertise a "fireplace," but what they really have is a free-standing wood stove.
Things to do
If you're planning to play board games or do a jigsaw puzzle, bring a bright lamp; many properties, especially state-park guesthouses, are poorly lit.
Bring a flashlight for late-night trips to the sauna or, better yet, a head lamp, which also can be used for reading in bed with a companion who's already asleep.
If you're worried about the heat, bring a fan.
You may not need any of these things — but don't tempt fate.
If the weather is nice, you also may want to bring a few folding chairs, so you can sit outside (most cabins do come with picnic tables and a grill and/or fire pit), and things to play in the yard — a Frisbee, badminton game or balls.
And of course, bring insect repellent and sun block.
For more, see Renting a vacation house and Cabins & Cottages stories.
Last updated on May 25, 2018