Renting a vacation house
If you have pets, small children or teens to feed, try making someone else's home your castle.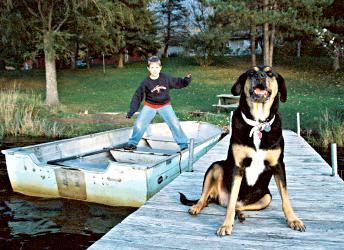 My niece loves a large Rottweiler named Rza, so her travel opportunities are limited.
But one October, I rented a lake house near Cable, Wis., that allowed dogs, and both of them came. And we all had a great time: When Rza's happy, everyone's happy.
"This is probably the best weekend of her life," said my niece, after we'd spent the day romping on the lawn and in the nearby forest.
For vacationers, houses have many advantages over hotel rooms. Pets are allowed in some, and they're great for small children or teens, because the kitchens allow families to save a bundle on restaurant meals.
And they're good for travelers who aren't related — say, a group of girlfriends - because most have more than one bedroom plus sleeper sofas.
In lakes country, houses often come with a canoe or rowboat and are better located than hotels, away from highways and right on the water. Sometimes, they're available when hotel rooms aren't.
There are more vacation houses to rent than ever. Many owners seek extra income by joining such rental services as the huge Vacation Rentals by Owner, which lists hundreds of properties in Wisconsin's Door County alone, and HomeAway, which is smaller but has a more easily navigated site.
One October, three friends and I rented a house on Minnesota's North Shore from Cascade Vacation Rentals. The manager told me it would be rustic, so I warned my friends, but when we got there, they were enchanted.
"It's not rustic, but if it is, it's a nice kind of rustic," Becky said.
Yes, there were flies languishing on the windowsills, and water stains on the acoustic-tile ceiling. We heard the munching of mice at night, and the kitchen utensils were old and battered.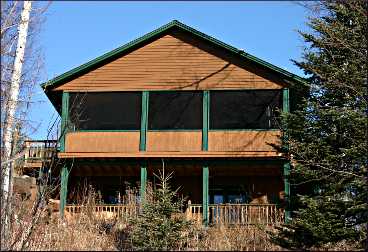 But the Finn House, built in 1943 of hand-hewn logs taken from old Finnish buildings, was overflowing with charm — at least, our kind of charm. It sat on five acres along the shore, and a little path led through old spruces to the edge of a rocky point.
Inside, there was a stone fireplace, walls covered with 1940s woodcuts of North Shore scenes and picture windows from which we drank our morning coffee while gazing upon the craggy shoreline and, in the distance, the hazy harbor of Grand Marais.
The fancier houses aren't necessarily the most popular, said manager Deborah Nelson. Each house has its own following.
"People will rent the same cabin from year to year, and they consider it 'theirs,' " she said. "They'll buy gifts for the house; if it needs a pan or a corkscrew they'll get one, or they'll be out shopping and think, 'This would be perfect for the cabin.' "
The Finn House, she said, is owned by cousins who live in Toronto, London and Switzerland, and it's one of the most popular properties.
"So many experiences have been had there, and so many diverse people have lived there, that it really has an interesting aura," she says.
The four-bedroom, three-bath Finn House was perfect for four girlfriends splitting the cost.
But the next October, when I wanted to go up to Wisconsin's north woods with my two children and my niece, I chose a house that was cheaper and would accept my niece's dog.
That was the two-bedroom Trapper's Haven on Trapper Lake, just north of Lake Namekagon off scenic County Road D. It didn't have the character of the Finn House, but it had a stone fireplace, a nice kitchen, a two-car garage and a sloping lawn framed by big, beautiful firs.
There was a tiny patch of sand next to a rowboat and the dock, where we watched the sun set over the lake.
For groups, renting a house can cost less than renting a hotel room, and in places that are congested in the summer, such as Door County and Lake Geneva, they provide privacy and some tranquility.
And it's a way to slip into someone else's shoes for a few days. Find the right house, and it becomes "yours."
"We had some rookies rent a house just last week, and oh, they just fell in love with the whole deal," said Cascade Rental's Nelson. "They're going to come back. For the most part, that's how people feel: 'Why didn't we ever do this before?' "
Trip Tips: Renting a vacation home
What to know : The Internet is a wonderful way to view houses, and it's easy to fall in love with the pictures. But even if it's also possible to reserve on-line, it's still a good idea to talk to a booking agent in person. Describe your tastes and ask for a recommendation.
If you're using one of the listing services, such as VRBO, talk to the owner in person, and make sure that person actually owns the property (hackers have been known to take over an owner's email address and take payments). Never wire money ; use only credit cards to reserve.
Not everyone should rent a house. Remember, you'll have to clean up after yourself and take out the trash, and there's no one at the front desk to instantly solve your problems.
Always clear pets in advance. And even if a property listing doesn't say pets are allowed, ask; the manager may let you bring a pet if you sound like a responsible person.
Ask what you do and don't need to bring (see What to bring to a rented cabin ). Don't be afraid to ask specific questions, because photos don't always tell the whole story.
There's almost always a two-night minimum, and it's often a week in summer. Sometimes, the seventh night is free. Check for specials, especially in the off season.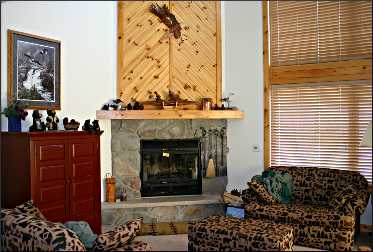 For summer and for fall weekends, reserve as soon as possible. Listed below are some of the larger rental companies in popular vacation areas; other houses can be found listed by state, regional and local tourism bureaus under "vacation homes" or "condos and cottages."
For more about renting vacation houses on-line, see Adventures in renting.
Minnesota's North Shore : Cascade Vacation Rentals in Tofte has about many places, mostly between Lutsen and Grand Marais. Base rates are for two people and increase with every additional person. Some allow pets for a fee. 800-950-4361.
Cable area : Recreation Rental Properties has many properties in Wisconsin's northwest corner, and about half accept pets. It also rents boats with houses, 715-794-2622.
Madeline Island : On the biggest of Wisconsin's Apostle Islands, nearly everyone rents a cabin or cottage. Inn on Madeline Island rents 50 properties, many with a private beach, 800-822-6315.
Door County : Rental companies include Door County Property Management and Lundquist Realty Vacation Rentals in Sister Bay and JR Vacation Rentals in Sturgeon Bay.
Hayward area : Property Management of Hayward rents many homes, 715- 634-3465, and the Hayward Lakes Visitors & Convention Bureau lists many more.
Wisconsin Dells : The Wisconsin Dells Visitor & Convention Bureau lists many houses, condos, cabins and cottages, 800-223-3557.
Minnesota lakes : Search for vacation rentals at Explore Minnesota.
Wisconsin lakes : Vacation homes all over the state are easy to find at Travel Wisconsin.
Vacation-rental platforms : Each owner has a different cancellation and refund policy, and the platform fee generally is non-refundable. Read the listings and reviews carefully.
You can email the owners with questions before reserving. The largest platforms are Airbnb, Vacation Rentals by Owner and Flipkey, run by TripAdvisor.
Last updated on February 9, 2022