A cottage of one's own
If you like privacy and want to treat yourself, consider these spots.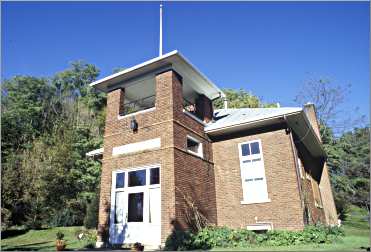 It's not every inn that makes a guest feel like a Rockefeller.
But when my husband and I walked into the Wilson Schoolhouse Inn, we figured we had really risen in the world.
"Hey, for once I feel like a millionaire," Torsten said, bounding around the restored Prairie-style school. "This is unbelievably cool."
Between 1917 and 1965, country children learned their ABCs in this brick one-room country schoolhouse, now on the outskirts of La Crosse. Then it sat, deteriorating, until Lisbeth and Richard Reynertson decided to save it, though both were busy with careers.
Over 14 years, they turned its classroom into an airy living room, lined with 9-foot windows on two sides, black-and-white art photographs on a third and a spectacular kitchen on the fourth. In the lower-level gymnasium, they put two beautifully furnished bedrooms and a living area.
Then they opened the schoolhouse to overnight guests, stocking the shelves with CDs and videos, the kitchen counters with snacks and the tabletops with fresh flowers.
Why? Because they loved the schoolhouse and wanted to share it.
"It's been a real joy," said Lisbeth Reynertson. "There's a need for places like this, where people can come together."
Picking a place
Men often prefer cottages to B&Bs because they don't have to talk to strangers over breakfast or feel as if they're living in someone else's house.
Cottages also can work well for families; when we were staying at an organic farm outside Mount Horeb, Wis., we talked to an Illinois couple who had brought their two young children to stay in the inn's cabin, which had a wood-burning stove, games and books.
They like staying in B&Bs, they said, but don't want to seem inconsiderate of other guests. So they look for a separate space, such as a cottage.
Those of us who have found the really great cottages are completely spoiled. Below are some  favorites: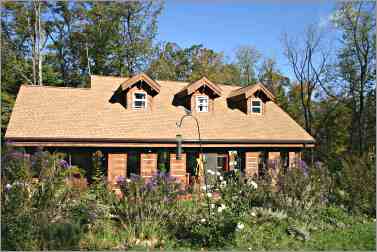 Wilson Schoolhouse Inn, La Crosse, Wis. : The kitchen in this two-bedroom cottage is fantastic and outfitted with every appliance, implement and linen conceivable. The owners leave juice, soda, cereal, coffee beans and cereal bars. It has a queen, two twins and two pull-out sofas. 608-787-1982.
Maple Wood Lodge, Mineral Point, Wis. : I stayed here one fall with three girlfriends, and it was a real treat. Maple Wood is a handsome three-bedroom, two-bath post-and-beam lodge on 26 rolling acres outside Mineral Point.
There's a stone fireplace, double whirlpool, extensive CD and DVD collections, a sunny dining area and large kitchen.
In the winter, there's snowshoeing on two miles of trails through woods. In fall, look for giant mushrooms. The gracious hosts, John Fetters and Coleman, live nearby. Children are welcome. 608-987-2324.
Hawks View Cottages & Lodges [ , Fountain City, Wis. : This isn't a B&B, but the owners leave a bottle of wine and breakfast fixings. Five cottages sit on a steep hillside above town, each with two stories, a double whirlpool, a full kitchen, one or two decks and a pull-out sofa on the first floor; one cottage is wheelchair-accessible.
There are also two lodges, with with WiFi and a double whirlpool. One lodge has two bedrooms and the other has four. 651-293-0803 or 866-293-0803.
Miners' and Springside cottages, Mineral Point, Wis. : The Brewery Creek Inn rents the 1836 stone Miners' Cottage and two suites in the 1843 stone Springside Cottage, built by Cornish immigrants and renovated by local legend Bob Neal, who with Edgar Hellum restored Pendarvis, the historical complex across the street.
Breakfast fixings are included in the rate. Check the web site for off-season specials, 608-987-3298.
Trillium, La Farge, Wis.: The rustic Grandma's Cottage and newer Hill Cottage are on a farm deep in beautiful coulee country, with lots of kittens and farm animals for children to pet; Amish families farm on the nearby ridge.
Eggs, cheese, butter, milk and cereal are provided, and owner Rosanne Boyett brings freshly baked breads and homemade jams in the morning. There are discounts for guests who arrive in hybrid vehicles. 608-625-4492.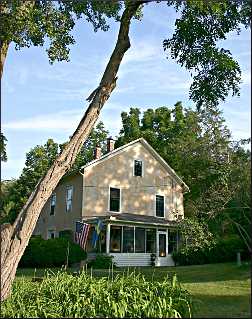 Great River B&B, Stockholm, Wis. : This 1869 stone cottage on the shores of Lake Pepin was built by Jacob Peterson, one of the first settlers of Stockholm, to resemble the childhood home of his wife, Sara, who had become homesick for Sweden.
It's got original honey-maple floors, tall paned windows and two gas fireplaces. Owner Leland Krebs returns to prepare breakfast in the morning. 715-442-5656, 800-657-4756.
Below are cottages at B&Bs I'vee toured, but haven't stayed at:
Justin Trails Resort near Sparta, Wis. : This complex in farmland has three attractive cottages, each with gas fireplace, VCR and double whirlpool. Children are allowed, as are pets for a fee.
In the winter, guests can ski on the resort's trails if there is enough snow. If guests bring their dog, the owners may give them a free skijoring lesson. 800-488-4521.
How to find other cottages : Guests can search the B&B association web sites for inns with cottages.
For more, see How to find a bed-and-breakfast.
There are also many cottages and cabins that operate independently and can be very good values. Find them in regional or local visitors guides or web sites, or from brochures found at local businesses.
For more, see Renting a vacation house.
Last updated on December 19, 2019