Cabin on a waterfall
On Minnesota's North Shore, a state-park guesthouse is a prized hideaway.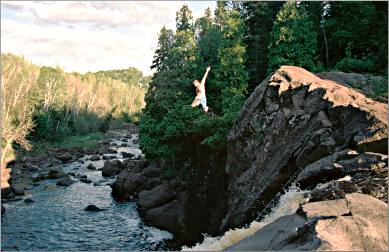 In Minnesota's state parks, the goodies go way beyond hiking trails, picnic sites and fishing piers.
Minnesota parks house their visitors, too, not only in campgrounds but in suites and cabins and lodges and even a few split-level homes. Of course, they're very popular.
But the most popular place of all is the Illgen Falls Cabin in Tettegouche State Park, especially in summer.
For what could be better than having a 45-foot waterfall, spa and swimming hole in the back yard, with entertainment from a corps of cliff jumpers?
Take it from me: Nothing's better.
One July, as even people along the shore of ice-cold Lake Superior were broiling in the heat, I was two miles inland, letting the cool water of the Baptism River swirl past as I sat in a shoulder-high Jacuzzi of volcanic rock as smoothly molded as an Eames chair.
Until the state bought it, this section of Baptism River shoreline, including Illgen Falls, was private property.
When it became part of Tettegouche State Park, the state remodeled the house into a two-bedroom handicapped-accessible cabin with a big deck, gas grill, gas fireplace and kitchen with microwave, full refrigerator-freezer, computerized oven and glass-ceramic range.
The cabin's best feature, however, is the river below, which flows over and among a jumble of smooth rhyolite boulders and slabs, many bearing potholes scoured out by glacial waters.
Then the river cascades 45 feet over a cliff, into a deep pool that's a magnet for local young people.
They started showing up right after we got there, jumping into the pool from the cliffs on either side of the falls, into the falls from rocks above and even "surfing" down an algae-slickened boulder and into the froth.
"I've seen 50-year-old guys slide down backward," said one of the jumpers, who grew up in Silver Bay and says he used to mow the lawn of the house. "Where it's foamy, it's soft. It's only dangerous when the water's too high; it's so deep nobody knows how deep it is."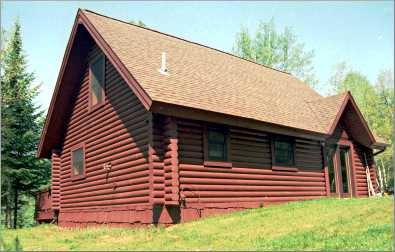 In the morning, we walked upriver to another spot he'd recommended, with a quiet pool and a 8-foot-high pile of fractured rock, from which a man and a boy already were jumping and diving.
"There's a shelf under here, so you have to jump out, not down," said the man, who grew up in Silver Bay and was showing the spot to his young friend. "I used to jump in the big falls, but I wore glasses then, so I couldn't really see it."
Just upstream, we lounged on slabs and took turns letting the river bump us down a rocky chute into the deliciously cool pool, where we swam, our limbs appearing orange from the tannins in the river.
Down at the big falls, local teen-agers were congregating, many of them wondering if we were the occupants of the house and would chew them out for jumping.
"The park rangers told us not to come here anymore, that there are rocks," one Silver Bay girl said, "but we've been coming here forever, and we know there aren't rocks."
Watching them jump, each time bobbing straight to the surface, I was nearly ready to jump myself when park ranger Curt Anderson came by and splashed cold water on my plan.
"The current is really forceful," he said. "There's a cave underneath the falls, and the water goes both ways. It could push you out, it could let you drop a ways, or it could pull you back under the wall; it all depends on where you jump. There was a guy about 30 years ago who jumped, and they still haven't found his body.
"Or a log could come down the river and get caught underneath. The first 15 people could jump and be fine, and the next one could jump in just the wrong place."
When he was growing up in Two Harbors, said Anderson, wiping sweat from his face, he'd jump at Gooseberry Falls.
"I'd like to jump myself on a day like this," he said. "But now that I know what the water does, I don't."
Illgen Falls isn't the highest in Tettegouche; that's 70-foot High Falls, the highest in Minnesota if you don't count the 120-foot High Falls of the Pigeon River, whose cascade along the Minnesota border is shared with Ontario.
In Tettegouche, hiking trails lead to High Falls and Two Step Falls as well as to four lakes, deep in a dense hardwood forest.
Cabins on a lake
One of them, Mic Mac Lake, is home to four other guest cabins, very different from the Illgen Falls Cabin but almost as sought-after.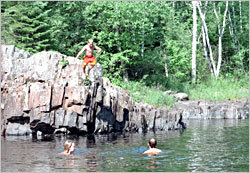 In 1910, the company that had logged the area sold its camp and property on the shores of the lake to a group of Duluth businessmen, who called themselves the Tettegouche Club after an Algonquin word meaning "the retreat."
Today, their rustic log cabins are available to overnight guests who don't mind packing their food and bedding in and out over a steep, 1¾-mile gravel road.
When I was walking in, I met Mark Graham of Shoreview walking out with his wife, Lynda, and three young daughters.
"The hike in and out is the killer," he said. "I offered the ranger $30 for a ride up, and she said she wouldn't do it, she'd lose her job."
Farther along, I met three Twin Cities women who had just finished their fourth visit and had the packing routine down to a science. Once they get there, they said, they stay.
"We want to just enjoy the solitude of the area," said Ellen Held of New Hope. "It's not people-polluted."
The Mic Mac camp can be a little funky in summer — there were six dead bats lying around the cool main lodge, where I had lunch at the massive pine table — but the restored log cabins are fetching, with little screened porches and window boxes full of geraniums; each comes with a canoe.
More importantly, the retreat provides a rare look into the past, when even those who could afford every luxury could think of nothing better to have than a silent expanse of pristine water and wooded shoreline.
That's what I saw all around, as I stood at the end of the Mic Mac dock, and it was beautiful.
"It's truly one of those religious-type experiences, outside a church," park manager Gary Hoeft says of the retreat.
People who want Minnesota state-park cabins and guesthouses for weekends from May through October should reserve them on the first day they're available, probably in the first hour. Competition is fierce.
But if you do get one of these places, you'll likely feel like the luckiest person in Minnesota.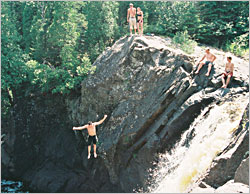 Cabins: In Tettegouche (pronounced TET-a-goosh), the nightly rate at the Illgen Falls Cabin is $220, not including tax.
Guests must bring their own bedding, towels and bath soap and clean the cabin before they leave. Kitchens include plates, pans and utensils. Usually, salt, dishwashing soap and coffee filters are available, but don't count on it.
For more, see What to bring to a rented cabin.
At Tettegouche's Mic Mac Camp, Cabin B, which is right on the lake and has two bedrooms, is most popular and rents for $175 plus tax. Cabins A and C rent for $155 and Cabin D for $130.
Cabins have fully equipped kitchens but no running water; there's a nice central shower house and a lodge with wood stove. They're popular in winter, too.
For more about the Mic Mac cabins, see Heirs to a hideaway.
Reservations : They can be made 120 days in advance online or at 866-857-2757; the online reservation fee is $7.
On the first day of availability, reservations can be made starting at 8 a.m. Central Standard Time; after the first day, they can be made on-line 24 hours a day.
For more about places to stay in other parks, see Lodgings in Minnesota state parks.
Last updated on February 10, 2022