Heirs to a hideaway
Above Minnesota's North Shore, historic cabins of Tettegouche are coveted.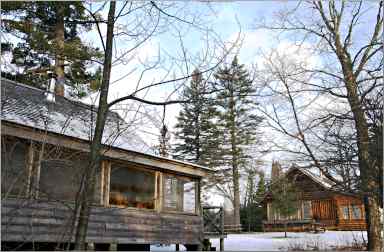 Every week, a few dozen people join an exclusive club high above Minnesota's North Shore.
To get there, they lug all their food and gear 1¾ miles up and down a steep hill. They draw their own water and make their own fires. They clean and then lug their garbage over the same hill.
And they consider themselves lucky.
A century ago, a group of Duluth businessmen thought so, too. In 1910, they bought 1,000 acres along the shores of Mic Mac Lake from Alger, Smith & Co., whose loggers had named it for an Algonquin tribe in their native New Brunswick in Canada.
They'd spared a few red and white pines and called the spot Tettegouche, Algonquin for "the retreat," and the new owners adopted the name.
The members of the Tettegouche Club built a lodge, dining hall, boathouse and cabins, and then they settled in to fish and relax.
In 1921, Duluth ore merchant Clement Quinn bought out the others and added another 1,000 acres to the preserve, which he kept for half a century before selling to descendants of a Duluth lumber baron.
They also wanted the land preserved, so they sold it to the Nature Conservancy, which sold it to the state. The state added the land to Baptism River State Park, which, in 1979, became Tettegouche State Park.
Now taxpayers own the Tettegouche Club, and boy, do we enjoy it.
It's called Tettegouche Camp now, and the dining hall and butler's cabin are long gone. But a spiffy new bath house has replaced the old one, and in summer, geraniums overflow from window boxes just as they did in the 1920s.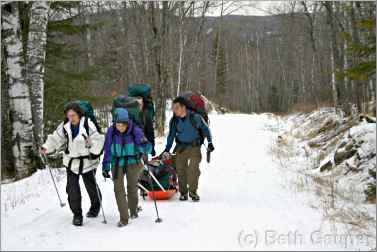 Firewood is provided for heating stoves, and the four cabins have electricity; while campers won't be sitting down to a breakfast of partridge and popovers, as Mr. Quinn did, they can whip up eggs and bacon in their own kitchens.
It's cushy, as far as camping goes. But the splendid solitude is what makes it one of the most prized reservations in Minnesota's state-park system. Often, weekends are reserved in the first hour they become available, 120 days in advance
Luckily, my friend Debra plans ahead, and one January, she and I and members of the Minnesota Rovers Outdoors Club made the pilgrimage north.
Before we headed to the far side of the park, we walked across the parking lot of the visitors center on Lake Superior, over to Shovel Point and back along the clifftop trail to the mouth of the Baptism River.
In 1886, another fishing club owned this land; the mayor of St. Paul was president, and James J. Hill owned three shares.
The Baptism River Club soon built a clubhouse on the other side of the river's mouth, and members came up from Duluth and the Twin Cities to fish for trout.
Ironically, fishing had declined by the time the Tettegouche Club formed, partly because of Alger-Smith's logging, which increased runoff on the river.
In 1945, the state acquired the club's land for a park and later burned the clubhouse down.
After our walk, we drove up Minnesota 1, past the park's deluxe Illgen Falls Cabin and around the western flank of the park to the Tettegouche Camp parking lot. Then we got out our backpacks and piled plastic toboggans with food, skis, boots, snowshoes, boxed wine, board games and kindling — way too much, in fact.
We had ice and crusty snow on which to slide our toboggans, but still we broke a sweat right away, and our thighs started to burn as we struggled up the hill. A park ranger sped past on an ATV, averting his eyes for fear someone would ask for a ride.
As soon as we arrived, we got the fires going and started a meal of jambalaya and salad. By the time dinner was over, the big lodge was toasty, so we convened there to play Cranium and card games.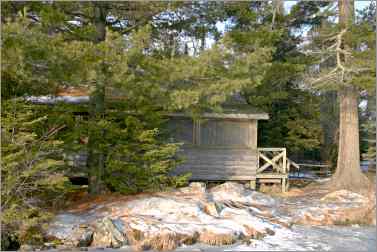 We had agonized over what to bring — classic skis, skate skis, snowshoes? — but the only thing we could have used was ice skates, which none of us brought. Usually, the Sawtooth Mountains have plenty of snow; not that year.
So we decided to hike to 70-foot High Falls, on the other side of the park. Our skis were useless, but our ski poles were invaluable; when we took a detour to Mount Trudee, the trail was covered with ice.
Distracted by a pretty icefall on Raven Rock, we missed the hiking trail to High Falls and ended up on a wide cross-country ski trail, where we followed the frozen tracks of fishers, deer and wolves.
The uphill spur back to the Superior Hiking Trail was a river of ice, and we picked our way gingerly along its edges.
We could hear the roar of High Falls, the highest waterfall in Minnesota if you don't count the 120-foot High Falls on the Pigeon River, which Minnesota shares with Ontario.
Crossing the river on a low suspension bridge, we settled down next to the falls so we could eat lunch while watching the white-gold froth crash into a pool and disappear under ice.
The cedar-lined path back to the main trail was steep and icy, and finally I remembered I had a pair of cheap boot crampons in my pocket.
We were dreading the Drainpipe, a nearly vertical stretch of the Superior Hiking Trail. Its shadowy base looked like Middle-Earth, with piles of fractured rock and thick roots that snaked up from cedar trees and clamped boulders in a death grip.
But up was a lot easier than down would have been, and at the top we were relieved to find snow on the trail, not ice. Still, we barely made it home by dark; we'd been hiking for 5½ hours, and most of us were looking forward to wine and ibuprofen.
In the cabin journal, we found out what other guests had been doing. The people who stayed over Christmas had seen a wolf on the frozen lake: "The most amazing thing to do is lay on the ice at night and look at stars," wrote Phoebe, 14.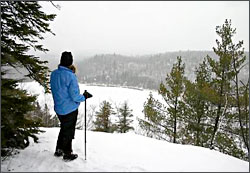 Kathy and Dan of Minneapolis wrote, "Almost 30 years in Minnesota and we just now discovered this camp! So many years wasted!"
It was hard to leave, so Debra and I didn't — not right away, anyway. The others took the keys back, and we stashed our packs and walked across Mic Mac to an open channel, where a boardwalk led to Nipisiquit Lake.
We saw no one, but there were signs of activity everywhere: in a giant beaver lodge, the tapping of a woodpecker, a hole in the snow littered with a mouse's chewed-up pinecone.
We circled Nicado Lake, climbed Mount Baldy and then, too soon, we were back at camp. Then we did have to leave. On the way back to the car, we saw the new guests coming up the hill. They looked a little winded, but they were smiling.
At Tettegouche, everyone's happy to be a member of the club.
Trip Tips: Tettegouche Camp on Minnesota's North Shore
Getting there: From the Twin Cities, it's a 3½-hour drive to Tettegouche (pronounced TETT-a-goosh) State Park, just past Silver Bay.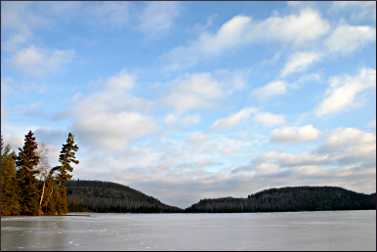 It's another 10 miles to the parking lot off County Road 402, then a tough 1¾-mile hike that can take an hour. Try to get everything into a backpack; if you have excess gear, haul it on plastic toboggans in winter and wagons in summer.
Mic Mac cabins: Cabin B, which is right on the lake and has two bedrooms, is most popular, rents for $175 plus tax. Cabins A and C rent for $155 and Cabin D for $130.
Cabins A, B and C have two bunk beds, each with a twin and a full-size mattress. Cabin D has one full-size bed. Guests must bring their own bedding and towels and clean the cabin before they leave. Garbage must be hauled out.
Kitchens include plates, pans and utensils but have no running water. There's an electric range and a small refrigerator. Bring dishwashing soap, coffee filters and dish towels as well as food.
There's a heated central shower house and a big lodge with two wood stoves. Wood is provided; bring firestarters, matches and kindling.
Illgen Falls Cabin: A mile and a half north of the park office, off Minnesota 1, Tettegouche also rents a handicapped-accessible house at the top of 45-foot Illgen Falls.
For more, see Cabin on a waterfall.
Reservations: They can be made 120 days in advance online or at 866-857-2757; the reservation fee is $7, $10 by phone.
On the first day of availability, reservations can be made starting at 8 a.m. Central Standard Time; after the first day, they can be made on-line 24 hours a day.
For more about places to stay in other parks, see Lodgings in Minnesota state parks.
Last updated on February 10, 2022