Where to stay in Chicago
Want to visit the Windy City? So does everyone else. Here's how to find a place.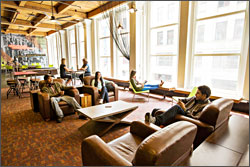 Chicago is a fun, fun place to be.
It's popular with conventioneers, families, students, girlfriend groups and couples on a romantic getaway. Everyone wants to join the festive mobs at Millennium Park, Navy Pier and, at Christmas, the Christkindlmarket in Daley Plaza.
There are nearly 40,000 hotel rooms downtown, which you'd think would be enough. Except in summer, when vacationers from around the world flood in. And whenever there's a big convention or event.
But new hotels have been popping up, adding to an already huge selection. How to pick one? Here's a guide.
What to know
Reserve rooms as early as possible. Rates are pegged to demand, so they'll be highest during summer and for conventions and festivals.
Before booking airfare, first check the convention calendar to see if a big convention is in town; if so, rooms will be hard to find and very expensive.
On holidays and the two weeks before Christmas, you can get great deals at hotels that count on business travel. You'll also find good rates in late fall and winter.
In summer, I like to go on Memorial Day and Labor Day weekends, when there are few conventions and the city is relatively quiet.
On peak weeks in summer, you can save money by staying at a neighborhood hotel, since most people want to be near the big festivals in Millennium Park and Grant Park.
When you decide on a location, check out hotel reviews and prices online. Pick a few hotels, then compare prices on their own websites as well as online booking sites. Remember, the hotel tax adds 16.4 percent to the room rate.
Often, newer hotels offer great rates, since they don't yet have a track record and aren't in guidebooks. They also tend to try harder than well-established hotels.
Hotels with rooftop bars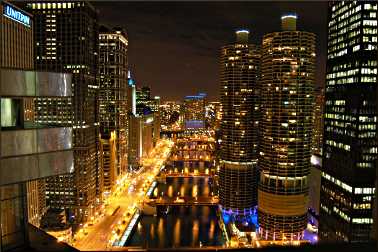 There's a new hotel opening nearly every month in rejuvenated hotels, offices, factories and warehouses.
The latest trend is more about where to socialize — on the rooftop — as it is about where to sleep.
Right on Navy Pier, the Sable Hotel includes the Offshore, which it calls the world's largest rooftop bar. It has views of Lake Michigan AND the Chicago skyline.
In River North, the Godfrey is a contemporary boutique hotel with a very popular  rooftop lounge that has a retractable roof, two-level fire pit and video wall.
In the West Loop, the Soho House has a rooftop lounge with fireplaces and a 60-foot-long open-air pool. On Michigan Avenue, the Chicago Athletic Association Hotel has a rooftop restaurant and terrace that overlooks Millennium Park and the lake, and LondonHouse overlooks the river at Wacker and Michigan.
For bigger budgets, The Langham occupies 13 floors of Mies van der Rohe's 1973 IBM skyscraper on the Chicago River, near the Trump Tower.
Still high-end but not quite as expensive: The Loews Chicago tower, two blocks from Navy Pier, and Richard Branson's Virgin Hotel, between the river and Loop theater district.
Budget lodgings
Quite a few upscale hotels become budget hotels — with rooms for less than $100 — during slow times, such as the two weeks before Christmas and deep winter.
The rest of the year, hostels are good options, especially for single travelers. All have private rooms as well as shared rooms and kitchens guests can use.
The Freehand Hotel, in a former 1927 hotel in River North, has a communal kitchen as well as bar, cafe and activities concierge. It has rather chic private rooms, even a penthouse, as well as bunks in a shared quad.
In the South Loop, Hostelling International family hostel has a carpeted great room with foosball, ping-pong and a pool table. Beds start at $32 per night per person, including breakfast.
At the Chicago Getaway Hostel near Lincoln Park, you can get a private room with shared bath or share a quad with three friends, with breakfast included.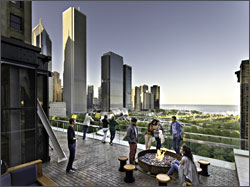 For more tips on saving money, see Cheap Chicago.
Hotels for families
The big question for families: Pool or no pool? Kids like them, but you may not get much sightseeing in if your kids just want to play in the pool.
You'll definitely want a room that includes breakfast or has a kitchenette. At Grand and State, a short walk to Michigan Avenue, the Hilton Homewood Suites has two-room suites with kitchenettes, a pool and buffet breakfast.
At State and Ohio, the Embassy Suites has a pool and rooms with mini-fridge and microwave.
The Hilton Chicago/Magnificent Mile Suites has a pool and two-room suites with mini-fridge and microwave. It's near the Oak Street Beach and two blocks from Water Tower Place, with its eight movie screens and Foodlife.
Closer to Navy Pier, the Hampton Inn Chicago/Downtown Magnificent Mile has a 40th-floor outdoor pool and includes breakfast.
In the Loop, two blocks from Millennium and Maggie Daley parks, the historic Palmer House Hilton, the city's second-largest hotel, has a pool and offers family packages.
For big families and groups, vacation rentals usually are the best deal. Airbnb and VRBOhave hundreds of properties in Chicago, with lodgings in all price ranges.
Hotels for couples
If you really like the one you're with, stay in one of the small rooms at the top of the Club Quarters on Wacker, in the 1928 art-deco Mather Tower, overlooking the Chicago River just off Michigan Avenue. You'll have a spectacular view and even a small kitchenette.
If you have a bit more money to spend, stay at the StayPineapple at Washington and State in the Loop, a block from the Christkindlmarket. The building was designed by Daniel Burnham of "Make no small plans" fame, and the rooms are beautifully appointed.
Other good values — which is to say, hotels where rooms occasionally go below $200 — include the Kinzie near the river and Michigan Avenue and the Silversmith, a block from Millennium Park.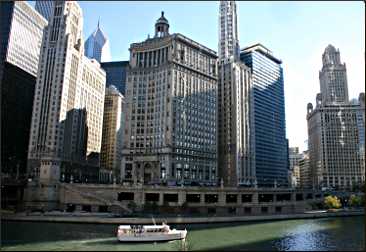 If you have a lot of money to spend, the sky's the limit. Chicago is full of beautiful and sophisticated hotels — the Four Seasons, the Peninsula, the Waldorf Astoria — with spas, trendy restaurants and every amenity and service. Expect to pay $500 and up.
Hotels in neighborhoods
It can be nice to get away from the shadows and cold winds that whip through downtown's skyscraper canyons.
Lincoln Park is a great place to stay, especially if you plan to bike along the lakefront or visit the beach. Quite a few VRBO and Airbnb places are there, as well as the Hotel Lincoln, across from Lincoln Park and North Avenue Beach.
Farther north along Lincoln Park, the Willows Hotel is near Diversey Harbor. The Majestic and Best Western Plus Hawthorne Terrace are near Belmont Harbor and not far from Wrigley Field.
You'll still find a lot of great restaurants as well as attractions, including the Lincoln Park Zoo, Chicago History Museum, Second City comedy club and Kingston Mines blues club.
For more about planning a trip, see Chicago as you like it.
Last updated on October 4, 2021