Mom-and-pop motels of Grand Marais
Cheapskates love 'em, but so do traditionalists and anyone who just needs a room.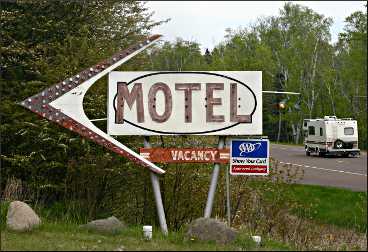 In summer, when the cities start to sizzle, a lot of people suddenly realize they'd rather be in Grand Marais.
This village on Minnesota's North Shore is awash in Lake Superior's cool breezes, and it has everything else a tourist could want — restaurants, shops, galleries, nightlife and scenery.
But it doesn't always have enough room for all of the escapees, especially on festival weekends.
"I can't believe how many people come in the day before Fisherman's Picnic and want a room," says Patty Robinson, who started the Mangy Moose Motel. "I mean, you gotta be kidding me."
Standard rooms at the best-known hotels book first and cost most on peak weekends and even more during festivals. Miss out on those and your choice may be sleeping in the car or a $450 luxury suite.
Then what do you do? Try one of Grand Marais' many mom-and-pop motels, which can't afford to advertise much but are the town's best deals if you don't require luxury.
Most of them are typical 1950s-style motor hotels with parking spaces in front. Rooms usually have two beds, a TV and a small microwave and fridge. That's all most people need.
When I was in Grand Marais one May, I paid less than $100 for an immaculate motel room at Lund's Motel and Cottages, across from the municipal campground.
It had cable TV, coffeemaker, microwave, fridge and hair dryer, and it faced not the highway but the woodsy part of the three-acre property on which Ron Lund's parents started the resort in 1937.
The genial Lund grew up at the resort — "My dad had me crawling under the cabins as a kid, helping with the plumbing" — and returned to run it when his parents retired.
"I love the place," he says. "I wish I could win the lottery, so I could keep it as it is."
Across the highway, I toured two cabins at Nelson's Travelers Rest, which has a woodsy lot from which guests can see Lake Superior. No. 5 was small but cute, with gingham curtains, a floral bedspread and a kitchenette. The two-bedroom No. 11 was not so cute, but it sleeps up to four people.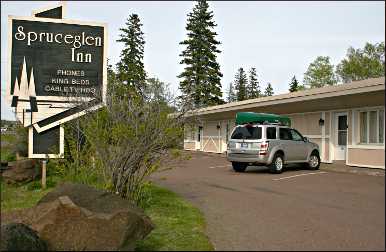 That Friday night, Nelson's was the only place in town that was full.
"I try to give people a good product for a good price, and we get a lot of repeat business," said owner Tom Nelson.
The best deal in Grand Marais may have been the rooms at the Spruceglen, on the north side of downtown. It looked a little abandoned, and the paint was peeling from the windowsills, but the rooms were clean and tidy, and guests get to use the pool and sauna at the next-door Aspen Lodge and have breakfast there, too.
The cheapest rooms at the Aspen Lodge were $30 more. I toured one on the lower level; it had the same décor plus a big picture window with a view of the lake across the street, and it was larger. For many people, that's worth $30.
The young front-desk clerk of the Aspen Lodge was friendly and helpful. But she wasn't the owner, and some people look for that.
"It's amazing how many people say they stay because they like the mom-and-pop motels," says Patty Robinson.
Here are some to consider around Grand Marais.
Trip Tips: Mom-and-pop motels of Grand Marais
When to go: May and early June are a great time to go. Weather often is great, but summer rates don't kick in until the second or three week of June. Reserve at least several months in advance for Fisherman's Picnic.
On holiday and festival weekends, rates at most places go up $10 to $50 per night.
For more about town, see Four seasons of Grand Marais.
How to choose: Every cottage and even room is different, so don't be afraid to ask to see one. Look to see if it's clean and the bed looks firm.
How to get a deal: Don't forget to ask if you can get an AAA discount. And usually, you'll get a discount for a stay of five days or more.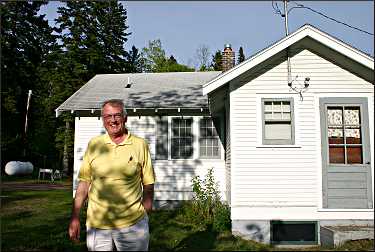 Lund's Motel & Cottages: This resort is just south of town, across from the municipal campground and a short walk from the North House Folk School and downtown.
Motel rooms are basic but as nice as they come. I like No. 105, which has a big juniper bush in front of its window so is a little more private. No. 106 is at the end, farthest from the highway.
The cabins are back from the highway on the tree-shaded property and are just as tidy, with somewhat stodgy decor. There's a fire pit guests can use.
Off-season rates are $10 to $30 lower, and Lund may shave off even more if business is slow. Call Ron Lund at 218-387-2155.
Nelson's Traveler's Rest: This cottage resort is on the highway south of town, with views of the lake across the trees and access via path. There's a fire pit and small play area.
It has nine cabins, each different, and a newer two-bedroom house. Cabins No. 5 and 6 are smallest but have kitchenettes. No. 6-7 have kitchens and wood-burning fireplaces.
A two-bedroom cabin with kitchen and deck has a wood-burning fireplace.
It also has two motel rooms with two double beds, microwave, fridge and deck. Call Tom and Patty Nelson at 800-249-1285 or 218-387-1464.
Mangy Moose Motel: This small motel is right downtown, close to the action. Rooms are compact, with an attractive knotty-pine décor, fridge, microwave and TV mounted on the wall.
Dogs are allowed in one room. Call 800-796-2975 or 218-387-2975.
And the name? Its original owners ate at a very popular restaurant in the Black Hills called the Mangy Moose, then read about a popular resort in Utah with the same name, and figured the name must be a good one.
Timberlund's Resort. This clifftop resort south of town is run by Ron Lund's brother Robert and was built by their uncle Einar Allen in 1936.
The five red-painted log cabins occupy a rock outcropping and have spectacular views of Lake Superior from their roomy decks.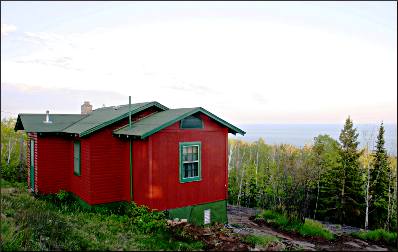 I loved No. 4, where the sink/kitchen counter, dining table and beds in both bedrooms all great lake views and breezes. No air conditioner needed here!
Décor is appealing authentic, with old snowshoes on the pine-paneled walls, hardwood floor, log bed frames and quilts.
Availability may be limited. Call 218-387-1147.
Trailside Cabins and Motel: This motel is on the south edge of town near Nelson's Travelers Rest, and it has cabins as well as rooms.
Pets are allowed. Call 218-387-1550 or 800-585-2792.
Hungry Hippie Hostel: Ten miles east of town and up County Road 14, not far off the Superior Hiking Trail, this family-run business in a renovated horse barn has inexpensive bunks and private rooms with shared bath.
It also has a small tent campground that includes Glamping Tents on wooden platforms
Outpost Motel: Eight miles east of town, this family-run 14-unit motel is across the highway from Lake Superior, and rooms have nice views.
Kitchenette suites have living rooms and one or two bedrooms, and there's a loft apartment in a separate building.
Grand Marais Hotel Co.: It's not a mom-and-pop, but this group does offer budget choices, including the Spruceglen Inn on the north edge of downtown. If you're just looking for a place to stay that's near everything, it's a good deal.
It's pet-friendly, and three of the 12 rooms are smoking. Ask for one of the rooms in the back, which face the woods, not the highway.
Rooms have microwaves and fridges, and guests get a free breakfast at the Aspen Lodge next door and use of its pool and sauna. In addition to the Aspen Lodge, the group manages the Aspen Inn and the Shoreline Inn.
Last updated on January 23, 2021