Autumn along the St. Croix
On fall days, this scenic river valley is dressed to impress.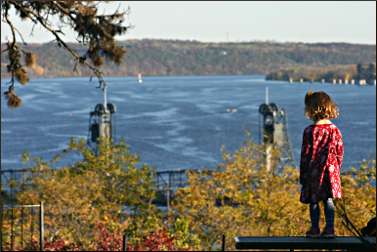 On a lovely day in fall, few places show off this region better than the St. Croix River Valley between Minnesota and Wisconsin.
The 52-mile stretch from Taylors Falls to the St. Croix's confluence with the Mississippi at Prescott has everything a tourist could want — shops, historic houses, theaters, train excursions, boat cruises.
But mostly, it has scenery — scenery I wanted to show my nieces Alissa and Livia, who had left Florida to start careers in the Twin Cities. As it turns out, the St. Croix in autumn looks awfully good to people raised in Florida.
"Wow, look at those trees," said Livi, who hadn't seen fall color since she attended grade school in Iowa.
"Do all the trees turn red?" asked her sister, Alissa. "It's so odd, having to relearn things every schoolchild here knows."
We started out in Afton State Park, half an hour east of St. Paul, strolling along the riverfront as cabin cruisers rumbled by and hawks wheeled overhead. In Afton, we stopped for ice cream.
Then we rolled northward into Stillwater, where Main Street was clogged with tourists strolling from shop to shop.
Downtown cafes were packed, so we bought sandwiches and took them up Second Street to Pioneer Park, which has a spectacular view of downtown, the river valley and the 1931 lift bridge.
After driving by some of Stillwater's ornate Victorians, we went on to Marine on St. Croix, where we took a short hike along the riverfront trail at William O'Brien State Park.
Just west of Taylors Falls, we explored Franconia Sculpture Park, and there was no such thing as a quick look — the park was packed with sculptures, and each led irresistibly to another. We had almost as much fun as the children who were tearing around the place.
"Look at this, it's a huge playground for us!" said one little girl, clambering onto an artful tangle of metal called "An Ocean Raft."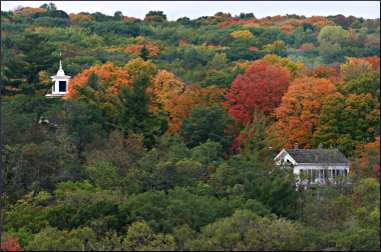 Down on the river, it seemed as if the whole world had turned out to take cruises on St. Croix paddlewheelers and explore the jutting slabs and giant potholes of Interstate State Park.
The potholes, drilled into solid rock by gravel-laced whirlpools in the last days of the last Ice Age, are the world's deepest. Near the Devil's Parlor, a father was descending to the bottom of the 35-foot Bake Oven with his toddler, who was murmuring "scary, scary, scary" to himself.
Rock climbers had affixed nylon ropes to every possible cliff, and couples sat arm-in-arm on perches around Angle Rock, where the world's largest logjam — enough logs to build 20,000 three-bedroom houses — stopped river traffic for six weeks in 1886.
By then, Livi and Alissa were learning quite a bit about logging, which made the St. Croix Valley boom in the 1850s. Before we left, I drove them up Angel Hill to the Folsom House, an 1855 Greek Revival built by a lumber baron and now owned by the Minnesota Historical Society.
We barely caught our train over in Osceola, Wis., where volunteer train buffs from the Minnesota Transportation Museum run Osceola & St. Croix Railway excursion trains.
As soon as we got on, the 1946 diesel locomotive left the 1916 depot, pulling seven vintage cars along the river bluffs and then across the river and through William O'Brien State Park.
We passed beaver lodges and cattail marshes, shady ravines and meadows full of wildflowers. Back at the depot, children ran along unused tracks and into an old caboose.
In Osceola, we went downtown to see 25-foot Cascade Falls, a tourist attraction since the 1880s, then drove down the Wisconsin side of the St. Croix to Hudson.
Since the turn of the century, Minnesotans have made Hudson a party town, crossing the border to enjoy various pleasures forbidden at home — prizefighting, gambling, fireworks, drinking.
Today, however, the saloons in the brick storefronts on Second Street are being crowded out by new restaurants, espresso cafes and home-accessories shops.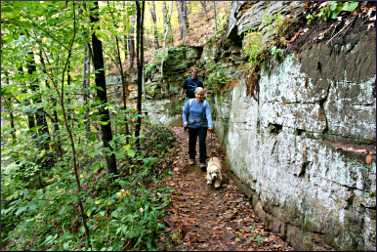 We walked out onto the city's old toll bridge, now a pedestrian path, then headed home. We hadn't seen everything on the St. Croix, but we saw enough local color to impress the ex-Floridians.
"No, we don't have anything like this in Florida," Livi joked. "Just palm trees and alligators."
Trip Tips: Fall in the St. Croix River Valley
2023 events: Sept. 23, Art and Artists Celebration at Franconia Sculpture Park. Sept. 23-24, Afton Art in the Park and Spirit of the St. Croix Art Festival in Hudson. Oct. 7-8, Rivertown Fall Art Festival in Stillwater. Oct. 7-8, Apple Festival at Carpenter Nature Center near Hastings. Oct. 14-15, Harvest Fest in Stillwater.
On weekends in October, hayrides, corn mazes and other festivities are held at Afton Apple and Fischer's Croix Farm Orchard south of Afton.
Interstate State Park in Taylors Falls offers guided glacial pothole tours and other naturalist programs.
Stillwater trolley rides: The Stillwater Trolley Co. offers 50-minute narrated tours daily through October. Tours also are given on nice weekends in November. Trolleys leave from behind the Freight House Restaurant. 651-430-0352.
Osceola & St. Croix Valley Railway, Osceola, Wis.: From the little depot in Osceola, volunteers of the Minnesota Transportation Museum run excursions to Dresser, Wis., and across the river to Marine on St. Croix.
On Saturdays and Sundays through October, 1½-hour trips go to Marine on St. Croix and 45-minute trips leave for the 1889 depot in Dresser.
On some Saturdays, trains serve pizza or dinner. For other special trains, check the schedule. 715-755-3570.
Taylors Falls Scenic Boat Tours: Excursions are offered daily through mid-October.
Franconia Sculpture Park: It's at the junction of Minnesota 95 and U.S. 8. Sculptures change every year.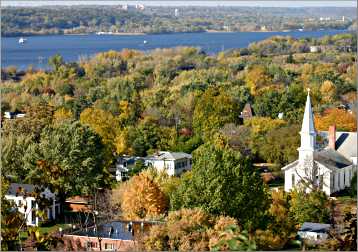 At other times, maps for self-guided tours are available in the information house. It's open daily from dawn to dusk.
State parks: Between the confluence with the Mississippi and Taylors Falls, sightseers on the Minnesota side pass Afton State Park in Afton, William O'Brien State Park in Marine on St. Croix and Interstate State Park in Taylors Falls.
On the Wisconsin side, they pass Interstate State Park in St. Croix Falls, across the river from Taylors Falls, and Kinnickinnic State Park north of Prescott.
Trails at Wisconsin's Interstate Park have the best view of the river valley. It's the western trailhead of the Ice Age National Scenic Trail, and its Ice Age Interpretive Center is well worth a visit.
Apple orchards: On the Minnesota side of the river between Afton and Hastings, Afton Apple on 90th Street and Fischer's Croix Farm Orchard on St. Croix Trail have farm animals and pick-your-own apples, raspberries and pumpkins and, on the weekends, hayrides and a corn maze.
There are additional games, demonstrations and entertainment during St. Croix Valley Apple Fest, the first two weekends of October.
Near Franconia Sculpture Park, off U.S. 8 or Minnesota 95 west of Taylors Falls, Pleasant Valley Orchard offers pick-your-own weekends with hayrides, farm animals, nature trail and a picnic area with sweeping views of the St. Croix Valley.
Nightlife: In St. Croix Falls, the Festival Theatre puts on plays and concerts year-round.
Information: For more about the individual areas, see Excursion to Stillwater; Sightseeing on the St. Croix, about Taylors Falls; and Trail mix in St. Croix Falls.
Last updated on February 3, 2022