Horror around the corner
Spoiling for a fright? For Halloween, ghouls lurk in strange places.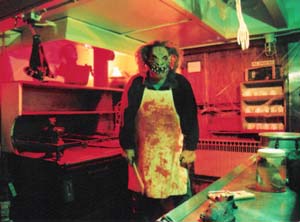 It began with a sepulchral fugue, crashing through the frigid steel corridors. Then there was a shriek. And throbbing blood-red lights.
At a fork along a curtained gantlet, a hand-lettered sign advised, "Choose wisely." We chose. Another sign said, "You chose poorly." Then the ghouls began to crowd in, chattering like monkeys: "Where you goin'? Where you goin'?"
A skeleton slowly turned to face us. We climbed a Plexiglass ramp over an open coffin and into an electrocution chamber. A tortured face poked out of the wall. Behind us, the tunnel closed.
A haunted house? No, a haunted ship — a real claustrophobe's nightmare.
There are a lot of haunted houses around Halloween, but why not try something more original — say, a haunted lighthouse, train, mine or fur post. Here's where to go to be scared out of your socks.
Haunted cruises
From Navy Pier in Chicago, the Seadog speedboat offers 75-minute Haunted River tours of the Chicago River in October, with commentary of the city's most haunting mysteries and legends.
Halloween is huge in Chicago; for more, see Halloween in Chicago.
Haunted trains
In Green Bay, the Impaler stalks the National Railroad Museum, where Terror on the Fox includes a ghoulish ride on a vintage train, a forest maze and attractions with Animatronics.
Tickets benefit charities. On Kids Days, a child ticket is discounted.
In Mount Pleasant, Iowa, rides on the Ghost Train of No Return and Ghostly Trolley are unlimited . . . and unearthly. The Midwest Haunted Rails operate Fridays and Saturdays the last three weekends of October.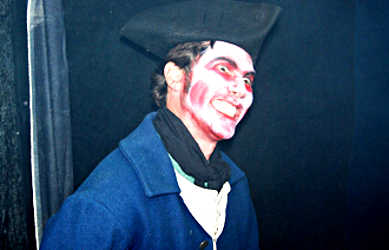 Haunted trollies
In Stillwater, Minn.. hear the shocking true tales of this historic river town on the Haunted History Trolley on October weekends, operated by the Zephyr Theatre.The package includes a drink, haunted movies and a scavenger hunt with prizes.
From the Fox River Trolley Museum in South Elgin, Ill., the Ghost Story Train runs the last three Saturdays of October, $16.50 including s'mores.
In Minneapolis , the Como-Harriet Streetcar offers a variety of Halloween rides in October: the Transylvania Trolley, Trick 'r' Trolley, Graveyard Ghost Stories, the Streetcar Named Expire ghost trolley and the adult-only Late Show: The Phantom Trolley.
Haunted fur-trade forts
On the south end of the Mackinac Straits in Mackinaw City, Mich., skeleton Redcoats patrol Fort Michilimackinac, and werewolves lurk along the palisades.
Walk a trail lit by lanterns and listen to French voyageurs tell eerie tales the first weekend of October, when the fort becomes Fort Fright.
At the Snake River Fur Post on the Snake River in Pine City, Minn., guests are given clues and invited to solve the annual Mystery at the Fur Post.
In Thunder Bay, Ont., ghosts and various sinister characters take over labyrinthine Fort William Historical Park, where guests are led by candlelight during Haunted Fort Night, for ages 12 and up.
It's Thursdays-Sundays through October. Reservations are required, 807-473-2344, and the tickets always sell out.
Haunted ships
On the western shore of Lake Michigan in Manistee, Mich., the 80-year-old S.S. City of Milwaukee, which once transported whole freight trains across the Great Lakes, becomes the Ghost Ship.
It's open Friday and Saturday nights in October.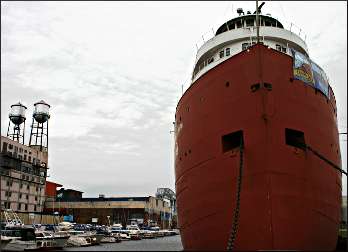 In Duluth, the 610-foot ore carrier S.S. William A. Irvin once was the Great Lakes flagship of U.S. Steel. But in October, it's taken over by university theater students, who take full advantage of its narrow hallways and rooms full of hidden nooks and crannies, turning the Irvin into the Haunted Ship.
Haunted high ropes course
Are your Halloween plans up in the air? Imagine walking on a cable three stories above the forest floor, with nothing to hang onto except a rope swaying overhead. Now imagine doing it at night, helped along by ghouls.
That's the Trick-or-Treetops course at Eagle Bluff Environmental Learning Center, just west of Lanesboro, Minn., on a bluff overlooking the North Branch of the Root River.
Haunted lighthouses
Haunted Lighthouse Weekend at the 1876 Tawas Point Lighthouse in Michigan's Tawas Point State Park, on Lake Huron, is held in early October. There are nighttime lighthouse tours, plus family-friendly events: carnival games and prizes for kids, hay rides and a spooky cemetery with special tombstones.
On Lake Michigan, the basement of Grand Traverse Lighthouse in Northport, Mich., is haunted in late October, with (less) spooky tours of the main floor of the keeper's quarters, plus games and an outdoor treasure hunt.
The 1866 lighthouse in Ontonagon, Mich., 12 miles east of Porcupine Mountains Wilderness State Park on the Upper Peninsula, will be the scene of a wake for a young woman who died of diphtheria in the lighthouse in 1885.
Warning: You'll see dead people. Shows are offered the weekend before Halloween by the Ontonagon Historical Museum. Reserve at 906-884-6165.
On the Lake Michigan side of the Upper Peninsula east of Manistique, Seul Choix Point Lighthouse is said to be haunted by a keeper who died there in 1910, and smoke from a phantom cigar often is detected.
Seul Choix Bay, on which the light sits, was named by French explorers because it was the "only choice" for haven in a storm.
Haunted copper mine
Haunted copper mine in Hancock, Mich . There's nothing more claustrophobic than a mine, so watch who you run into on the Haunted Tours of the Quincy Mine in Hancock, on Michigan's Keweenaw Peninsula.
Last updated on October 13, 2021