Halloween in Chicago
During scary season, this fun-loving city pulls out all the stops.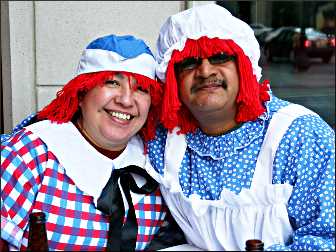 In high-spirited Chicago, Halloween is the most spirited weekend of the year.
We didn't know that before we arrived one Halloween weekend, but then a few thousand Smurfs, zombies and cowboys bicycled past us on the monthly Critical Mass ride through Lincoln Park.
A pirate skull was perched on the turnips the next morning at the farmers market, and we saw oversized ghouls and witches waving from the windows of mansions. Downtown, orange gushers rose from the fountain in Daley Plaza.
By Saturday afternoon, nearly everyone was in costume. On Rush Street, we chatted with Raggedy Ann and Andy, and we spent a jolly evening with Elvis and Darth Vader in a Lincoln Park bar.
We came dressed as Lame Tourists, but no one seemed to mind.
By 4:30 p.m. on Halloween Eve, costumed trick-or-treaters were mobbing the manors of the Gold Coast, which were passing out lavish boxes of candy by the hundreds.
We had no idea Halloween was that big in Chicago, but we were glad we'd stumbled into it.
"It's therapy time," said George Garcia, owner of Fantasy Costumes in the Portage Park neighborhood. "In this crazy world, people just want to have fun. They don't have to buy gifts for anyone, they can do it just for themselves."
Garcia's store, which he started out of his car more than 50 years ago, now occupies an entire city block and is open 24 hours a day in the 10 days leading up to Halloween.
"Halloween is big, it's huge here," he says.
Why Chicago? He didn't know.
It could have something to do with the city's history with gangsters and one especially unsavory serial killer, made famous by the best-seller "The Devil in the White City."
At least four companies offer ghost tours year-round, and the Chicago Architecture Foundation offers walking tours of three cemeteries and "Devil" bus tours of the White City, the nickname of the grounds built for the 1893 World's Fair.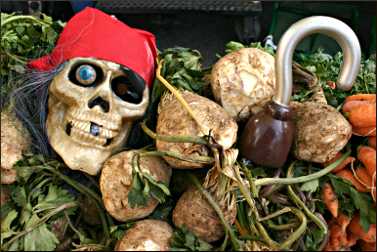 But most of the fun is family-style. The park district opens a haunted beach house, and museums join in, with Shedd Aquarium even offering a Spooky Seas sleepover.
We did know about the big city celebration, so that was on our schedule. First, we went on a Chicago Food Planet tour that took us into the neighborhoods north of downtown, where we were surprised to see so many houses sporting giant spiders, skeletons and carved pumpkins.
The stateliest and most historic houses had the most over-the-top decorations. On the Gold Coast, the yard of one mansion featured a two-story witch riding a broomstick amid hay bales.
In Mid-North, one of the few neighborhoods with houses that survived the Great Chicago Fire of 1871, ghouls hung from the second-story windows of neighboring Victorians that were wrapped with cobwebs and police tape.
The yellow house, said our guide, Lauren McCabe, supposedly is haunted by people who didn't survive the fire. It's one of the many legends that fuels Halloween in Chicago.
"This is the biggest holiday next to Christmas," McCabe said. "I can't tell you how much candy gets sold. It's phenomenal."
By Saturday afternoon, the bars along Rush Street were filled with costumed revelers. We settled into Local Option, a craft-beer mecca in Lincoln Park that endeared us with the slogan painted on its walls, inspired by German cigarette warnings: "Scheiss Bier kann tödlich sein," or, "Crappy beer can kill you."
The other patrons provided the entertainment. A bunch of roller-derby girls clattered by, and Popeye and Olive Oyl did the limbo next to the bar.
A man dressed as a baby came in, with sunglasses and a cigarette duct-taped to his mouth, and the staff obligingly found him a high chair. The Blues Brothers and Bert, Ernie, Big Bird and Oscar were there, too.
The next day, we headed downtown. We'd missed the costume contest, hay rides and trick-or-treating, but the party was going strong. Little kids in costume scurried around, a stilt walker roamed the crowd and a storyteller was telling Not So Scary stories.
The most fun was on stage. Robin and Tim Balster's Sheer Magic show was a series of classic illusions, including the cheerfully cheesy chestnut in which Robin was stuck in a box and sawed in half — not!
Then we got to watch the Midnight Circus, whose charismatic performers presented a fast-paced collection of acrobatics, pratfalls, unicycle tricks, juggling, jokes and exploding confetti bombs. We definitely would have felt we got our money's worth, except it was free.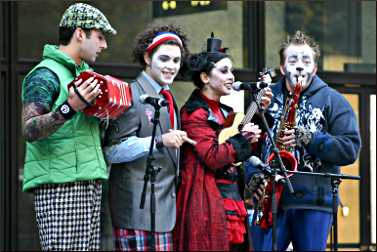 We left before the Chicago Dance Institute started teaching Michael Jackson's "Thriller" dance and the Pyrotechnic fire and dance theater started.
Trick or treating had started in the million-dollar rowhouses and mansions on the Gold Coast. At one, big rubber gloves filled with candy hung from the wrought-iron fence by colored satin ribbons.
Smoke bubbles wafted from the balcony, where a soft-sculpture witch danced to music.
In one yard, a party of costumed adults was sitting around a table full of bottles. Occasionally, the hostess got up for trick-or-treaters.
"We pass the stupid candy off on them, and we drink the wine," she said.
We wished we had a passel of cute kids to collect candy for us, but we didn't feel too bad, because we'd already bagged free treats at the high-end Hendrickx Belgian Bakery.
It was because we'd bought the last pistachio croissant, and it was the end of the day. But we noticed that many Gold Coast shops hand out treats, at least to those who ask nicely.
At Halloween, Chicago is a remarkably generous town. Next time, we'll bring costumes.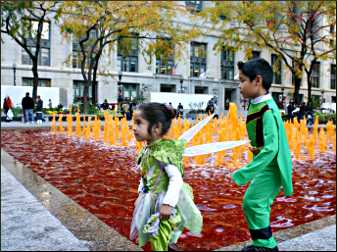 Trip Tips: Chicago for Halloween
Arts in the Dark Halloween Parade : The city now celebrates Halloween with a cultural festival and parade along State Street, with live music, dance, floats and giant puppets. In 2022, it's on Oct. 29.
In the Northalsted neighborhood, there's a parade and costume contest Oct. 31 on Halsted Street, between Belmont and Addison. Other events include a zombie bar crawl.
Halloween at Navy Pier: Navy Pier is lighted by a thousand pumpkins in October. On Saturdays in October, there are costume contests, circus acts, strolling actors and movies.
Chicago History Museum: This Lincoln Park museum offers tours by foot, trolley and bus to cemeteries and infamous crime scenes, such as the Devil in the White City and Leopold and Loeb murders.
They sell out fast, so reserve as early as possible.
Chicago Park District: It holds many parties and haunted houses, plus scary movies with a campfire and roasted marshmallows on Northerly Island Park.
Day of the Dead: The National Museum of Mexican Art celebrates Day of the Dead Xicago Oct. 29, and there's a Dia de los Muertos celebration Oct. 30 at Maxwell Street Market.
Other events: Many museums and attractions offer special programs in October, including the Lincoln Park Zoo, which holds its Spooky Zoo Spectacular for kids.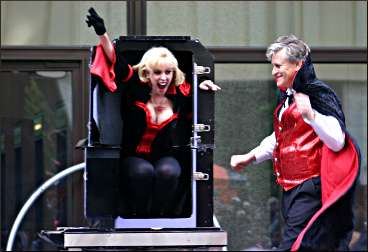 At Shedd Aquarium, an Asleep With the Fishes sleepover for families, Oct. 28-29, is $85 per person, including breakfast and dinner.
Devil in the White City tours: The Chicago Architecture Center often offers a 3½-hour bus tour that explores the links between the 1893 Columbian Exposition in Chicago and serial murderer Henry H. Holmes.
Cemetery tours: The Chicago Architecture Center offers two-hour walking tours of Graceland Cemetery and occasional tours of Rosehill and Calvary cemeteries.
For more about Graceland, see Tales of the dead.
Ghost tours: Reserve early for weekends and Halloween. Here's Choose Chicago's list of Halloween events and tours.
Free Tours by Foot offers two-hour Ghost Tours; reservation only.
Chicago Hauntings Tours offers ghost tours in Chicago neighborhoods, including Devil and the White City tours, and also in Naperville and Aurora.
Weird Chicago Ghost Tour offers Devil and the White City and other haunted history tours, by foot and by bus.
Planning a trip: Late October is the off season, so it shouldn't be too hard to find air fare and lodgings at a good price.
For more, see Where to stay in Chicago.
For tips on planning a budget trip, see Cheap Chicago.
For more about the city, see Chicago stories.
Last updated on October 22, 2021