Destination: Dubuque
A once-shabby Mississippi River town now is a tourists' playground.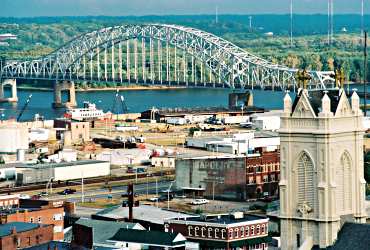 For much of its existence, Dubuque, Iowa, has been a little short on charisma.
It started out well, with a lead-mining boom and eight breweries and Victorian mansions filled with millionaires.
But it faded into obscurity. For years, its last brewery sat empty next to the 1856 Shot Tower, where laborers once turned molten lead into bullets and cannonballs by dropping it through screens into cool river water.
Dubuque does have Iowa's three oldest churches, its three oldest colleges and its only courthouse with a gold-leaf dome. It still has its historic mansions and spectacular cityscape views from the world's shortest and steepest railway.
But to some tourists, Dubuque is a Peoria, a synonym for stodgy middle America. They'd rather drive across the river to shop in Galena, or see the famous "Field of Dreams" site in nearby Dyersville.
But Dubuque is a backwater no longer. These days, it's calling itself "Masterpiece on the Mississippi."
Just as in Minnesota's port city of Duluth, people were raring to get at the water. In Dubuque, there was already a riverboat casino moored in the Ice Harbor, and a riverboat museum.
But there was no place for people to hang out on the riverfront, strolling along and watching the towboats and paddlewheelers go by.
They got that and more.
Borrowing the most famous line from "Field of Dreams" — "If you build it, they will come" — a city-sponsored partnership brought in a riverfront resort and water park, a national river museum and aquarium and a handsome glass-and-stone events center.
The Riverwalk, paved in pink and cream stone, connects them all.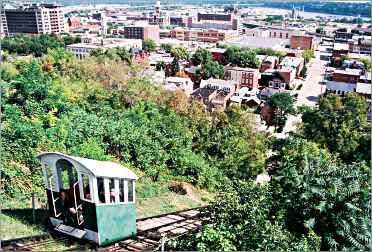 From the Ice Harbor and a plaza where the Mississippi Queen and her sisters dock, the path follows the river-edge dike to an amphitheater in front of the ornate 1899 Dubuque Star Brewing Co., which now houses Stone Cliff Winery and Tasting Room.
Dubuque isn't so stodgy anymore. And sure enough, the people are coming.
Dubuque always has been blessed geographically. When my son and I were driving to the top of the Fenelon Place Elevator on a September trip, he looked around and said, "Geez, I feel like we're in San Francisco."
On the side of a wooded bluff, two little rail cars run up and down, the legacy of a banker who, in 1882, decided he needed a faster way to get home for his noontime meal and nap.
Today, the little cars pulls tourists up a 65-percent grade toward a magnificent view of Wisconsin, Illinois, the river valley and the steepled downtown, surrounded by hills thick with Victorian manses.
"They call this little Rome, because it's built on seven hills, like Rome, Italy," said the cable-car operator, who said he used the cars himself to deliver newspapers when he was a boy.
Far below, we could see a paddlewheeler pulling out of the Ice Harbor for its dinner cruise. Speedboats carved white wakes on the river, and cars streamed across the elegant Julien Dubuque Bridge.
We watched, mesmerized, as the last rays of sunlight lit up the gold dome of the 1891 courthouse and the white spires and turrets of churches; the heavily Catholic town of 59,000 is famed for its large numbers of churches and even greater proportion of taverns.
Dubuque's neighborhoods, lined with sturdy brick storefronts, have an uncanny 1950s quality and have been used in movies, filling in for blue-collar Boston in "Field of Dreams."
Since 2016, though, they've looked a little different: Nearly 40 beautiful murals have been painted on historic on brick buildings, thanks to a volunteer arts organization.
Change is particularly striking along the riverfront.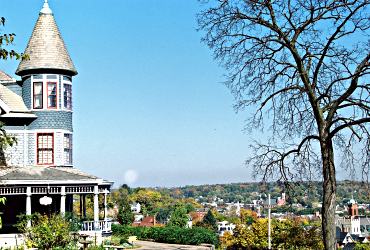 When we got to the seven-story Grand Harbor Resort, families were arriving loaded with coolers and bags of snacks, as if for a slumber party.
In the 25,000-square-foot indoor water park, children were flocking to a deejay who was conducting hula-hoop competitions and trivia contests, complete with microphones for contestants and neon digital scores.
The resort is pretty classy, and not just for Dubuque. Its staff includes friendly concierge/porters, and when we asked about trolley tours, one gave us the cell-phone number of the operator and told us to call for a pick-up right in front of the hotel.
That's what we did the next day, touring the city in the drizzle with a driver who filled us in on the town's fortunes since the 1788 arrival of Quebecois fur-trader Julien Du Buque.
Du Buque mined lead with the permission of the Mesquakie, under the aegis of Spain, until his death in 1810.
Settlers came in the aftermath of the ugly Black Hawk War, and Missouri farm boy Mathias Ham began pulling millions of dollars in lead ore from the earth.
After the Civil War, mining slowed and the big fortunes were made by lumber barons — Henry Stout, king of the Wisconsin pineries — and such entrepreneurs as A.A. Cooper, whose covered wagons carried pioneers over the Oregon Trail.
We got off the trolley at the National Mississippi River Museum & Aquarium, on the Ice Harbor. It's on the site of the Dubuque Boat & Boiler Works, founded as the Iowa Iron Works in 1851 and once the nation's largest shipbuilder on inland waters. It closed in 1972.
The museum is quite a place. In its movie theaters, we watched towboats push barges through locks and Ojibwe bend stalks of wild rice into canoes. We listened to delta blues and zydeco and felt vibrations from the New Madrid earthquake of 1811.
In the virtual pilothouse of a towboat, we watched fellow tourists smack their barges into a bridge pier, despite having been warned it takes a tow a mile and a half to stop even at 9 mph.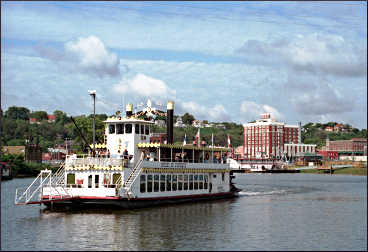 We stood at the erosion table and pushed buttons to make rain fall and rivers flow faster. Kids especially love the waist-high table, on which tiny farms and houses sit atop sand plateaus, sometimes falling to floods or erosion.
In the bayou aquarium, an alligator draped itself over the prow of a wrecked rowboat, and a giant snapping turtle waved its fleshy yellow legs, skin as thick and wrinkled as an elephant's.
Many river denizens are amazingly prehistoric-looking; in another aquarium, beady-eyed paddlefish swam alongside shovelnose sturgeon and longnose gar.
Our favorite spot was the River Wetlab, which made me feel like a kid again, fooling around in a creek.
We held mussels, watched crayfish poke themselves in the eye and touched hard pink clumps midway up the stalk of a cattail — real snail eggs.
As it turns out, an afternoon is not long enough to see everything at the National River Museum.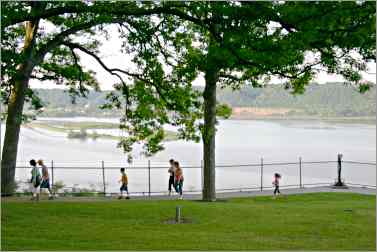 We had to make a quick tour of the older riverboat museum, which had a nifty 1/8-scale model of the third Dubuque steamboat and a life-size Marquette and Joliet in a canoe and a clammer in a johnboat filled with mussels.
Out back, we walked past the otter tank to the wetland, filled with ducks, and past a wigwam to the 1934 William Black, a steam-powered dredge.
The next morning, the sun had returned. Looking out our window, I saw the Robin B. Ingram pushing its cargo upriver through the railroad swing bridge, soon followed by the Penny Eckstein. Soon the Riverwalk filled with boat-watchers, dog-walkers and Sunday strollers.
It's odd that most cities along working rivers have ignored their waterfronts for so long. Because when they can, the people come.
Trip Tips: Dubuque, Iowa
2023 events: Jan. 14-15, Ice Fest at the River Museum. April 26-30, Julien Dubuque International Film Festival. Aug. 5-6, Dubuquefest fine arts festival. Sept. 8-10, Dragon Boat Festival.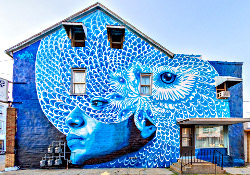 Accommodations: Grand Harbor Resort and Waterpark is close to everything and good for families.
On a blufftop estate near Eagle Point Park, the 1908 Four Mounds Inn is a beautiful Arts and Crafts non-profit bed-and-breakfast inn and conference center. Go for the Majestic River Suite and its airy sleeping porch unless you're bringing your family, in which case the Marvin's Gardens cabin would be very nice.
The renovated Hotel Julien Dubuque downtown, formerly the Julien Motor Inn, now is a boutique hotel with 133 rooms, pool, restaurant and spa.
Handsome B&Bs occupy historic mansions in town: the 1891 Queen Anne Hancock House, the 1883 Stick-style Richards House and the 1894 Queen Anne Redstone Inn & Suites.
Dining: The classy Pepper Sprout at Fourth and Main serves Iowa classics with a sophisticated touch, 563-556-2167.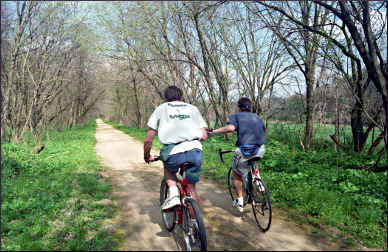 Also downtown, L. May Eatery serves wood-fired pizza and such "gourmet comfort food" as lobster lasagna, maple-glazed salmon and pork osso buco with Grand Marnier sauce.
The patio of Stone Cliff Winery in the old Star Brewery building is a nice spot to have a glass of wine or beer and appetizers. It also offers live music.
Murals: Nearly 40 striking murals adorn brick buildings downtown.
Nightlife: The Five Flags Center downtown hosts local and touring musicians and events.
The 1889 Grand Opera House downtown hosts community theater and dance.
On the West End, the Bell Tower Theater puts on dinner theater.
Diamond Jo casino: Besides 1,000 slots and 22 tables, it's got a 26-lane bowling alley, a steakhouse and three bars, including the three-level Mississippi Moon Bar, a showcase for national headliners.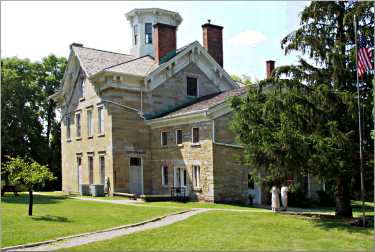 The casino doesn't include hotel rooms, but visitors can stay next door at Grand Harbor Resort; ask for the  Diamond Jo rate.
National Mississippi River Museum & Aquarium: It's open daily, $23.95, $17.95 children 3-17, with films extra. Check for special events.
Cruises: The American Lady yacht offers sightseeing and dinner cruises from May through October.
The Celebration Belle paddlewheeler is based in Moline but offers some all-day cruises from Dubuque to other Mississippi River towns.
Fenelon Place Elevator: The railway, off Bluff and Fourth streets, is open April through November, $4 round-trip, $2 for children 5-12.
Bicycling: From the north edge of Dubuque, the 26-mile Heritage Trail winds through the Little Maquoketa River valley to Dyersville.
Nearby attractions: The Field of Dreams movie site in Dyersville, 25 miles west of Dubuque, is open daily from April through November. Admission is free.
Sixteen miles to the southeast, the Illinois town of Galena is a favorite destination of its shops, historic sites and scenery.
For more, see Galena getaway and Outdoors in Galena.
Information: Dubuque tourism, 800-798-8844.
Last updated on January 17, 2022