Father Baraga's cross
Off Minnesota's North Shore, the Snowshoe Priest had a close call.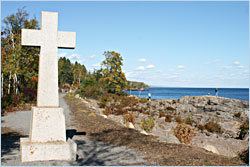 Only tough guys lasted for long around Lake Superior, and Father Frederic Baraga was one of them.
The Slovenian priest arrived in 1831 and spent a long and frenetic life canoeing and snowshoeing between Ojibwe settlements in Sault Ste. Marie in Michigan; Grand Portage on the northeastern tip of Minnesota; and La Pointe on Wisconsin's Madeline Island.
One day in 1846, Father Baraga, learning of a possible epidemic among the Ojibwe in Grand Portage, set out from Madeline Island in a small boat with an Ojibwe guide.
A terrible storm arose, but they were blown over a sandbar and into the quiet mouth of the Cross River, where the town of Schroeder is today.
In thanksgiving, they erected a small wooden cross at the site. Later, it was replaced by a granite one.
The Snowshoe Priest, who compiled an Ojibwe dictionary in his spare time, became the first bishop of Upper Michigan and lived until 1868. He's buried in the 1890 Romanesque cathedral of Marquette, where efforts are under way to canonize him.
The Cross River is at Mile Marker 78, or 78 miles from Duluth's Canal Park. It's five miles south of Tofte.
Last updated on October 15, 2012