Lake break in Bemidji
A historic northern-Minnesota resort is a great place for a low-key, low-cost getaway.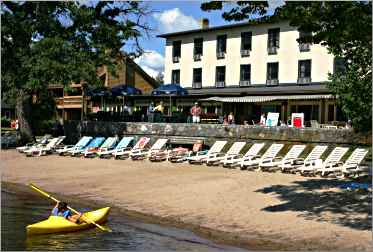 In the Upper Midwest, there's nothing better than a week at the lake.
But summer — or vacation, anyway — doesn't last long. And while there's nothing better than a week, a few days can be almost as good.
My favorite escape is to Ruttger's Birchmont Lodge on Lake Bemidji. Like many of its guests, I first went after dropping off my son at the nearby Concordia Language Villages.
Spread along the northwest shore of Lake Bemidji, Birchmont Lodge was started by a local logger in 1915. In the freewheeling 1920s, it catered to the carriage trade; guests came from Texas and Oklahoma and often brought chauffeurs and maids.
Today, the resort still has a feel of old-fashioned gentility, and its 1921 white-frame lodge still is the center of activity.
After eating dinner in downtown Bemidji, my husband and I checked in, dropped our bags and borrowed tennis racquets and balls from the friendly young women at the desk.
We played on the resort courts until it was too dark to see, then walked along the tree-shaded beach, settling into chairs to watch a fat orange moon rise across the lake.
In the indoor pool complex, we sat in the hot tub and swam until it closed, then went back to the beach.
Returning to the lodge, we went upstairs to a room flooded with moonlight and slept with our big window open to the lake breeze.
In the morning, we helped ourselves to waffles, yogurt, watermelon and freshly made doughnuts and cinnamon rolls in the dining room. We took a table on the flower-lined patio, so we could look at the big lake.
On the beach, the sand felt warm between my toes, and I was tempted to stretch out with a good book.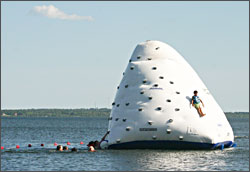 Instead, we rented mountain bikes from the boathouse attendant and rode around the lake to Lake Bemidji State Park, passing its curved sand beach on our way to the Paul Bunyan State Trail, which starts there.
The 115-mile paved trail winds down the east side of Lake Bemidji, crossing the Mississippi River as it leaves the lake and heads east to Cass Lake and Lake Winnibogoshish, where it finally turns south.
Near the trestle bridge over the river, we watched loons bobbing in the rushes, and a deer let me get so close I thought it wanted a handout.
Back at Birchmont Lodge, things had picked up. Children were playing, adults were sunning on inflatable rafts, and waiters were serving drinks to people sitting under umbrellas on the patio.
It nearly killed us to leave, but we had a meeting that night in the Twin Cities. We hadn't known how much we would like the well-run lodge and its low-key, comfortable atmosphere.
I've since gone up for three more midweek stays, each time getting a great deal.
Villas and cottages cost more, and are a good deal for larger parties, but we liked our lodge room; it was small, but with such a pretty view of the lake from the picture window, who's looking at the room?
Besides breakfast, rates include use of tennis courts, indoor pool, hot tub, sit-on kayaks and, of course, the long beach on Lake Bemidji, which includes an inflatable iceberg climbing structure that teen-agers love.
The lodge was run by the Ruttger family from 1937 until 2018, when Randy and Tina Ruttger sold the resort to Mark and Karrie Nelson, who previously ran a family resort on Cass Lake.
Starting in 2019, the lodge will stay open all year, with enlarged guest rooms, an expanded dining room and, for the first time, an elevator for those who don't want to climb two flights of stairs.
It's the end of an era.
Trip Tips: Summer break in Bemidji, Minnesota
Lodge rooms at Ruttger's Birchmont Lodge in Bemidji include a big breakfast and all resort amenities and activities.
It has an excellent location, between lovely Lake Bemidji State Park and downtown Bemidji, with its restaurants and the professional Paul Bunyan Playhouse ; don't miss its excellent plays and musicals. There's a golf course just up the road.
The 17-mile loop around the lake is an excellent bicycle ride, and the resort rents bikes. For more, see Bicycling around Lake Bemidji.
Cottages are spread out along a long, sandy lakefront studded with trees, and there's one for every budget. Reserve at 888-788-8437.
For more, see Bemidji's behemoths and Bicycling the Bunyan.
Last updated on April 4, 2019