Planning a family reunion
It's tough to please everyone, but the rewards are huge.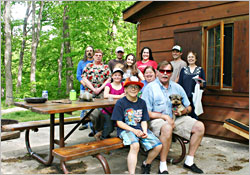 I applaud anyone who takes on the job of planning a family reunion.
When more than a few branches of a family are involved, planning a reunion requires the strategic skills of a general, the diplomacy of an envoy and the social agility of an emcee.
In other words, plan carefully, because it's hard to make everyone happy.
First, find out what people really want. Are they expecting to spend most of their time reacquainting themselves with far-flung family members, or more time acquainting themselves with the golf course and swim-up bar?
Next, think about cost. Failure to accommodate even one family on a budget can result in lasting resentment that poisons the family well rather than replenishes it.
It's easiest to choose a destination everyone can afford. But when Coloradans Mary Beth Solano planned a family reunion at Snow Mountain Ranch, they asked some of the families in their 55-member group to give a little extra, so others wouldn't have to pay so much.
"Keep a careful record of who pays what," Solano adds. "I sent out a newsletter once a month, telling people what the prices were."
When money is tight, choose a resort with cabins or condos with kitchens, so those who need to can prepare their own meals.
For more, see Cabins for a crowd. Houses rented through Airbnb or VRBO often sleep 20 or more people, and the per-person cost is low.
For more, see Adventures in renting.
Try to come up with a location everyone can get to easily. LaVerne Pasko of Palatine, Ill., saw Great Wolf Lodge in the Wisconsin Dells while making the seven-hour drive to the Twin Cities; it was exactly halfway.
"Half of our family is in the Twin Cities and half is in Chicago, so that was perfect," she says.
When choosing a resort, pay only for what you'll use. If there aren't any small children in the group, there's no sense in choosing a place where child care is included in the price.
The same goes for resorts that include greens fees and such expensive activities as water-skiing, unless you've got golfers and water daredevils.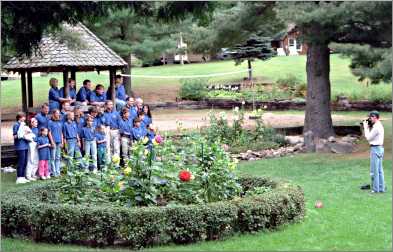 Take an inventory of interests. In Nancy Reynolds' family, for example, three of her husband's brothers love to golf and fish, and the 13 children love to swim.
But the Minneapolis pastry chef likes resorts that are near antique shops and interesting little towns she and her sisters-in-law can explore.
"If you just had to go and stay in one place," she says, "that would be missing the boat." Identifying interesting spots nearby is especially important for family reunions that, like Reynolds', last more than three days: A little jaunt can cure a case of too much togetherness.
Don't forget to poll family members on privacy, too. Reynolds admits she's picky about that: "I don't want to be tiptoeing around someone who's sleeping late."
If privacy is an issue, choose a resort that offers a variety of lodgings, such as four-bedroom condos for families who don't mind a gaggle of cousins running in and out, and one-bedroom condos on the other end of the resort for those families who prefer a quieter retreat.
Trip Tips: Planning a family reunion
The nuts and bolts of planning a family reunion start after a location is chosen. If you choose a big resort, it likely has staff members who are happy to help with the planning. Still, there are several things to keep in mind:
Start early. Six months may be enough lead time, but a year is better, especially if a reunion is planned for July or August. At YMCA of the Rockies' Estes Park Center, for example, it's best to reserve two years in advance.
Designate one person to be the family representative. For their Colorado reunion, Jill Faskin was the contact for the resort and Mary Beth Solano was the contact for the family. "It eliminated a lot of confusion," Solano says.
Ask many questions. Find out what's included in the price (of course, always negotiate for a special group rate). Learn what activities are available and make sure they'll be offered when you're there. See if the resort offers baby-sitting.
Ask if there will be construction going on. Is the beach sandy or grassy, and does it have a gradual entry or a steep drop-off? Is the ocean surf too rough for small children?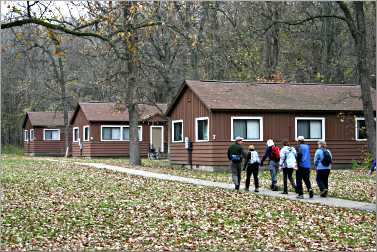 Ask about potential pests. Around the Great Lakes, ask if black flies will be around when you are. In Florida, ask if the insects known as no-see-ums are a problem, and whether hurricanes will be a threat at the time you're considering.
Don't be shy. Forewarned is forearmed. If possible, visit the resort in advance. There's no substitute for seeing it with your own eyes.
"You have no idea what it's like till you get there," says Jack Becker of Minneapolis, Nancy Reynolds' husband. "That's what I like about the Internet — at least there are more visuals than you'd see in a brochure."
Have a backup plan. Bad weather is always a possibility. Does your group enjoy board games? If not, make sure family members have access to indoor activities they like.
If necessary, cut costs. Full-service resorts make reunions relatively easy, but not every family can afford one. But with careful planning, everyone still can have a lot of fun, with minimal work.
For more on places to stay, see Lodges & resorts.
Here are a few ideas to save money.
State parks often have guesthouses or large cabins they rent inexpensively. But these book up at least a year in advance for weekends, so plan ahead. For more, see Cabins for a crowd and Lodgings in Minnesota state parks.
Stay at a ski resort in the summer, when condo rates drop by 50 percent. At Colorado's Keystone Resort, for example, summer brings bicycling, golfing on a Robert Trent Jones Jr. course, swimming and weekend food and music festivals.
In winter, rates drop at northern resorts that cater to golfers. And these resorts may be particularly open to negotiating group rates.
In Florida, resorts along the Gulf Coast and the Atlantic, especially the small, locally owned ones, drop their rates in summer and fall. But remember, late fall is hurricane season.
Check out small, ma-and-pa lake resorts in Minnesota, Wisconsin and the Upper Peninsula of Michigan. At many such gems, a housekeeping cabin with the basics — beach, playground, lodge with gameroom — costs only $2,000 per week.
For more, see One in 1,000.
Plan to hold your reunion midweek, when rates usually are cheapest, or during the slow months of November and April.
Last updated on June 20, 2018