Lodgings in Minnesota state parks
Surrounded by nature, a lucky few sleep in relative luxury.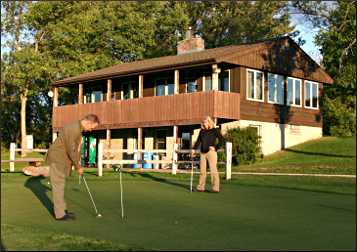 If you don't have a cabin of your own, Minnesota has one you can borrow.
Some really are cabins, but others are houses, complete with two-car garages, like the one at Bear Head Lake State Park, previously occupied by the park manager.
Some were private houses that have been renovated, like the Illgen Falls Cabin in Tettegouche State Park.
There's something for everyone in Itasca State Park: rooms in a historic lodge, classic cabins, motel-style rooms and modern suites with cable and air conditioning.
It doesn't have camper cabins, but you'll find those at more than two dozen other Minnesota state parks.
No matter what kind of "cabin" it is, it's a good deal, because we all know what counts: Location, location, location. You're a lucky lodger when a state park is at your doorstep. So, needless to say, reserve early.
For more about camper cabins in Minnesota and around the region, see A roof in the woods.
For more about inexpensive group lodgings in Minnesota and around the Upper Midwest, see Cabins for a crowd.
For more about privately owned vintage lodgings, see Classic Minnesota lodges.
Reservations: They can be made 120 days in advance online or at 866-857-2757; reservation fee is $7-$10.
A week's stay is the best deal, with many rates offering seven days for the price of six.
On the first day of availability, reservations can be made starting at 8 a.m. Central Standard Time; after the first day, they can be made on-line 24 hours a day.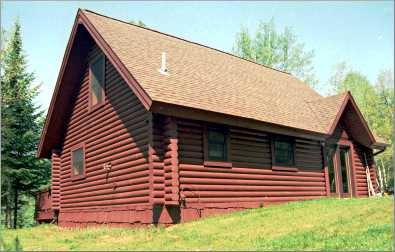 What to bring: Except for lodgings at Itasca's Douglas Lodge, guests must bring their own bedding, towels and bath soap and clean the cabin before they leave.
Kitchens often but not always include plates, pans and utensils. Salt, dishwashing soap and coffee filters may be available, but don't count on it.
For more, see What to bring to a rented cabin.
In Tettegouche State Park on the North Shore, the nightly rate at the Illgen Falls Cabin, just above the High Falls of the Baptism River, is $220.
For more, see Cabin on a waterfall.
The four cabins on Tettegouche's Mic Mac Lake rent for $130-$175; Cabin B, which is right on the lake, is most popular at $175.
Cabins have fully equipped kitchens but no running water; there's a nice central shower house and a lodge with wood stove. They're also popular in winter.
For more, see Heirs to a hideaway.
Camden, in the southwest corner of the state, rents the 1935 Redwood Lodge, which has three bedrooms and two baths and sleeps eight.
It has air conditioning, a gas fireplace, a screen front porch and a patio and rents for $245.
Near Ely, the Bear Head Lake guesthouse has three bedrooms and two baths and sleeps 10, $175.
For more, see Ensconced in Ely.
West of Ely, off the southern shore of giant Lake Vermilion, the three-bedroom Blue Heron Island cabin is part of Lake Vermilion-Soudan Underground Mine State Park. It has heat and electricity, but no indoor plumbing.
Guest must get to the island on their own and need to bring bedding and water or a filter. Rate is $220, with a two-night minimum from Thursday to Sunday.
Near Hinckley, St. Croix has two guesthouses, $235. Guesthouse 1 has eight bedrooms and 2½ baths and sleeps 15; Guesthouse 2 has six bedrooms and two baths and sleeps 12.
For more, see A Minnesota snow sampler.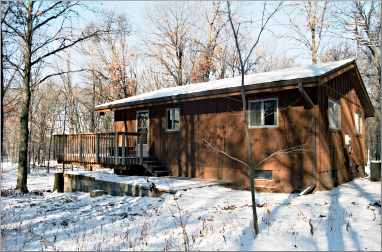 St. Croix State Park also has six cabins with half-baths and kitchenettes that sleep two, $95, that are open from mid-May to mid-September.
West of Duluth and north of Mille Lacs, the guesthouse at Savanna Portage has one bedroom and sleeps six, $120. A rowboat is included.
Near Taylors Falls, the Wild River guesthouse has two bedrooms and a wood-burning fireplace and sleeps six, $130.
For more, see Snug on the St. Croix.
Scenic has a cabin with a fireplace, hot plate and mini-fridge but no indoor plumbing, $90.
At Itasca, suites in Douglas Lodge are $145; guest rooms with shared baths are $85.
The 12 two-room Four Seasons Suites have kitchenettes, cable and air conditioning, $150 (in winter, they're $105). The only other lodgings open in winter are in the log Headwaters Inn on Lake Itasca, which offers six bedrooms with full beds, $85, three shared bathrooms, a large kitchen and a great room with a stone wood-burning fireplace.
Rooms in a four-plex have fireplaces and bathrooms, $105.
The Clubhouse has 10 bedrooms and rents for $495. The two-bedroom Historic East Cabin has a fireplace, heat and air-conditioning, $240.
The Itasca Ozawindib Lake Cabin sleeps up to eight and is $200 for four; bring bedding.
Bear Paw housekeeping cabins sleep four and have a toilet but no shower, $110. Douglas Lodge cabins of various sizes with no kitchen (some have fireplace and screened porch) are $140-$225.
The 12 seasonal Bert's housekeeping cabins, formerly part of a resort, rent for $140-$225. Some have a wood-burning fireplace and some are pet-friendly.
For more on Itasca and its lodgings, see The people's park.
There's also a guesthouse and cabin, both with full kitchens, at La Salle Lake State Recreation Area, eight miles north of Itasca.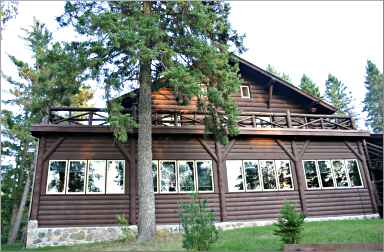 The three-bedroom Black Bear Guesthous e sleeps 10 in four queen beds and a futon and rents for $325. The two-bedroom Lone Wolf Cabin sleeps four in two queen beds and rents for $200.
West of New Ulm above the Minnesota River, Fort Ridgely rents a chalet on the golf course for $85 a night. It sleeps 14 on the floor, though eight would be more comfortable. There's a full kitchen, and bathrooms with shower on the lower level.
The park also rents a farmhouse that sleeps six, $75. It's air-conditioned but not heated, and it has only a small refrigerator. Showers are at the nearby Equestrian Campground.
There are 108 of them in 29 Minnesota state parks, renting for $80-$90, plus a reservation fee of $7 online and $10 by phone.
None has running water, and cooking is outside. Pets are not allowed in the cabins.
For more, see A roof in the woods.
Vehicle fees: Overnight guests also pay a vehicle fee of $7 daily or $35 for an annual pass.
Last updated on August 31, 2021