Adventures in renting
Thanks to vacation rentals, a no-frills group lives beyond its means on a trip up north.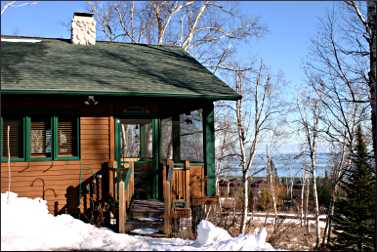 If you've always wanted a second home — or a third, or a fourth — you can acquire one, at least for a weekend.
Many people who bought beach houses and country retreats rent them out, to help pay the mortgage.
Browsing vacation-rental listings is like going on the Parade of Homes, except you get to stay in the house you like best.
Each place looks more appealing than the last — the Lake Geneva cottage with the white picket fence, the 1920s log lodge in Hayward built by a gangster, the condo in the Chicago skyscraper.
True, you won't know exactly what you're getting, and it's not like a hotel, where you can ask for another room if you don't like the one you get. But the surprise is part of the fun, and you're almost certain to get a good deal.
When I planned a February ski and snowshoe trip to Beaver Bay on Minnesota's North Shore, I found five properties available on VRBO, Vacation Rentals by Owner, and they all looked good.
So I picked a three-bedroom Cove Point Ridge house overlooking Lake Superior, with a big gas fireplace and two king beds that would be big enough to sleep four unrelated members of my group.
When more people from my outdoors club wanted to go on the trip, I rented a neighboring place, a two-bedroom WindSong duplex cottage that was on the shore of Lake Superior and had a whirlpool tub, wood-burning fireplace, satellite TV and access to a sauna.
The per-person lodgings cost for our group was very affordable, not much more than we pay for the more rustic accommodations to which we're accustomed.
"Are you sure we don't need to bring bedding and towels?" one person asked before we left.
We didn't even know how to operate the Sleep Number king beds in the first house, which had a master bedroom with lake views and bay window, a wrap-around screened porch and a handsome great room with sofas and a floor-to-ceiling fieldstone-style fireplace with faux moose head.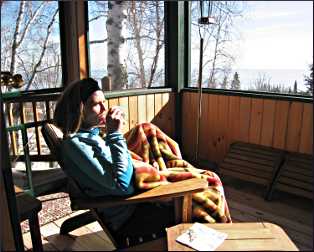 The owner was living in Arizona and didn't stint on furnishings, even for a house occupied mostly by renters. All the décor was classic north woods — sturdy log bed frames, rustic twig chairs, a pine-plank ceiling, a giant mirror framed by slabs of cobblestone.
Every bedroom had a DVD player, and love seats and sofas were leather.
The other cottage, which we rented directly from the Twin Cities owners, was more compact but also attractive, with a few kitschy touches that included an aqua-tinted plastic toilet seat with embedded fishing lures.
It was more homey, with a thick binder full of sightseeing tips from the owners, a bowl of Hershey's kisses and cupboards full of jam, maple syrup, soup mix, mayonnaise and condiments.
Its kitchen was much better stocked, but its gathering area was small. So we borrowed soup bowls, a large sauté pan and a griddle to take to the other kitchen, which had a whole shelf of martini glasses but not much cookware.
Big vacation rentals generally are ideal for groups, which can split costs. But it depends on the group.
In my group, we did save a lot of money by cooking all our meals. But my efforts to provide a little unaccustomed luxury at bargain prices pretty much backfired.
We liked the fireplaces and dishwashers, but we didn't use the DVD players, satellite TV, Jacuzzi or sauna. And of our group of nine in the bigger house, only three people got to sleep on the fancy beds.
Of the two men I assigned to the king bed upstairs, one slept on the floor. Of the two women on the living-room sofa bed, one slept on top of the sofa and one on an air bed dragged down from a small loft, reached by trap door and ladder from a small room with a double air bed.
My husband and I slept downstairs on a sofa bed that was typical of its kind: saggy in the middle. We were cold in the downstairs room, too; because of people sleeping all over the place, blankets were in short supply.
Next time, we'll bring at least one sleeping bag and pad just in case (for more tips, see What to bring to a rented cabin ).
It's a learning experience, renting vacation houses. Two years ago, Sue Ann Schwanke of Sauk Prairie, Wis., rented a three-bedroom cabin in Black River Falls for five couples.
Two of the couples had to sleep on upper bunks in small rooms with low ceilings, which they could handle. But there was a snorer, which they couldn't.
So when the group rented the cabin again this year, one couple brought an air bed, and they slept upstairs in the common area. That worked well, because they're early risers and could have coffee ready for everyone else.
The group considered renting another cabin down the road but stuck with one: "It's so nice to be all in one place and to have all our meals together," Schwanke said.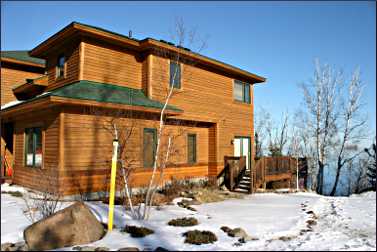 By sharing costs, even a middle-class group can stay in a million-dollar home.
And there's another benefit to renting vacation houses in the Upper Midwest: In general, people are darn nice.
Both the owners of the WindSong cottage and the manager of the Cove Point Ridge house sent us tips and recommendations with our rental instructions, and manager Harold Piepho had us leave the balance of our fee in a check on the kitchen counter.
He laughed when asked if he thinks property owners in Florida or New York operate that way.
"No, they'd probably lose 75 percent of their income," he said. "We trust people. When people pay a little more for a property, you just get a better clientele."
Neither asked for a damage deposit, though that may be the exception: Some VRBO houses require large damage deposits and come with a long list of rules and conditions.
That's a little off-putting, but then again, it's their home.
In general, renting someone else's vacation home works out for everybody.
"It's definitely good for the people who rent," Piepho says. "And for those who stay, you get a pretty darn good property."
Trip Tips: Renting a vacation house online
What to know: The Internet is a wonderful way to view houses, and it's easy to fall in love with the pictures. But even if it's also possible to reserve online, it's still a good idea to talk to the owner or manager in person.
Describe what you're looking for, tell him/her what your group is like and ask questions. No owner wants you to be unhappy and then trash-talk the property to your friends or in online reviews.
Not everyone should rent a house. Remember, you'll have to tidy up after yourself and take out the trash, and there's no one at the front desk to instantly solve your problems.
Ask what you do and don't need to bring (see What to bring to a rented cabin ).
In general, houses rented by owners who vacation in their own houses are better-equipped than houses managed by a service.
There's almost always a two-night minimum, three nights on holidays, and it's often a week in summer. In the shoulder seasons, the seventh night may be free. In winter, a third or fourth night may be free. Check for specials, especially in the off season.
For summer and for fall weekends, reserve as soon as possible.
Where to look: VRBO and Airbnb are best-known, and Booking.com also offers vacation rentals. Many areas have local rental companies, such as Cascade Vacation Rentals on Minnesota's North Shore.
Read listings and contracts carefully before agreeing to rent a house.
Pets: Many properties allow pets with a damage deposit. Even if a property listing doesn't say pets are allowed, ask — the owner or manager may let you bring a pet if you sound like a responsible person.
Details: For more, see Renting a vacation house.
Last updated on February 15, 2021