Under one roof in Duluth
On a cold-weather getaway, friends indulge in chocolate, craft beer and massages.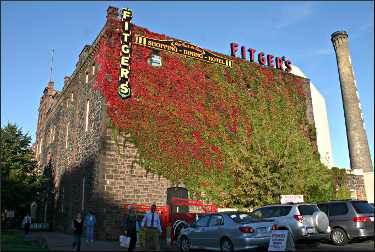 In summer and fall, festive Canal Park draws the crowds. But when cold winds blow in winter, a brewery suddenly looks much better.
Started in 1882 as Fink's Lake Superior Brewery, Fitger's was a mainstay in Duluth, surviving Prohibition but not industry consolidation. It closed in 1972 and almost was razed, but the sprawling building on the lake reopened in 1984 as a hotel, restaurant and shopping complex.
Now, the complex also boasts a day spa, a nightclub, a brewery, a coffeehouse and shops — everything anyone could want for a little getaway, all under one roof.
My friend Judy and I drove up on a gray Wednesday in November, stopping first at the Depot for a free antique appraisal.
Appraiser Dan Sershon couldn't muster much interest in the plates Judy had brought, but when we asked him to tell us the most interesting thing he'd seen, he looked over our shoulders and said, "That lamp that's going to come up next."
It was an Arts and Crafts lamp, with acorn finials and a forest scene painted onto a glass shade that sprang to life when lit.
"These things didn't sell for that much money then, but this generation is much more interested in them," he said, estimating a value of at least $1,500-$2,500.
After stopping to shop on Superior Street, we dropped our bags at Fitger's. Then we walked down the hall to the Brewhouse and treated ourselves to a turkey Cobb sandwich and a Greek salad with zucchini-stuffed phyllo turnovers.
"That was really restorative," Judy said. "I'm the queen of the Cobb, and that was one of the best I've had."
Then we walked downstairs to the day spa, where Judy went off to have a manicure and pedicure and I eased myself onto a heated massage table, where a young masseuse began digging the stress out of my shoulders.
"Can you feel it crackling in there?" she asked. "It's like marbles under my fingers."
Kneading my feet, she said it's true that energy forces connect the feet to other parts of the body.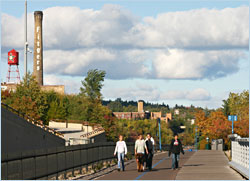 "These are the lungs, and you can tell when people smoke because it's pretty crunchy in there," she said. "Yeah, it's crazy."
She gave the kind of no-nonsense massage I like, and after 30 minutes with her, I wished I'd asked for 60 minutes. Instead, I went to another nook of the old brewery, where I received a facial that was competent but lackluster.
Back in the main part of the spa, where a copper vat protrudes from the ceiling, Judy showed me her newly restored hands.
"We've been stripping things at home, and they were a mess, but now I'm on the path to righteousness," she said. "Now I wonder how I went out of the house like that."
As Judy soaked her feet, the esthetician overheard me ask about the hand paraffin wax and jumped up.
"I'm going to give you one, come on," she said, leading me to a tub full of liquid paraffin. She told me to dip my hands four times, then wrapped them in plastic bags and terrycloth mitts. When they were dry, she peeled off the soft wax and squirted Aveda Hand Relief into my palms, leaving the skin as soft as a baby's.
Judy's feet had been softened up, too.
"Now I have happy, happy toes," she said. "That was an A plus pedicure. It was so worth it."
She left the spa in flip-flops, to let her toenail polish harden, and we wandered through the nearby shops — the Bookstore, which sells Fitger's pint glasses and T-shirts; the Snow Goose, a gift shop and sole survivor of the shops that opened in 1984; and TrailFitters, which caters to outdoorsy types.
The Boat Club is the place to go for fine dining, but the Brewhouse is such a convivial place we couldn't resist returning there for dinner. Lake Superior Brewing Co. made Fitger's a real brewery again in 1994, but it outgrew the building and moved; now, the Brewhouse serves its own lagers, stouts and IPAs.
We sampled them in 10-ounce glasses and ate a mushroom-Swiss burger and fish and chips. After a while, musician Charlie Parr arrived and began playing a lively brand of blues.
For a Wednesday in November, there was a lot going on. Across the hall, novice salsa dancers were getting lessons at the Barrel Room, a sliver of a room that makes up for its size with its sleek design.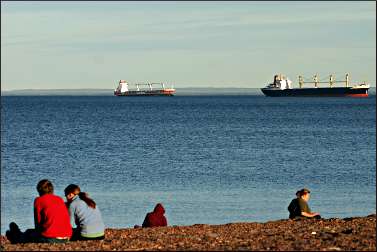 The next morning was mild, so we nabbed some pastries from Fitger's continental buffet and went strolling along the Lakewalk to Canal Park.
Over lunch at the Boat Club, we watched the arrival of the Canadian freighter Olympic from the picture window next to our table.
Our last stop was DeWitt-Seitz Marketplace, where we bought chocolate ore boats and chocolate-almond toffee at Hepzibah's.
It's almost too easy to indulge yourself in Duluth. Learning how to age gracefully with beer and chocolate — now there's a concept that could take off.
Trip Tips: Duluth spa getaway
Getting there: It's 2½ hours north of the Twin Cities.
Fitger's Salon & Spa: This spa in the Fitgers complex offers massages, facials, manicures, pedicures and other salon services.
Antique appraisals: Often, on the third Wednesdays from noon to 3 p.m., free appraisals of one or two items are given at the Depot in downtown Duluth, 218-733-7586.
Accommodations: If you want a room and a spa under the same roof, stay at Fitger's, 888-348-4377.
However, Fitger's doesn't offer midweek specials, serve a hot breakfast or have a pool, hot tub or sauna. For other places to stay and general information, see Duluth 101.
Dining: In Fitger's, the Brewhouse is a friendly and cozy pub with good food. The Boat Club has lake views and serves fish, seafood and steaks.
Next door, the Pickwick Restaurant & Pub, family-owned since 1914, has a big menu of steaks, ribs, chops and seafood. It's closed Sundays.
On Superior Street, Restaurant 301 at the Sheraton is very good.
For more, see Where to eat in Duluth.
Nightlife: The Barrel Room, across from the Brewhouse, and Rex Nightclub, on the lower level, show sports games and offer music.
Boat Club Productions offers occasional plays at Spirit of the North Theater on Fitger's third floor.
Shopping: Fitger's has good apparel shops, a bookstore and kitchenware shop.
In DeWitt-Seitz Marketplace on Canal Park, the Art Dock carries the work of many local artisans and Hepzibah's has specialty sweets, including chocolate Lake Superior pebbles.
Details: For more, see Duluth stories.
Last updated on January 19, 2022