Kohler's luxuries
In a tidy Wisconsin town, a family's reach stretches far beyond plumbing fixtures.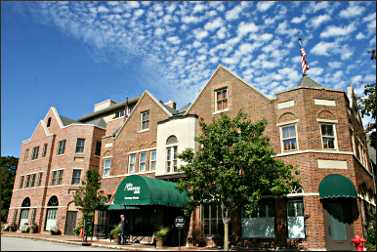 It all began with an enameled horse trough/hog scalder.
It grew into an empire that includes a five-diamond resort, a collection of upscale shops, an innovative art center, a foundation that rescues Wisconsin folk art and, in fact, an entire town that's so perfect it's almost eerie.
That horse trough evolved, too, into such products as the Body Spa, a futuristic shower stall with a waterfall and 10 jets that pummel tired muscles with 80 gallons of water per minute.
What a long, strange trip it's been for Kohler, Wis.
In 1873, Austrian immigrant John Michael Kohler took over an iron and steel farm-implement foundry in Sheboygan, on the Wisconsin shore of Lake Michigan. Ten years later, he enameled a cast-iron horse trough, found that it made a good bathtub, and entered the plumbing business.
But he loved the open countryside, and at the turn of the century, he built a plant four miles away. It was dubbed Kohler's Folly in Sheboygan but became the nucleus of a new town.
In 1913, his son Walter toured European towns and eventually hired a Boston firm to design a planned community to replace the willy-nilly buildings that had sprung up around the factory.
At its center was a gabled, Tudor-style brick dormitory where workers could learn English, take citizenship classes and steep themselves in the American way.
It was called the American Club. Renovated and reopened in 1981 as a resort hotel, it has followed the trajectory of the horse trough, vaulting into the upper echelons of society: Now, in the former laundry, formally dressed diners consume $70 entrees in a restaurant called the Immigrant Room.
In the old bowling alley, they choose from 54 specialty beers. In the tiled baths of luxurious rooms whose nightly cost is at least 10 times the monthly room and board of the original occupants, they soak in trademark whirlpools.
Today, the American Club is where people go to reap the rewards of the American way.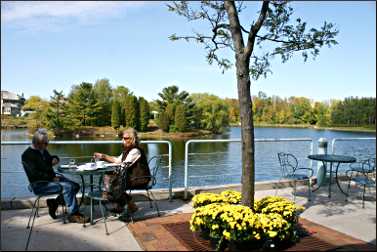 I visited Kohler early one November, stopping first at the Kohler Design Center. Sinks and toilet bowls — one wreathed in peonies, another in botanical tulips — gleamed under soft track lighting.
Marveling at the prices, I ascended a shrine to whirlpools, each in a glass-block cubby framed by palms.
I had to laugh at the museum-like presentation— it's just plumbing, after all. Still, it was a raw day on the other side of those picture windows, and those whirlpools looked pretty inviting.
I took in the Kohler story in the bottom-level exhibits, which include products that really do belong in museums: One section was devoted to the work of artists who are granted six months in the Kohler pottery, foundry and enamel shops, where they use the facilities and tap employee expertise.
The Kohlers, it seems, are tycoons with a renaissance bent. Their philosophy — one of them — is enshrined in the leaded windows of the Wisconsin Room. It's a quote from the English reformer John Ruskin: "Life without labor is guilt — labor without art is brutality."
From the design center, I went to the Shops at Woodlake Kohler, a handsome collection that is the only place for villagers to shop.
Here, the siren song of materialism called loudly as I walked from one tasteful storefront to another, followed by piped classical music; if I had a wad of money to blow, this would be a good place to do it.
Back at the American Club, exhibitors were setting up for a holiday market in the Great Hall.
I walked on and had a burger in the Horse & Plow, pausing on the way out to look at a wall lined by framed citizenship applications from one-time residents of the American Club, each renouncing allegiances to various kings, czars and emperors.
The next morning, I had the pricey continental breakfast of coffee, freshly squeezed orange juice, fruit and two tiny croissants in the beautiful Wisconsin Room, then set off to wander among various wings.
In the courtyards, some genius had been at work, creating magical oases of tall grasses and trellises, hanging lanterns and stone paths, bronze cherubs and wooden benches.
Back in the lobby, a platoon of women were preparing to storm the Great Hall. I talked with Lynn Forsgren of Fremont, Wis., who comes with a group of women friends every year.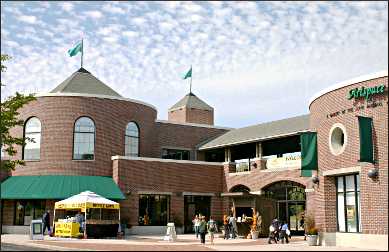 "We got here last night and all had facials," she said. "First we had dinner at the Horse & Plow. We came back to the room and relaxed, had breakfast in the Wisconsin Room, and now we're going to the show. Here in Wisconsin it's hunting season, so it works out real well."
I browsed through the show and then went for a run in the woods around the Sports Core, an indoor spa and sports complex around Wood Lake.
Before I left Kohler, I explored it a bit more, from the factory right across from the American Club, shielded by a row of maples, to winding streets lined with pretty cottages and the wooded ridges and ravines of Blackwolf Run golf course. Not a leaf was out of place.
Despite its disconcerting perfection, or perhaps because of it, the American Club makes quite a getaway. It's not for everybody — for one thing, most people can't afford it.
But if you've made it, and you don't need to quibble about cost, give it a try. It's the American way.
Trip Tips: Kohler, Wisconsin
Getting there: It's five minutes west of Sheboygan. For more about that area, see Sights of Sheboygan.
It's 15 minutes from Elkhart Lake. For more about that area, see Thrills and hills in Elkhart Lake.
Accommodations: There's the five-diamond American Club, which includes the Carriage House, home of the Kohler Waters Spa.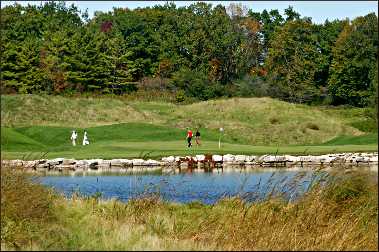 The more modest Inn on Woodlake is next to the Shops at Woodlake, overlooking a pretty lake that includes a small beach for guests. Guests can run on the lakeside walking path or use it to reach the Sports Core Health & Racquet Club.
It also offers five luxurious cabins in the nearby countryside.
Dining: At Kohler's American Club, the Immigrant Room is one of the fanciest — men are required to wear jackets — and expensive restaurants in the state, with such entrees as rabbit loin with foie gras cream and Dover sole with lobster and caviar.
Guests also can dine at the less-formal Horse & Plow, the Winery Bar and the Wisconsin Room.
Taverne at Shops at Woodlake serves salads and sandwiches at lunch and upscale dishes at dinner.
Kohler Chocolates serves espresso drinks and ice cream as well as chocolates and pastries. On warm days, it's very pleasant to sit on its back patio, which overlooks a small lake.
Kohler Waters Spa: It's next to the American Club. Packages are offered with rooms at both the American Club and Inn on Woodlake.
Golf: Kohler has four championship courses designed by Pete Dye, along the dunes of Lake Michigan at Whistling Straits, and on meadows and a river basin at Blackwolf Run.
Kohler Design Center and Factory: The design center is open daily and free. Three-hour tours of the factory also are free. Visitors must be at least 14 years old, and closed footwear is required. Reserve in advance at 920-457-3699.
Kohler-Andrae State Park: The Lake Michigan park is two miles south of Sheboygan and has beaches, a nature center and trails. There's a campground, tipi and handicapped-accessible cabin. 920-451-4080.
John Michael Kohler Arts Center: This museum, at 608 New York Ave. in Sheboygan, is renowned for its exhibits of outsider and contemporary art and is open daily.
Admission is free. Lectures, workshops and performances are held throughout the year. 920-458-6144.
Last updated on January 15, 2020